One of the greatest joys I've recently discovered is listening to classics in audiobook form. All of that nerdy guilt over the Western (mostly white guy) literary canon I never got around to reading, vanished in a (multi-disc-long) minute.
There are scores of Western classics available on audio, although sifting through them to find the best of the best feels like homework. So I've done the work for you! Check out the titles below to discover 10 audiobook classics you need to hear.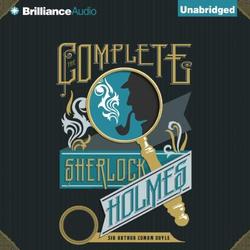 1. The Complete Sherlock Holmes: The Heirloom Collection by Sir Arthur Conan Doyle
Narrator: Simon Vance
Run time: 58 hours and 4 minutes
Audible | Libro.fm | Soundcloud (narrator interview)
Boasting one of blockbuster literature's favorite narrators, Simon Vance, this Heirloom Collection brings Sherlock's enduring cleverness to life. Vance's performance, elegant and personable and witty all at once, is indicative of the rest of his deep audio portfolio, which covers a swathe of Western classics (Robinson Crusoe, Paradise Lost, Notes From the Underground) and dozens of your favorite modern bestsellers (Interview With a Vampire, The Girl With the Dragon Tattoo, Dune). Once you get through The Complete Sherlock Holmes—and yes, even clocking in at nearly 60 hours, you will get through it—you'll have no end of options for what to listen to Vance read next.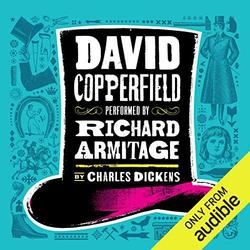 2. David Copperfield by Charles Dickens
Narrator: Richard Armitage (Audible Exclusive) or Simon Vance (everywhere)
Run time: 36 hours and 30 minutes (Armitage) / 33 hours and 54 minutes (Vance)
Audible | Libro.fm | Overdrive | Soundcloud
Charles Dickens is a joy to listen to on audio, fond as he was of such grotesquely silly character names. So if you've been meaning to read Dickens since, oh, I don't know, eighth grade, give yourself a break and turn the job of reading those silly names over to the professionals. Simon Vance, whose prolific career was discussed above, has recorded the audio for numerous Dickens books. But should you want to mix up your listening experience, turn to Audible, where some of Britain's biggest actors have been narrating Dickens for years. In the case of David Copperfield, our ears are gifted with the dulcet gruffness of North and South's Richard Armitage, who reads Dickens' semi-autobiographical epic with deep humanity, tonal versatility and no shortage of humor. If you have some Audible credits you've been too anxious to spend on an unknown variable, worry no longer: Armitage's David Copperfield will not disappoint.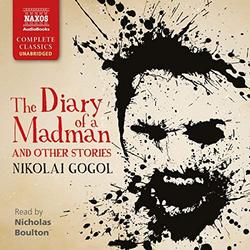 3. Diary of a Madman and Other Stories by Nikolai Gogol, translated by Constance Garnett
Narrator: Nicholas Boulton
Run time: 17 hours and 2 minutes
Audible | Libro.fm | Overdrive
Including two Russian (well, one Russian and one Ukrainian) grotesquerists on this list may seem like Slavic overkill, but now's the time to take a critical look at the tragicomic cultural history of the country trying to dismantle American democracy. So listen to the Bulgakov later on the list, but also listen to this collection of short stories from the greater, weirder, less satisfyingly conclusive Ukrainian forebear to all of Bulgakov's satirical ravings: Nikolai Gogol (as translated by Constance Garnett and read by Nicholas Boulton). Boulton's smooth British accent may seem off for these odd Slavic folktales at first, but with a story about a nose that grows to the size of a man and climbs the ladder of Russian bureaucracy, who's to say what's odd? What counts is that Boulton's pacing is terrific, his pronunciation of Russian names is comfortingly accurate and his sense that the world is one big absurdity is palpable.

4. Don Quixote by Miguel de Cervantes, translated by Edith Grossman
Narrator: George Guidall (or Alejandro Magnone in Spanish)
Run time: 39 hours and 42 minutes
Like the behemoths The Complete Sherlock Holmes and David Copperfield on this list, Don Quixote is well worth the every one of its 39+ hours. The venerable Don Quixote is a tragicomic hero who has endured the ages for a reason, and with the one-two combo of Edith Grossman's artful translation and George Guidall's eloquent narration behind him, that endurance is rendered humanely obvious. Guidall, like Vance (who has also logged a performance of Don Quixote), is a narrator whose voice stretches across the audioshelves of classics and modern bestsellers, alike—his reading of Nobel Prize-winner Kazuo Ishiguro's The Buried Giants is particularly excellent. So if you enjoy his narration after the long hours spent in La Mancha, you'll be happy to know he's easy to track down everywhere that audiobooks are found.

5. Emma by Jane Austen
Narrator: Jenny Agutter
Run time: 14 hours and 49 minutes
Audible | Libro.fm | Overdrive
It would be sacrilege to write a list of Western classics and not include a Jane Austen title. But let's skip Pride and Prejudice in favor of Emma—and all the comedies of errors Emma Woodhouse's bullheaded self-congratulation breeds. Emma boasts numerous beautiful narrations (Wanda McCaddon also performs a lovely version), but Jenny Agutter's recording for Bolinda Audio stands out. Agutter's narration, which is smooth and full of good humor, gives Emma the kind of warm, throaty voice that a young woman so completely certain of her own excellence deserves. And if you like Agutter here, she also has some Brontë, P.D. James, and Dodie Smith waiting for you.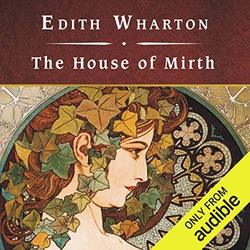 6. House of Mirth by Edith Wharton
Narrator: Wanda McCaddon
Run time: 12 hours and 11 minutes
Audible | Libro.fm | Overdrive
Edith Wharton's classic tackles social expectations of the 20th century and the dire consequences of being an upwardly mobile young lady cursed with an overabundance of ambition fighting those expectations. Wanda McCaddon's performance proves lively and unrelenting—a combination that could be exhausting for other books but perfectly fits Lily Bart's harrowing gallop through the highest society of New York. This is not a story meant to leave the reader with any sense of cheer or optimism, but it is humane and compelling and well worth the read.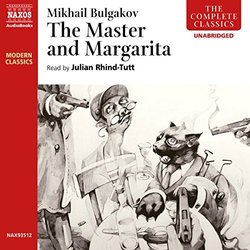 7. The Master and Margarita by Mikhail Bulgakov, translated by Michael Karpelson
Narrator: Julian Rhind-Tutt (Vladimir Ivanovich Samolyov in Russian)
Run time: 16 hours and 51 minutes
Audible | Libro.fm | Overdrive | Russian
The Master and Margarita is a disorienting, savage satire of culture, politics, religion and, most especially, the absurd bureaucracy of the Soviet state in the 1920s. With a story that encompasses flying witches, meditations from Pontius Pilate on Jesus, talking cats and magical manuscripts, it's no wonder that it was impossible for Mikhail Bulgakov to publish it in his lifetime. Once you turn on Julian Rhind-Tutt's full-tilt performance of Michael Karpelson's translation, it will also be no wonder why I am including it on this list. In our own age of brutal, bureaucratic absurdity, something like The Master and Margarita can be, if not creatively empowering, then at least cathartic. That Russian Margarita, Roman Pontius Pilate and the Devil all end up with variations on Rhind-Tutt's (lovely, well-modulated) native English accent makes the absurdity just that much more realistic.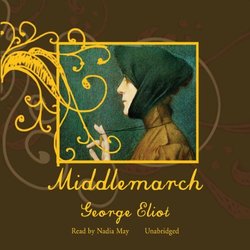 8. Middlemarch by George Eliot
Narrator: Nadia May (alternate name for Wanda McCaddon)
Run time: 32 hours
Audible | Libro.fm | Overdrive
Middlemarch is almost impossible to summarize, but the most important thing to know before committing to 32 hours within its borders is that it is profound and wise and epically humane. It's also romantic, and Nadia May (AKA Wanda McCaddon) delivers every note, every minute emotional turn, with fluid vocal grace. Truly, the only downside to this Middlemarch audiobook is that its length is likely to preclude the immediate second listen you'll want to embark on when Dorothea Brooke's story concludes. But I don't know your life! Maybe you've got the extra 32 hours to give.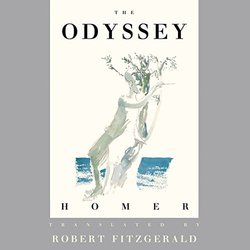 9. The Odyssey by Homer, translated by Robert Fitzgerald
Narrator: Dan Stevens
Run time: 10 hours and 15 minutes
Audible | Libro.fm | Overdrive | Soundcloud
Dan Stevens' performance of an infamous Greek epic—translated here by the award-winning Robert Fitzgerald—is lovely and compassionately executed. Though listeners wanting thrilling adventures might find it a little slow, but it's made all the more affecting for its careful pace. As a bonus, this audiobook includes part of the poem read in its original Ancient Greek, the better for listeners to hear the musicality that has allowed Odysseus' epic adventures to endure for centuries.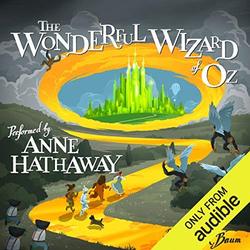 10. The Wonderful Wizard of Oz by L. Frank Baum
Narrator: Anne Hathaway
Run time: 3 hours and 52 minutes
Audible (Exclusive) | Soundcloud
Anne Hathaway's performance of this L. Frank Baum classic is a delirious delight! Dynamic, uninhibited and gleefully devoted to crittery voices, her narration will make you want to listen to for the rest of your life. Listen to it now, listen to it tomorrow, listen to it alone, listen to it with kids and parents and grandparents and neighbors—listen to it with your whole neighborhood block party, and bond over every second of pure glee Hathaway has invested in this performance. Then pray she returns one day for more. L. Frank Baum stories.

If you want even more audiobook recommendations, check out our lists of the best audiobooks of 2017.
---
Alexis Gunderson is a TV critic and audiobibiliophile whose writing has appeared on Forever Young Adult, Screener and Birth.Movies.Death. She'll go 10 rounds fighting for teens and intelligently executed genre fare to be taken seriously by pop culture. She can be found tweeting from @AlexisKG.