Christopher Bollen's The Destroyers Is a Masterful Literary Thriller
Photo: Hundreds of refugees have come ashore at Kos, a Greek island. Dan Kitwood/Getty
Books
Reviews
Christopher Bollen
It's a funny thing that a thriller or mystery must completely, wholly and without shame be aware of itself. Populated by crepuscular characters—shadows and flipping coins, spiders and flies—which are no more useful to the reader than a mirage, the novel must be, like its reader, comfortable on its own.
As a masterful example of the form, it comes as no surprise that Christopher Bollen's The Destroyers not only knows exactly what it is—a slow-burning literary thriller—but also revels in it. The Destroyers is built of a tension almost sexual in its luxuriousness; it's all gleaming seas and waxed wooden decks, the warmth of burned flesh and vodka, the metallic taste of blood and lucre, with the effortless indomitability of a yacht bobbing along a bleached-bone dock.
Ian Bledsoe is a rich kid on the run, bereft emotionally of family and friends and materially of money. Drowning, he takes hold of a gaff offered by his childhood friend Charlie Konstantinou, the second son of an even more fabulously wealthy Cypriot construction dynasty, and joins Charlie on the Greek island of Patmos. As children, the boys would bond over games of "Destroyers," macabre scenarios wherein gunmen in black balaclavas would burst into a room and the boys would have to engage in that most primal and important of human actions and save themselves.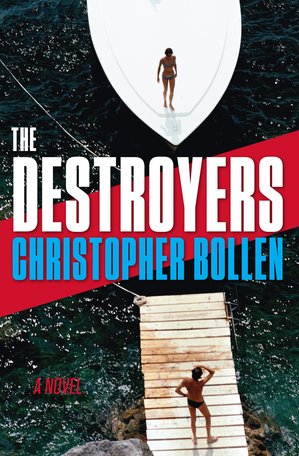 Located off the coast of Turkey in the Dodecanese chain, Patmos is the birthplace of the end of the world. It is within a cave here, high above the southeast Aegean Sea, that St. John recorded his vision of the end of days, Revelation. The island is heavy with doom, its great beauty at odds with the Christian cultists and financially strained locals. The island's metaphysical vibrations are indistinguishable from alcohol tremors, electronic dance music, the wobbling Greek economy and the weary muscles of the refugees tossed upon its shores.
Trapped in this fatalistic jewelry box, Ian gets close not only to Charlie but also to his former starlet girlfriend, Sonny; her seven-year-old daughter, Duck; Charlie's cousin and his Polish boyfriend; the whimpering Londoner Miles, who has never learned to swim; and the family which has been serving Charlie's family on the island for decades. Ian is brought aboard to serve as the number two in Charlie's charter yacht business, and his first order of business is to cover for Charlie as he heads to Turkey on a business trip. But when Charlie disappears without a trace, Ian calls upon his skills as a Destroyers vet to search for his friend.
Availing himself to as romantic a backdrop as one could ever hope—not only the island itself, rich with ruin and religion and, well, riches, but also the twin eddies of the Greek economic crash and the Mediterranean refugee crisis—Bollen's writing echoes both Patmos and the famous words brought up from its core. Sun-blasted prose is pocked with marvelous turns of phrase, and his pawns twist, flay and leak acid like lemons. Every painful and sexy and mysterious moment proves alluringly repulsive, like the heat—from behind designer sunglasses—of the vacation sun…or the end of the world.
---
B. David Zarley is a freelance journalist, essayis, and book/art critic based in Chicago. A former book critic for The Myrtle Beach Sun News, his work can be seen in Hazlitt, Sports Illustrated, The Chicago Reader, VICE Sports, The Creators Project, Sports on Earth and New American Paintings, among numerous other publications. You can find him on Twitter or at his website.