Each week, Paste reviews the most intriguing comic books, graphic novels, graphic memoirs and other illustrated books.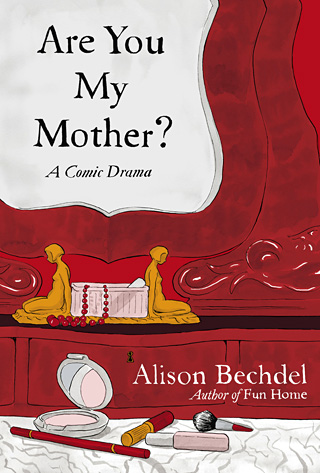 Are You My Mother?: A Comic Drama
by Alison Bechdel
Houghton Mifflin Harcourt, 2012
Rating: 6.6
Expectations could hardly be higher for Alison Bechdel's follow-up to Fun Homev , one of the most lauded and, indeed, best graphic novels. She's been working on it for years. So it's almost inevitable that it ends up (heresy!) a little disappointing. The art is as well structured, complex, and wonderful as ever, and the subject (an attempted biography of her mother's thwarted ambitions, much as Fun Home addressed her father's stifled sexuality) is inherently interesting. The problem is that much of Are You My Mother? hinges on therapeutic and analytical texts and theories. Bechdel shows herself in therapy, talking about therapy, reading therapy—she even includes panels that show excerpts from the books she mentions, with relevant passages highlighted. All of this wouldn't be so bad—after all, Fun Home relies heavily on literary allusions—if those writings weren't repetitive, uninteresting to the outsider, and, in the end, boring. It's like, and not only like but is, listening to someone recount her dreams. The act of telling may be valuable for the narrator, and there are glimpses of potentially interesting material, but in the end your dreams are far more meaningful to you than to an outsider. All of these complaints make the book sound awful, which it's not. It's still more ambitious and better thought-out than most anything else out there. It's just not up to the very high standards she set for herself. (HB)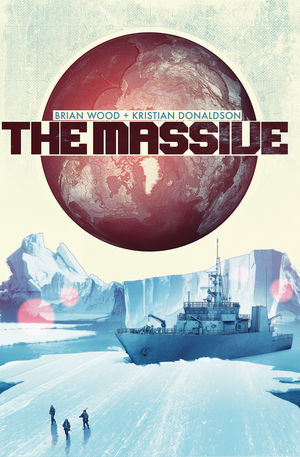 The Massive #1
by Brian Wood, Kristian Donaldson and Dave Stewart
Dark Horse, 2012
Rating: 8.0
DMZ at sea? It's easy to drop that label on Brian Wood and Kristian Donaldson's new series The Massive, but maybe not so accurate. Instead of a sequestered Manhattan the less overtly political The Massive takes place in a world where environmental upheaval has basically destroyed society. Tsunamis, volcanos, undersea earthquakes, and basically every sort of catastrophic seismic activity has conspired to bring about the end of civilization as we know it. The Kapital, the smaller half of the pacifist environmental activist group Ninth Wave's two-boat fleet, is adrift in the Pacific, separated from the Massive, its missing sister ship. As the Kapital searches for the Massive it contends with both diminishing supplies and pirate attacks, and one such violent encounter comprises half of this first issue. Wood and Donaldson intercut the motorboat action with a succinct summary of the events that left the planet in this state, maintaining our interest with both plot strands, and thankfully not dragging out the mystery of this particular apocalypse past the first issue. This climate changed faster and with more destruction than even the most pessimistic observers could imagine. There are still questions, though, and a final page twist promises an examination of not just environmental disaster and global collapse but of the moral make-up of this band of Greenpeace stand-ins. The primary job of a first issue is to hook the reader, and The Massive #1 does exactly that. (GM)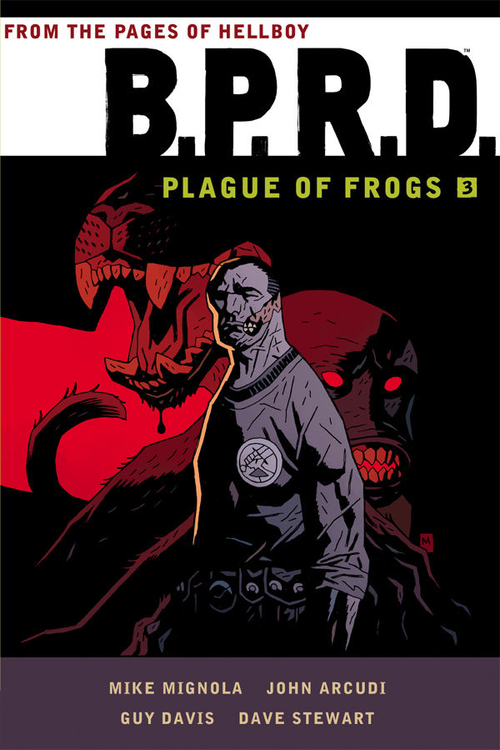 B.P.R.D.: Plague of Frogs Vol. 3
by Mike Mignola, John Arcudi and Guy Davis
Dark Horse, 2012
Rating: 8.2
I spend a lot of time thinking about comic content and the best way to contain it. Probably too much time. As a kid, I used to dig through my Dad's 14 long boxes with feverish glee to uncover ancient Golden Age gems. That's until I found that most of the contents had either warped (no backboards) or disintegrated (moisture accumulation). It was buzzkill overload. Since then, I've been enamored with the omnibus and hardcover craze manifested in the past decade. As much as I love bisecting the week with some Wednesday pamphlet love, it doesn't stand up to the protection, craftsmanship and page-drunk joy you get from holding a single collection filled with the entirety of a series. Bags and boards be damned. With the above in mind, I can say with confidence that I would be flat broke if every publisher released their material like Dark Horse releases their B.P.R.D. collections. The Hellboy spinoff is so perfectly packaged in 15-issue 10.3 × 7 x 1.5 inch ($22 on Amazon) volumes that feel like a metric ton of compact goodness in your hands. Bigger isn't always better, and these collections actually make me wish that the Hellboy Libraries and Absolute Sandmans came in more manageable dimensions.
As for the content, has there ever been any Mignola-derived work that wasn't ten different flavors of awesome? Actually, the first B.P.R.D. issues were far from great, but at that point the book was a makeshift lab for new creators to test (and crash) the characters. Now the title is a taut pulp machine featuring a pyrokinetic bombshell, a fish man, a cloud of ectoplasm, a man made of clay and (SPOILER ALERT) a were-jaguar battling all manner of old-school horror. This edition dives into the mature personality mix that drives the paranormal organization while building the omens of the titular amphibian apocalypse. This is good monster mashing fun for the thinking man. (SE)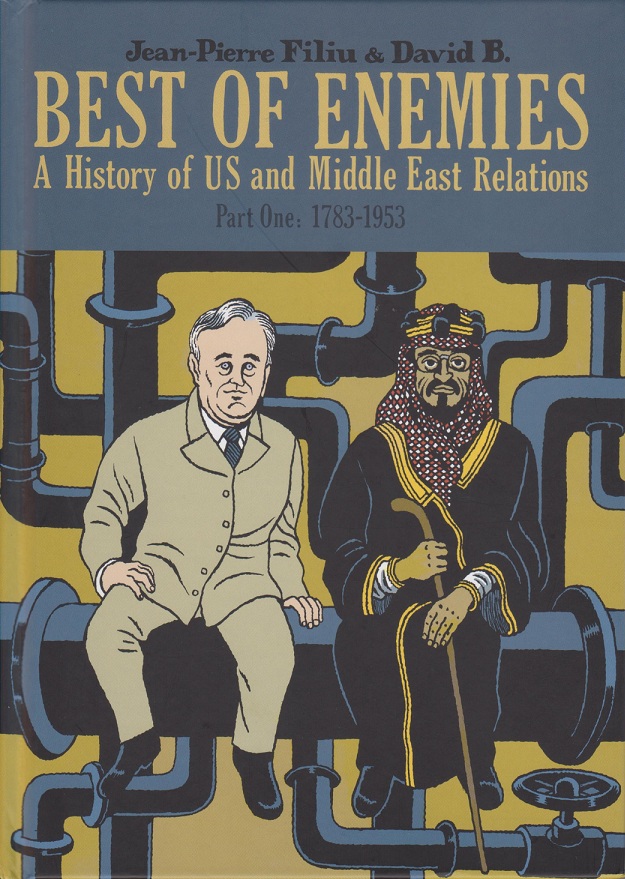 Best of Enemies: A History of US and Middle East Relations, Part One: 1783-1953
by Jean-Pierre Filiu and David B.
SelfMade Hero/Abrams, 2012
Rating: 6.4
In theory, this pairing of an expert on Middle-Eastern history and an artist with a style that is particularly reliant on battles and endless patterns would seem to be an excellent one, and at moments in this fairly slim volume covering 170 years it is. But not mostly. David B. has a tendency to spiral into his own head, creating images that, while fascinating to look at, become obsessive compulsive rather than serving the story, and Filiu doesn't seem to help matters. The stories here are interesting, and the book opens with a fairly clever retelling of Gilgamesh that incorporates quotations from a more recent U.S. administration, but can you really cram all that history into 120 pages? And if you try, doesn't it feel rushed and cherry-picked? It does. Still, you can entertain yourself by looking at this book (the visuals can be stunning, especially in smaller doses) and by reading some of it. (HB)