Library of Souls by Ransom Riggs
The Third Novel of Miss Peregrine's Peculiar Children
Books
Reviews
[Editor's Note: This review contains some spoilers for the first two books in the Miss Peregrine's Peculiar Children series.]
In the introduction to Talking Pictures: Images and Messages from the Past, Ransom Riggs explains how he came by his habit of frequenting flea markets to collect some of the mystifying "found photographs" that populate his best-selling novel, Miss Peregrine's Home for Peculiar Children. Riggs' fascination with other people's discarded photos often derives not from a photo itself but from the context suggested by a few revealing words scrawled on the back. For Riggs, these inscriptions bring faded images into focus; an otherwise-dull photo becomes "a scene imbued with pathos and drama, the strength of which has little to do with composition or tone or even, really, the subject of the photo itself."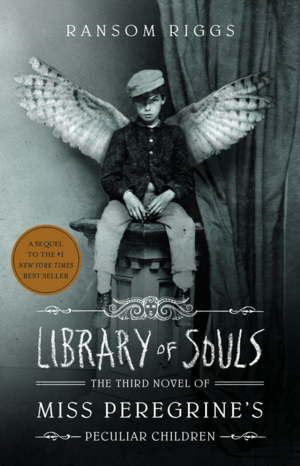 Riggs is far from the first novelist to recognize the story-supporting power of real photographs. Perhaps the most famous appearance of embedded photographs in a novel of the last half-century came in Timothy Findley's The Wars, in which Findley used striking photos to introduce an anchor of authenticity to a story that exposed the distance between constructed narrative and historical reality.
In Miss Peregrine's Home for Peculiar Children, Riggs uses photographs to underscore distance as well. For 16-year-old misfit Jacob Portman, the obsession with his grandfather's bizarre photos and equally outlandish stories puts him at odds with his parents. His grandfather's vintage photographs, reproduced in black and white in the book, depict people who couldn't possibly exist in real life: a levitating girl, a skinny teenage boy lifting a boulder with one hand, a girl wielding a fireball, an invisible boy depicted headless and handless in a stuffed suit of clothes. Rather than lending credence to the tales of his grandfather's adventures with these kids, somehow they just make the stories seem more implausible.
Of course, as Miss Peregrine's many readers know, the stories are fact and the pictures are real. Jacob himself discovers the truth when he pieces together clues in the pictures and tracks down the kids at a Welsh orphanage. They're peculiar children, each of them gifted with a useful but socially unacceptable superpower, and they live under the protection of an "ymbryne" named Miss Peregrine.
Part of what makes Miss Peregrine such irresistible reading is that puzzling over where the photos originated in our world is every bit as fascinating as discovering what they mean in Jacob's. In that way, the entire narrative serves as an extended flip-side inscription.
In Hollow City, the second novel in the series, the photographs serve more conventionally as illustrations of the peculiar characters we encounter. It's much the same way in Library of Souls, the latest installment, which brings Jacob's story arc to a dramatic conclusion. Even without the unfolding mystery that surrounds them in the first book, the old photos remain a vital part of Hollow City and Library of Souls, fleshing out the peculiarity of the characters and their surroundings.
Library of Souls begins in bombed-out Battle of Britain London with the entire peculiar world on the brink of destruction. It's up to Jacob and Emma, a peculiar with the power to create fire with her hands, to prevent villainous "wights" from reaching the legendary Library of Souls, which houses the souls of noteworthy past peculiars and power too immense to be unleashed without calamitous consequences. And although just about any spoiler would diminish the rapturous roller-coaster ride Riggs delivers, it's worth noting that Addison, the loquacious talking dog introduced in Hollow City, emerges as one of Riggs's most delightful creations and a near-equal partner in Jacob and Emma's quest.
What's more, we see Jacob's character undergo a convincing transformation from outcast schlub to self-effacing lionhearted hero. When he prepares to face the enemy, Jacob finds his purpose:
I could feel all the disparate strands my silly and scattered life converging toward a single point, unseen behind those walls. That's where it was: the thing I had to do—or die trying.
Incipient heroism notwithstanding, Jacob's wry, unfiltered teenage voice remains intact throughout. Riggs seamlessly weaves such reflective moments with Emma's piercing candor and a dazzling series of dramatic clashes, escalating dangers and phantasmagoric horrors.
The challenge Riggs faces in Library of Souls is to match the remarkably high standard set by the first two books in the series, either the mind-bending bafflements of the first book or the edge-of-your-seat action of the second. Riggs succeeds, delivering a thrilling conclusion to Jacob's trilogy.