Linda D. Dahl, one of boxing's few female fight doctors, delivers a book whose perspective can safely be labeled "distinct." Informed solely by the ipseity of its author—a half-Syrian, half-Chechen ENT surgeon who grew up in North Dakota—Tooth and Nail tackles not only sexism but racism, classism, alienation, desperation and the practical benefits of cultivating an inner dominatrix. In examining the classic fight to survive with a lens that feels paradoxically universal and unique, Dahl has written a memoir with enough fisticuffs for the fight fan, enough medicine for the scalpel supplicant and enough human drama for anyone who has ever felt alienated.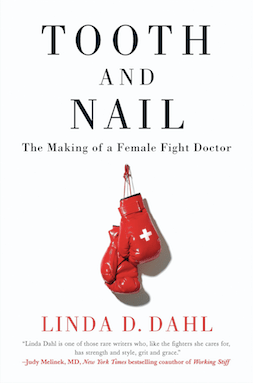 Dahl's punchy prose maintains two feet squarely on the ground, plugging away at the challenges she faced in the male-dominated worlds of medicine and boxing (ironically, it is in the former—not the latter—that she seemed to be stymied more). A Midwestern girl dropped into the crab bucket of the Bronx, Dahl describes gaining the vocabulary and the confidence to fit in after watching a fight between Sugar Shane Mosley and Oscar De La Hoya. Through the underdog Mosley's victory, earned over 12 brutal rounds by a split decision, Dahl writes about discovering the strength she needed in her own life.
But it's a chance meeting with a dominatrix outside the boxing world that inspires in Dahl an alternate persona so powerful that she splits the narrative into the third person. This, coupled with Dahl's work in the operating rooms of the Upper East Side and along the ropes at countless fights, sharpens her into a stronger version of herself.
When she turns her pen to the pugilists—including luminaries like Miguel Cotto, Wladimir Klitschko, Bernard Hopkins and Mike Tyson—Dahl truly comes alive, innervated by the brazen bravery, the unflinching carnage, the intoxicating surety of these human Chanticleers. Violence has a tendency to crystalize, and boxing is no different; up close, with claret on her face and rocking stiletto boots, Dahl finds herself in their battledored brains, broken faces and crushed phalanges.
In atavistic victory or poleaxed defeat, Dahl views her powerful reflection in a blood-sprayed mirror.
---
B. David Zarley is a freelance journalist, essayist and book/art critic based in Chicago. A former book critic for The Myrtle Beach Sun News, he is a contributing reporter to A Beautiful Perspective and has been seen in The Atlantic, Hazlitt, Jezebel, Chicago, Sports Illustrated, VICE Sports, Creators, Sports on Earth and New American Paintings, among numerous other publications. You can find him on Twitter or at his website.