The glut of information available with just a few keystrokes has narrowed many writers' focus while chronicling musicians' careers. Better to dive into one album or period of time than to just rehash the same Wikipedia bullet points.
That's where we find author Steve Turner. The British music journalist has already taken the wide view, writing an exhaustive look at every one of the songs that The Beatles recorded (The Complete Beatles Songs: The Stories Behind Every Song Written By The Fab Four, published last year). So for his next trick, Beatles '66: The Revolutionary Year, Turner zooms in on what, by anyone's reckoning, was the 12-month stretch that changed everything for the group.
It was in 1966 that The Beatles recorded Revolver, their most far-reaching and experimental album to date, and started the sessions for their unquestioned masterpiece Sgt. Pepper's Lonely Hearts Club Band. It was also the year that band played their last live concert dates, George Harrison made his life-changing journey to India, and John Lennon met Yoko Ono at her art show in London.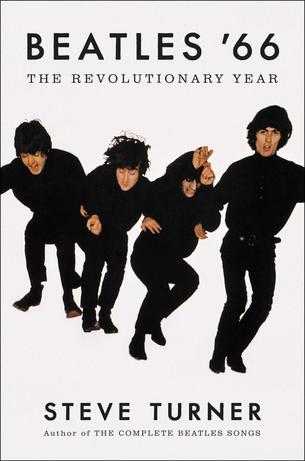 Beatles '66 is almost like a coming-of-age story for John, Paul, George, and Ringo. All four had their perceptions of the world challenged, with an accompanying reconfiguration of their individual and collective priorities. Yes, some of that did stem from their use of LSD. But as Turner tells it, 1966 was when the true weight of their celebrity began to feel more burdensome than ever.
The section of the book that covers their world tour makes this quite clear. By all accounts, the four were miserable when they were on the road. It was a nonstop barrage of press conferences, travel, and glad-handing local authorities. When they were onstage, The Beatles could barely hear themselves play over the screaming of their fans. And offstage, they couldn't go anywhere for fear of being mauled by those same kids.
There was a disturbing flipside to these dates as well. In Japan, they faced protests for playing at the Budokan, a famed sumo wrestling arena, and for tempting young people with their devil's music. They faced an angry mob in Manila after refusing to make an official appearance with Imelda Marcos. The situation was even more harrowing in America. That same year, Lennon's famous quote about The Beatles being "more popular than Jesus" was published. Stoked by a Christian radio station, furious citizens burned the group's albums and memorabilia, and the KKK showed up at various concert dates.
Other writers have covered these events, to be sure, but Turner tackles the year from all angles, incorporating a wealth of source material and new quotes from people involved to shed some fresh light on these incidents. His most revealing work is in emphasizing the musical exploration that John, Paul, and George were engaged in at the time. Paul McCartney, especially, used his wealth and access as a skeleton key to explore avant-garde classical music, reggae, and free jazz, as well to attend some major psychedelic happenings, like the Roundhouse performances by The Soft Machine and Pink Floyd. And, of course, Harrison explored Indian music. Already fascinated by the sitar, having played it on "Norwegian Wood," Harrison went even further, studying with the already-legendary Ravi Shankar and practicing daily. We have that to thank for "Within You Without You," "For No One," and "Blue Jay Way." All of the band members were trying to make up for their youthful indifference to other art forms besides rock and R&B, and that impacted some of The Beatles' most lasting recordings.
None of this will come as any great surprise to the Beatlemaniacs of the world. For them, Beatles '66 serves more as a refresher course. Yet even they will appreciate the detail that Turner brings to his work, incorporating cultural events of the time and examining how they were reflected within The Beatles' camp. This book is the work of an expert—and expertly written at that—proving a worthy addition to the hundreds of volumes available about this still-beloved group.