The best Young Adult books of August include exciting debuts, long-awaited sophomore efforts and the first titles in awesome series. Three anthologies also garnered spots on our list, making them the perfect quick reads for readers who are going back to school (or any reader who is still young at heart).
Let's dig in.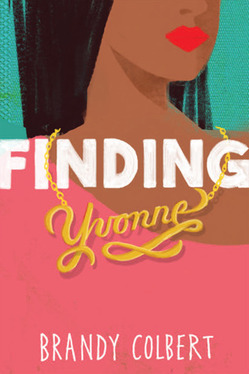 1. Finding Yvonne by Brandy Colbert
Release Date: August 7th from Little, Brown Books for Young Readers
Why You'll Love It: Back when we created our best Young Adult novels of all time list, you might have noticed Brandy Colbert's Pointe. Her novels are stunning, powerful, diverse and gorgeous, and her latest is no exception. A story of music, complicated relationships and family, Finding Yvonne is easily the best YA novel published this month. Pick. It. Up.
For Fans of: Falling Apart by Jacqueline Woodson
Description: Since she was seven years old, Yvonne has had her trusted violin to keep her company, especially in those lonely days after her mother walked out on their family. But with graduation just around the corner, she is forced to face the hard truth that she just might not be good enough to attend a conservatory after high school.
Full of doubt about her future, and increasingly frustrated by her strained relationship with her successful but emotionally closed-off father, Yvonne meets a street musician and fellow violinist who understands her struggle. He's mysterious, charming and different from Warren, the familiar and reliable boy who has her heart. But when Yvonne becomes unexpectedly pregnant, she has to make the most difficult decision yet about her future.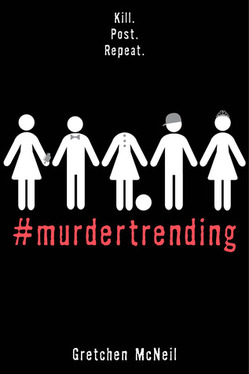 2. #Murdertrending by Gretchen McNeil
Release Date: August 7th from Freeform
Why You'll Love It: A YA novel with a sci-fi futuristic splash from a queen of tense thrillers? Sign me up. In Gretchen McNeil's latest, we're introduced to a near future with an app that allows you to stream executions of murderers (what?!) and a teen who is wrongly accused of murder. This one has been optioned to be a TV show, and I cannot wait.
For Fans of: Intense YA thrillers by authors like Stephanie Kuehn and Gillian French.
Description: Welcome to the near future, where good and honest 8/18 citizens can enjoy watching the executions of society's most infamous convicted felons, streaming live on The Postman app from the suburbanized prison island Alcatraz 2.0.
When 18-year-old Dee Guerrera wakes up in a haze, lying on the ground of a dimly lit warehouse, she realizes she's about to be the next victim of the app. Knowing hardened criminals are getting a taste of their own medicine in this place is one thing, but Dee refuses to roll over and die for a heinous crime she didn't commit. Can Dee and her newly formed posse, the Death Row Breakfast Club, prove she's innocent before she ends up wrongfully murdered for the world to see? Or will The Postman's cast of executioners kill them off one by one?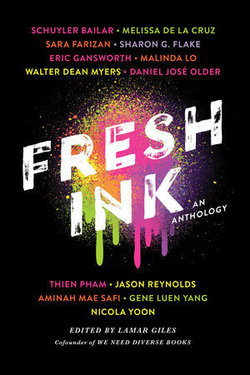 3. Fresh Ink edited by Lamar Giles
Release Date: August 14th from Crown Books for Young Readers
Why You'll Love It: This awesome anthology came together with the fantastic organization We Need Diverse Books, and it doesn't just feature short stories—there's a one-act play from Walter Dean Myers!) Assembled by Edgar Award-nominated author Lamar Giles, it combines an all-star cast of talent. Plus, each purchase gives back to a fantastic literary organization.
For Fans of: Anthologies that collect diverse groups of writers, such as Ellen Oh's Flying Lessons.
Description: Careful—you are holding fresh ink. And not hot-off-the-press, still-drying-in-your-hands ink. Instead, you are holding 12 stories with endings that are still being written—whose next chapters are up to you.
Because these stories are meant to be read. And shared.
Thirteen of the most accomplished YA authors deliver a label-defying anthology that includes 10 short stories, a graphic novel and a one-act play. This collection will inspire you to break conventions, bend the rules and color outside the lines. All you need is fresh ink.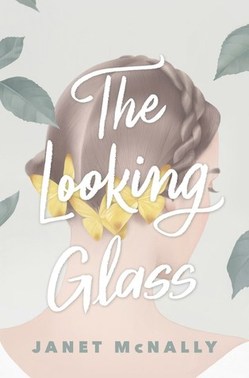 4. The Looking Glass by Janet McNally
Release Date: August 14th from HarperTeen
Why You'll Love It: Here's the thing about Janet McNally's writing: it borders on poetry (which should come as no surprise, considering her background in poetry). The lyrical prose in The Looking Glass is stunning, making for one of 2018's loveliest reads.
For Fans of: Literary YA novels by authors like Jeff Zentner and David Arnold.
Description: GIRLS IN TROUBLE. That's what Sylvie Blake's older sister Julia renamed their favorite fairy tale book, way back when they were just girls themselves. Now, Julia has disappeared—and no one knows if she's in trouble.
Sylvie is trying to carry on Julia's impressive legacy at the prestigious National Ballet Theatre Academy, but Julia, ever the star of the show, can't stay hidden forever. And when she sends Sylvie a copy of their old storybook with a mysterious list inside, Sylvie begins to see signs of her sister everywhere she goes. She may be losing her grip on reality, but Sylvie has to find out if the strange, almost magical things she's been seeing have anything to do with Julia's whereabouts.
With the help of her best friend's enigmatic brother and his beat-up car, Sylvie sets out to the beat of a Fleetwood Mac playlist, determined to return to New York with her sister in tow. But what Sylvie doesn't expect to learn is that trouble comes in lots of forms—and that the damsel in distress is often the only one who can save herself.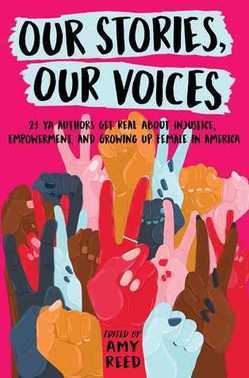 5. Our Stories, Our Voices: 21 YA Authors Get Real About Injustice, Empowerment and Growing Up Female in America edited by Amy Reed
Release Date: August 14th with Simon Pulse
Why You'll Love It: Another anthology? We aren't nearly done yet, my friends. This one packs in 21 essays about growing up female in today's political climate. Prepare to be inspired by some incredible people.
For Fans of: Kelly Jensen's fantastic, nonfiction YA anthologies.
Description: This collection of 21 essays from major YA authors touches on a powerful range of topics related to growing up female in today's America and the intersection with race, religion and ethnicity. Sure to inspire hope and solidarity to anyone who reads it, Our Stories, Our Voices belongs on every young woman's shelf.
This anthology features essays from Martha Brockenbrough, Jaye Robin Brown, Sona Charaipotra, Brandy Colbert, Somaiya Daud, Christine Day, Alexandra Duncan, Ilene Wong (I.W.) Gregorio, Maurene Goo. Ellen Hopkins, Stephanie Kuehnert, Nina LaCour, Anna-Marie McLemore, Sandhya Menon, Hannah Moskowitz, Julie Murphy, Aisha Saeed, Jenny Torres Sanchez, Amber Smith and Tracy Walker.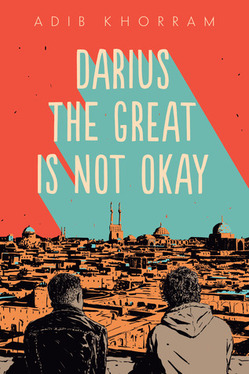 6. Darius the Great Is Not Okay by Adib Khorram
Release Date: August 28th from Dial Books
Why You'll Love It: This contemporary novel about a teen trying to find his place has been getting a lot of well-deserved hype. Packed with diverse characters, a story that touches on mental health and plenty of nods to geek culture, Darius the Great Is Not Okay deserves a spot on your shelf.
For Fans of: Books by authors like Aisha Saeed and Aditi Khorana, with a heavy splash of humor and geekery.
Description: Darius Kellner speaks better Klingon than Farsi, and he knows more about Hobbit social cues than Persian ones. He's about to take his first-ever trip to Iran, and it's pretty overwhelming—especially when he's also dealing with clinical depression, a disapproving dad and a chronically anemic social life. In Iran, he gets to know his ailing but still formidable grandfather, his loving grandmother,and the rest of his mom's family for the first time. And he meets Sohrab, the boy next door who changes everything.
Sohrab makes sure people speak English so Darius can understand what's going on. He gets Darius an Iranian National Football Team jersey that makes him feel like a True Persian for the first time. And he understands that sometimes, best friends don't have to talk. Darius has never had a true friend before, but now he's spending his days with Sohrab playing soccer, eating rosewater ice cream and sitting together for hours in their special place, a rooftop overlooking the Yazdi skyline.
Sohrab calls him Darioush—the original Persian version of his name—and Darius has never felt more like himself than he does now that he's Darioush to Sohrab. When it's time to go home to America, he'll have to find a way to be Darioush on his own.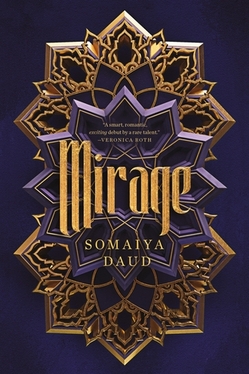 7. Mirage by Somaiya Daud
Release Date: August 28th from Flatiron Books
Why You'll Love It: A diverse space opera that blends elements of sci-fi with splashes of fantasy? And it kicks off a trilogy? You need this book right now.
For Fans of: Epic space operas by authors like Beth Revis and Pierce Brown.
Description: In a star system dominated by the brutal Vathek empire, 18-year-old Amani is a dreamer. She dreams of what life was like before the occupation; she dreams of writing poetry like the old-world poems she adores; she dreams of receiving a sign from Dihya that one day, she, too, will have adventure, and travel beyond her isolated moon.
But when adventure comes for Amani, it is not what she expects: she is kidnapped by the regime and taken in secret to the royal palace, where she discovers that she is nearly identical to the cruel half-Vathek Princess Maram. The princess is so hated by her conquered people that she requires a body double, someone to appear in public as Maram, ready to die in her place.
As Amani is forced into her new role, she can't help but enjoy the palace's beauty—and her time with the princess' fiancé, Idris. But the glitter of the royal court belies a world of violence and fear. If Amani ever wishes to see her family again, she must play the princess to perfection…because one wrong move could lead to her death.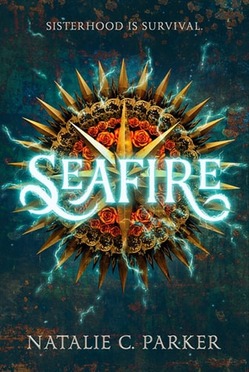 8. Seafire by Natalie C. Parker
Release Date: August 28th from Razorbill
Why You'll Love It: I love a fantasy novel that, in addition to amazing world-building, dishes out a story that's more about the people than the landscape. That's what makes for the best kind of fantasy—when the world doesn't get in the way of the characters. Seafire succeeds in weaving a fantasy with sisterhood at its center, and it is impossible to put down.
For Fans of: Books by authors like Susan Dennard and Nicole Castroman.
Description: After her family is killed by corrupt warlord Aric Athair and his bloodthirsty army of Bullets, Caledonia Styx is left to chart her own course on the dangerous and deadly seas. She captains her ship, the Mors Navis, with a crew of girls and women just like her, whose lives have been turned upside down by Aric and his men. The crew has one misson: stay alive, and take down Aric's armed and armored fleet.
But when Caledonia's best friend and second-in-command just barely survives an attack thanks to help from a Bullet looking to defect, Caledonia finds herself questioning whether or not to let him join their crew. Is this boy the key to taking down Aric Athair once and for all…or will he threaten everything the women of the Mors Navis have worked for?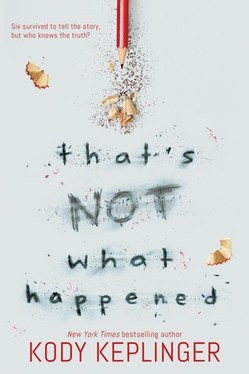 9. That's Not What Happened by Kody Keplinger
Release Date: August 28th from Scholastic Press
Why You'll Love It: There have been a lot of YA novels about school shootings, from stories that take place during the attack (like Marieke Nijkamp's brilliant This Is Where It Ends) to books tackling the emotional aftermath as a survivor (like Marissa Reichardt's Underwater). Kody Keplinger's novel is unique in that it launches three years after an infamous massacre at a high school, exploring how the story got twisted along the way by the media, the parents, everyone. This is a must-read by one of my favorite YA writers.
For Fans of: Marieke Nijkamp's This is Where It Ends and Marissa Reichardt's Underwater).
Description: It's been three years since the Virgil County High School Massacre. Three years since my best friend, Sarah, was killed in a bathroom stall during the mass shooting. Everyone knows Sarah's story—that she died proclaiming her faith.
But it's not true.
I know because I was with her when she died. I didn't say anything then, and people got hurt because of it. Now Sarah's parents are publishing a book about her, so this might be my last chance to set the record straight . . . but I'm not the only survivor with a story to tell about what did—and didn't—happen that day.
Except Sarah's martyrdom is important to a lot of people, people who don't take kindly to what I'm trying to do. And the more I learn, the less certain I am about what's right. I don't know what will be worse: the guilt of staying silent or the consequences of speaking up . . .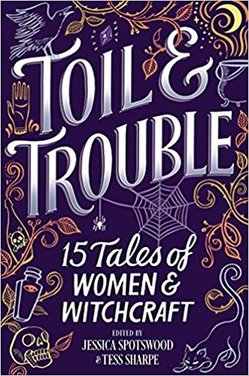 10. Toil & Trouble: 15 Tales of Women & Witchcraft edited by Jessica Spotswood and Tess Sharpe
Release Date: August 28th from Harlequin Teen
Why You'll Love It: The final anthology on this list rounds up stories about witchcraft! Beloved authors already writing witchy stories (like Zoraida Cordova, whose Brooklyn Brujas series is beloved by us here at Paste) and exciting debut writers (like Shveta Thakrar, whose story is an absolute gem) make up the collection, penning tales across genres.
For Fans of: Books by authors like Zoraida Cordova, Michelle Krys and Sally Green.
Description: Glinda the Good Witch. Elphaba the Wicked Witch. Willow. Sabrina. Gemma Doyle. The Mayfair Witches. Ursula the Sea Witch. Morgan le Fey. The three weird sisters from Macbeth.
History tells us women accused of witchcraft were often outsiders: educated, independent, unmarried, unwilling to fall in line with traditional societal expectations.
Bold. Powerful. Rebellious.
From good witches to bad witches, to witches who are a bit of both, this is an anthology of diverse witchy tales from a collection of diverse, feminist authors. The collective strength of women working together—magically or mundanely—has long frightened society, to the point that women's rights are challenged, legislated against and denied all over the world. Toil & Trouble delves deep into the truly diverse mythology of witchcraft from many cultures and feminist points of view, to create modern and unique tales of witchery that have yet to be explored.