It's November, so it feels like we're supposed to make a "these are the books we're thankful for this month" joke. But aren't we better than that? Let's skip the Thanksgiving-related wordplay, and just dig into this cornucopia of books, this bounty of words, this delicious and savory spread of—
Alright, we'll stop.
The 10 best Young Adult books of November include everything from amazing debut novels to exciting books from beloved favorites. Let's dig in.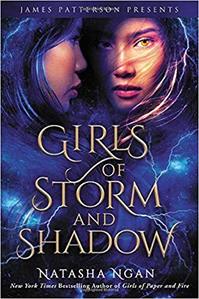 Girls of Storm and Shadow by Natasha Ngan
Release Date: November 5th from Jimmy Patterson Books
Why You'll Love It: The sequel to the New York Times bestselling Girls of Paper and Fire, Natasha Ngan's latest novel follows Lei and Wren post-escape (read the first book if you haven't already). Her gorgeous writing makes for an incredible read, and her inclusive, diverse worlds are an absolute wonder to explore. If you're like us, you can't wait to dive back into Ngan's series.
For Fans of: Thrilling fantasy novels by authors like Elizabeth Lim and Roshani Chokshi.
Publisher's Description: Lei, the naive country girl who became a royal courtesan, is now known as the Moonchosen, the commoner who managed to do what no one else could. But slaying the cruel Demon King wasn't the end of the plan—-it's just the beginning. Now Lei and her warrior love Wren must travel the kingdom to gain support from the far-flung rebel clans. Meanwhile, an evil plot to eliminate the rebel uprising is taking shape, fueled by dark magic and vengeance. Will Lei succeed in her quest to overthrow the monarchy and protect her love for Wren, or will she fall victim to the sinister magic that seeks to destroy her?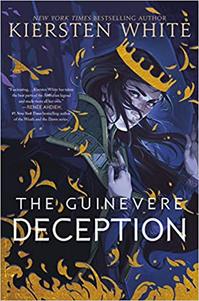 The Guinevere Deception by Kiersten White
Release Date: November 5th from Delacorte Press
Why You'll Love It: The first book in the Camelot Rising trilogy, Kiersten White's latest is a fantasy reimagining of the Arthurian legend focusing on Guinevere's adventures! What more do you need to pick up this book?
For Fans of: Epic YA retellings by authors like Marissa Meyer.
Publisher's Description: Princess Guinevere has come to Camelot to wed a stranger: the charismatic King Arthur. With magic clawing at the kingdom's borders, the great wizard Merlin conjured a solution—send in Guinevere to be Arthur's wife…and his protector from those who want to see the young king's idyllic city fail. The catch? Guinevere's real name—and her true identity—is a secret. She is a changeling, a girl who has given up everything to protect Camelot. But deadly jousts, duplicitous knights and forbidden romances are nothing compared to the greatest threat of all: the girl with the long black hair, riding on horseback through the dark woods toward Arthur. Because when your whole existence is a lie, how can you trust even yourself?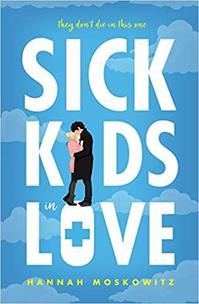 Sick Kids in Love by Hannah Moskowitz
Release Date: November 5th from Entangled Teen
Why You'll Love It: The prolific Hannah Moskowitz is back with another emotional novel—just as the title promises. A story about breaking your own promises to yourself and following your heart, Sick Kids in Love is a powerful read.
For Fans of: Authors like Gayle Foreman and David Levithan.
Publisher's Description: Isabel has one rule: no dating. It's easier, safer, better for the other person. She's got issues. She's got secrets. She's got rheumatoid arthritis. But then she meets another sick kid with a chronic illness Isabel's never heard of. He understands what it means to be sick. He understands her more than her healthy friends. He understands her more than her own father who's a doctor. He's gorgeous, fun, and foul-mouthed. And totally into her. Isabel has one rule—and considers breaking that rule for him.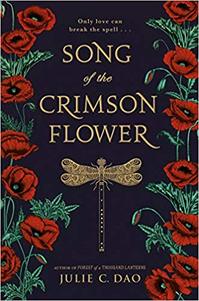 Song of the Crimson Flower by Julie C. Dao
Release Date: November 5th from Philomel Books
Why You'll Love It: Julie C. Dao's breathtaking Forest of a Thousand Lanterns was a perfect book, so this is a must-read. Song of the Crimson Flower is a standalone companion novel to her fantasy series, promising an epic tale of love, loss and war. And even if you haven't read her earlier books, you can dive right into this one.
For Fans of: Authors like Stacey Lee, Leigh Bardugo and Renée Ahdieh.
Publisher's Description: After cruelly rejecting Bao, the poor physician's apprentice who loves her, Lan, a wealthy nobleman's daughter, regrets her actions. So when she finds Bao's prized flute floating in his boat near her house, she takes it into her care, not knowing that his soul has been trapped inside it by an evil witch and only love will set him free. Though Bao now despises her, Lan vows to make amends and help break the spell. Together, the two travel across the continent, finding themselves in the presence of greatness in the forms of the Great Forest's Empress Jade and Commander Wei. They journey with Wei, getting tangled in the webs of war, blood magic and romance along the way. Will Lan and Bao begin to break the spell that's been placed upon them? Or will they be doomed to live out their lives with black magic running through their veins?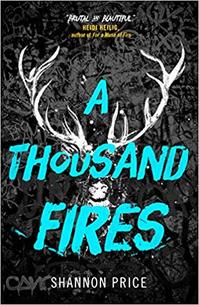 A Thousand Fires by Shannon Price
Release Date: November 5th from Tor Teen
Why You'll Love It: This stunning debut novel weaves a brilliant retelling of The Iliad in a modern setting: San Francisco. Having adored every page of Shannon Price's dark and complex story, we know you will, too.
For Fans of: Authors like Courtney Summers and Veronica Roth.
Publisher's Description: Valerie Simons knows the city's gang wars are dangerous—her own brother was killed by the Boars two years ago. But nothing will sway her from joining the elite and beautiful Herons to avenge his death—a death she feels responsible for. But when Valerie is recruited by the mysterious Stags, their charismatic and volatile leader Jax promises to help her get revenge. Torn between old love and new loyalty, Valerie fights to stay alive as she races across the streets of San Francisco to finish the mission that got her into the gangs.

Winterwood by Shea Ernshaw
Release Date: November 5th from Simon Pulse
Why You'll Love It: If we learned one thing from Shea Ernshaw's first novel, The Wicked Deep, it's that she's talented at blending haunting fantasy with complex relationship stories. And Winterwood promises the same from Ernshaw; it boasts enchanted woods, a vanished teen and a magical mystery.
For Fans of: Authors like Zoraida Córdova and Stephanie Garber.
Publisher's Description: Rumored to be a witch, only Nora Walker knows the truth. She and the Walker women before her have always shared a special connection with the woods. And it's this special connection that leads Nora to Oliver Huntsman—the same boy who disappeared from the Camp for Wayward Boys weeks ago—and in the middle of the worst snowstorm in years. But Nora can feel an uneasy shift in the woods at Oliver's presence. And it's not too long after that Nora realizes she has no choice but to unearth the truth behind how the boy she has come to care so deeply about survived his time in the forest, and what led him there in the first place. What Nora doesn't know, though, is that Oliver has secrets of his own—secrets he'll do anything to keep buried.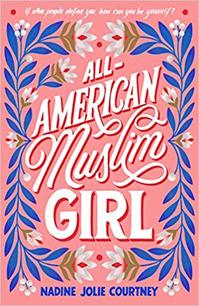 All-American Muslim Girl by Nadine Jolie Courtney
Release Date: November 12th from Farrar, Straus and Giroux Books for Young Readers
Why You'll Love It: We were lucky enough to reveal the cover for this highly-anticipated novel, and now it's finally here! Promising a story about identity and finding your place, All-American Girl is a captivating novel that's worth the wait.
For Fans of: Stories about the search for identity and wrestling between two worlds, like in books by Gloria Chao.
Publisher's Description: Allie Abraham has it all going for her—she's a straight-A student with good friends and a close-knit family, and she's dating cute, popular and sweet Wells Henderson. One problem: Wells' father is Jack Henderson, America's most famous conservative shock jock…and Allie hasn't told Wells that her family is Muslim. It's not like Allie's religion is a secret, exactly. It's just that her parents don't practice and raised her to keep her Islamic heritage to herself. But as Allie witnesses ever-growing Islamophobia in her small town and across the nation, she begins to embrace her faith. Who is Allie, if she sheds the façade of the "perfect" all-American girl? What does it mean to be a "good" Muslim? And can a Muslim girl in America ever truly fit in?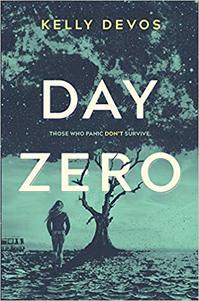 Day Zero by Kelly deVos
Release Date: November 12th from Inkyard Press
Why You'll Love It: Kelly deVos' second novel proves she is a genre-jumping rock star. From her debut contemporary novel, Fat Girl on a Plane to…an end of the world apocalyptic novel? She makes the jump and sticks the landing with an absolutely thrilling story of family and survival.
For Fans of: Authors like Mindy McGinnis and Erin Bowman.
Publisher's Description: Seventeen-year-old coder Jinx Marshall grew up spending weekends drilling with her paranoid dad for a doomsday she's sure will never come. But all that disaster training comes in handy when an explosion traps her in a burning building. Stuck leading her headstrong stepsister and her precocious little brother to safety, Jinx gets them out alive only to discover the explosion is part of a pattern of violence erupting all over the country. Even worse, Jinx's dad stands accused of triggering the chaos. In a desperate attempt to evade paramilitary forces and vigilantes, Jinx and her siblings make a break for Mexico. With seemingly the whole world working against them, they've got to get along and search for the truth about the attacks—and about each other.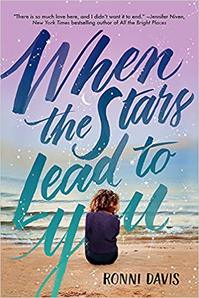 When the Stars Lead to You by Ronni Davis
Release Date: November 12th from Little, Brown Books for Young Readers
Why You'll Love It: Ronni Davis' debut novel is a powerful read about falling in love for the first time…and then maybe doing it all over again. It's a wildly honest, emotional read that makes for one of the most memorable debuts of 2019. Come for the swoons, stay for the heartbreak, read it again for the gorgeous writing.
For Fans of: Authors who write moving novels about relationships, like Lauren Gibaldi, Julia Buxbaum and Nicola Yoon.
Publisher's Description: When Ashton breaks Devon's heart at the end of the most romantic and magical summer ever, she thinks her heart will never heal again. But over the course of the following year, Devon finds herself slowly putting the broken pieces back together. Now it's senior year, and she's determined to enjoy every moment of it as she prepares for a future studying the galaxies. That is, until Ashton shows up on the first day of school. Can she forgive him and open her heart again? Or are they doomed to repeat history?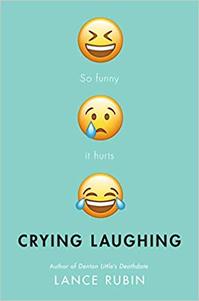 Crying Laughing by Lance Rubin
Release Date: November 19th from Knopf Books for Young Readers
Why You'll Love It: A novel about a teen comedian wrestling with scary family news, all while trying to keep making people laugh? Count us in. Lance Rubin's latest novel promises another layered story of life's ups and downs paired with the search for a little happiness—a theme he tackles so well in his Denton Little books. (And if you haven't scoped out the adaptation of Denton Little's Deathdate, it's currently streaming in mini-episodes on Snapchat's SnapTV.)
For Fans of: Authors who write with tons of humor and heart, like Becky Albertalli and Ben Phillipe.
Publisher's Description: Winnie Friedman has been waiting for the world to catch on to what she already knows: she's hilarious. But after bombing a stand-up set at her own bat mitzvah, Winnie has kept her jokes to herself. Then, on the second day of tenth grade, the funniest guy in school actually laughs at a comment she makes in the lunch line and asks her to join the improv troupe. Just when Winnie's ready to say yes to comedy again, her father reveals that he's been diagnosed with ALS. That is…not funny. Caught up in a spiral of epically bad dates, bad news and bad performances, Winnie's struggling to see the humor in it all. But finding a way to laugh is exactly what will see her through.