The release of Bill Hicks: The Complete Collection in September represents the absolute final word on the subject of the late comic. The 18 disc set, charmingly boxed up to look like a pack of cigarettes, brings together his standup albums, televised specials, and a wealth of bootleg recordings that provides a comprehensive look at his evolution as a comedian. You can see and hear his confidence grow as his material became more pointed, political and brilliant.
While it is surely instructive for fans to tackle this set in chronological order so you can follow the arc of his career from his days at the Comix Annex in Houston, Texas to performing at 1200 capacity theaters in the U.K., for the newbie, you might give up after watching his nervous, youthful set filmed in 1981. With that in mind, we offer up our ranking of the 18 discs found in this collection, from the best to the worst, as a way for you fresh fans to dive into this trove of audio and visual comedy. All the better to appreciate just how good Hicks could be and then flesh out the story with the rest.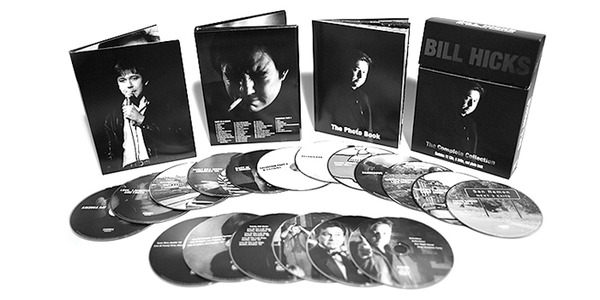 1. Rant In E-Minor
Recorded between '92 and '93 and posthumously released in 1997, this is Bill Hicks at his most vitriolic, his angriest, and his most focused and potent. Mixed with music and small interludes that include him screaming at the audience to wake up, he tackles his usual suspects—Christianity, politics, hypocrisy in the media, and evils of advertising—with fangs and claws exposed.
2. Flying Saucer Tour Vol. 1
As Hicks got more comfortable on stage, he also grew much bolder and much more willing to turn on a crowd that just wasn't responding to his material. On this disc, recorded at a tour stop in Pittsburgh in 1991, he challenges the audience and has some particularly vicious back and forths with them. Might have been tough to sit through in person, but it makes for great listening some 20 years later.
3. Relentless
Only the second album of Hicks' stand-up material that was released during his lifetime, and it's the stuff that helped turn him into a legend among his fans and other comics. In particular, his challenge to any anti-drug advocates to accept the fact that sometimes good things can come out of being high, like virtually all the best rock music made in the '60s, '70s and beyond. Even better is his extended bit about the first Persian Gulf War and the disturbing patriotism that grew in this country as a result.
4. Relentless One Night Stand + Ninja Bachelor Party
The best DVD in among the eight featured in this collection features his still-classic HBO comedy special (One Night Stand) and a great set filmed at the Just For Laughs festival in Montreal. What makes it even better is a great interview with Hicks' older brother, where he discusses the comic's career in depth. Would have ranked higher were it not for the inclusion of the deeply silly short film Hicks made with his fellow comic buddies in Austin (Ninja Bachelor Party).
5. Arizona Bay
Hicks had hit his stride by the time this material was recorded in 1991 and 1992. His material about the Rodney King trial and the L.A. Riots is passionate and hilarious, and he works in a lot of ridiculous and surreal bits about Satan and Elvis. Points deducted as the music that Hicks and his cohort Kevin Booth used to pad out the album isn't nearly as good as that found on Rant In E-Minor.
6. Salvation Part 1
The first disc of an two CD set, recorded at the Oxford Playhouse in 1992, and originally released in 2005. Hicks is at his political best on this one, as he delights in the removal of the first President Bush from office, but rightfully doesn't trust the guy replacing him in the Oval Office. Some familiar material on here, particularly his bits on smoking and the media, but twisted just so to appeal to a very enthusiastic sounding U.K. audience.
7. Totally Bill Hicks + Laff Stop clips
Totally combines a fine documentary about Hicks' life and career, which features interviews with his family members and his fellow stand-ups, with his last live performance in England, filmed in front of a raucous audience at London's Dominion Theatre. The disc is padded out with several short clips of him on stage at the Laff Stop in Austin. The material comprised in these bits isn't anything you haven't heard before but it is charming to see Hicks' comfort level being back in his old hometown.
8. Live At Zanies + Live At Punch Line
Fine, long stand-up sets marred by unfortunate video quality. The better of the two is the one filmed at the Punch Line in San Francisco where he goes on an extended opening, unprepared rant about playing to and reacting to more conservative audiences. As with much of this set, if you're familiar with the material he was going around this time, you'll know almost all of it. It's fun though to hear the small variations to otherwise well-rehearsed jokes.
9. Dangerous
Hicks' first stand-up album, originally recorded and released in 1990. His comfort with being on stage is evident, but a chunk of the material is merely good (I never really enjoyed his bit about dealing with hotel housekeeping). And it's hard to forget that he would improve exponentially as a writer and performer just one year later.
10. Flying Saucer Tour Vol. 2
Recorded in California in, I'm speculating, 1991, Hicks sticks it out for a full hour in spite of an audience that sounds either confused by his jokes or too full of tranquilizers to respond. He doesn't get as pissed as on the first Flying Saucer Tour disc, but he voices his confusion and frustration, and his performance sounds a little lackluster as a result.
11. Sane Man + Live At Funny Firm
This DVD brings together the first filmed special that Hicks released in the late '80s (Sane Man) and a set from around the same period filmed in Chicago. The former is fine if a little overdone thanks to post-production silliness, like overlaying Super-8 footage of Hicks on top of his live performance. As well, the material is the same as what wound up on Dangerous, which by that point had been honed considerably. The latter stand-up set comes from the same run of shows where he completely lost it on some awful audience members. My guess is that this came after that experience as Hicks just seems exasperated and ready to be done with Chicago.
12. Salvation Part 2 + 12/16/61
The second part of his long set at Oxford Playhouse, which finds him getting a little catty with his U.K. audience and poking a bit, with good humor, at their culture and food. Not as strong as the first part of the show, but still worth checking out. Disc gets knocked down a few pegs by the inclusion of an early, twitchy stand-up set from Hicks that finds him still shaking off the influence of his mentor Sam Kinison.
13. Queen's Theatre Early Show
A roughly-recorded bootleg of Hicks performing standup at the Queen's Theatre in London. His obvious comfort with a British audience is evident. The set itself is a hodgepodge of his best material (drugs, the L.A. riots, his review of Basic Instinct) with a little time spent looking at the sometimes stark differences between the U.S. and the U.K. Fine but relatively inessential.
14. Love Laughter and Truth
A compilation of unreleased material that Hicks recorded on his own, likely as a reference to shave off the dead weight from his sets. Marred by varying sound quality, it's a mixed bag of sharp observations (his bits on Australia and smoking are fantastic) and pedestrian tales of dealing with children on airplanes and his hatred of the New Kids On The Block.
15. Queen's Theatre Late Show
Another bootleg recording of Hicks in London. Again, the material is quite familiar and presented very well, but it's rendered nearly irrelevant by the truly awful quality of the tape. It doesn't help one bit that the loudest, clearest sounds on it are the giggles of the couple that made the recording.
16. Loonie's + Igby's
Decent enough trio of videotaped performances by Hicks that have that eyeball challenging washed out quality to them. The sets are vintage Hicks but it's not hard to see that he looks and acts exhausted throughout. Whenever he opens up his show with his line about doing comedy for a decade and needing to paste on a fake smile to get through it all, you know you're in for a bit of rough ride.
17. Live At Comix Annex The Outlaw Comics
Hicks and his fellow Texan comics tried hard to write their own legend long before any of them were known outside their home state. That's where the self-made documentary about the Outlaw Comics comes from. It makes for a charming enough artifact where you can marvel at the confidence he had even at that early stage of his career. The rest of this DVD is filled with early standup sets from Hicks where his delivery and his material were really shaggy and wobbly.
18. Early Bill Hicks
When you have a complete collection of any artist, you're going to get the best and the worst of their work. And it is potentially the stuff that they wouldn't want you to hear or see. If Hicks were still around, I doubt he'd want this collection of material from the beginning of his career in comedy out there for mass consumption. He was an immature comic without a lot of experience to draw from and it is reflected in this material about his car, his parents and cats.
Robert Ham is a Portland-based freelance writer and regular contributor to Paste. You can follow him on Twitter.