Dulcé Sloan hates New York City. Aside from the stellar bodega near her house—which has waffle fries and wraps and whatever else a comic may crave after a late night show—she is not long for her new home.
"This city does a number on me on a regular basis so I have no love for her, she has no love for me, it's pretty mutual," Sloan tells me over the phone. Their hate-hate relationship kicks off The Daily Show correspondent's new Comedy Central half-hour, which also touches on her stint living in Los Angeles, her love for Jewish men and the general horniness that overtakes women once we hit 30. The special itself was filmed in New Orleans, but Sloan has performed her anti-New York material in the Big Apple itself. Her jokes are hilarious no matter where you're from, but some audience members still approach her afterward with a bone to pick.
"People like to come up to me and are like, 'Well, I really like New York' and I just go, 'Oh, I don't care,'" Sloan says. She recalls one girl who talked to her after the show, claiming to dislike the South. Sloan, who's lived in both Miami and Atlanta, wasn't impressed.
"I was like, 'Oh girl, one, you're trying to bait me. Two, you're not good at it because I picked a specific city, you were talking about 13 states," the 36-year-old recounts, "Ma'am, I am not here for this."
Despite these contrarians, everything's coming up Dulcé. Sloan is lending her voice talent to a character on The Great North, a new cartoon from Bob's Burgers writer/producer Wendy Molyneux featuring Nick Offerman, Megan Mullaly, Jenny Slate and Aparna Nancherla, among others. The series follows a single father and his unusual Alaskan family. Sloan plays Honey Bee, who moves from Fresno, Calif. to join her boyfriend in the wild Alaskan wilderness, and even had the chance to shape her character's appearance. While she had previously done voiceover work for friends' cartoons in Atlanta, this was her first "big project" in voice acting.
"It's interesting because [voiceover work] makes you pay way more attention to how your voice conveys emotion," she tells me.
The Great North isn't due to premiere until 2020, but in the meantime, Sloan and the rest of The Daily Show staff are keeping busy preparing for their coverage of the already batshit crazy presidential election. In her eyes, it's not likely that Donald Trump will be leaving the Oval Office.
"That man's going to win again," she says knowingly. Impeachment hearings are on the horizon, but Sloan predicts, "Half that trial's going to be him going, 'You can't talk to me like this, I'm the president,' and the other half of the trial's going to be like, 'Uhhh, yes we can!'" Even if he's successfully impeached, "it's probably gonna take the secret service to drag him out of that house."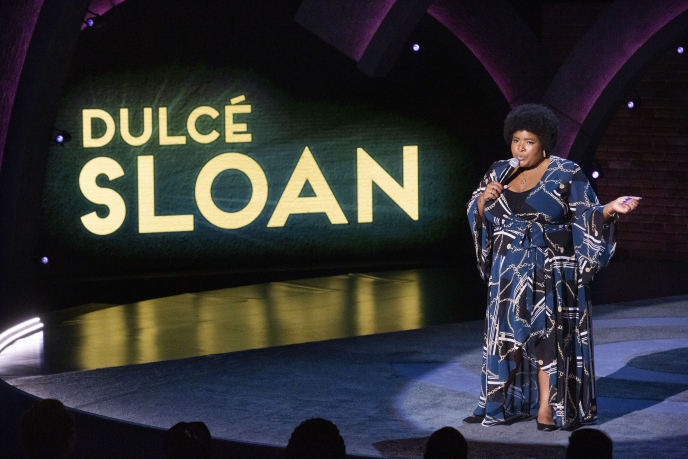 Though Sloan detests Trump, she doesn't fear him. "He's a jackass with nuclear codes, and I don't think they gave him the real codes!" she jokes. But for her, the more tangible threat of police violence hangs heavy in the air. Just over a week before we speak, former police officer Amber Guyger was sentenced to only 10 years for shooting Botham Jean in his own apartment, despite being convicted of murder. The day after the interview, Atatiana Koquice Jefferson, a 28-year-old black woman, was murdered by a white police officer in her own home while she was playing videogames with her nephew.
"I can go my entire life and not ever meet Trump," she tells me. "I'm going to see cops every day."
Instead, Sloan posits that Trump made white people aware of just how frightening a place the United States is—a reality that people of color are far too familiar with.
"All of us are like, 'Hiii! Welcome…We've been telling you America was a scary place the entire time and it didn't apply to y'all,'" she says.
The next item on her list of dislikes is far more controversial than our much-reviled commander-in-chief or police shootings: dogs. Sloan is firmly a cat person—her longtime pets Queen Esther and Miracle live with her mom back in Georgia— and cites the fact that dogs have killed people as part of why she's averse to them. And Sloan has strong personal reason for disliking man's best friend; twice as a child, white people sicced their canines on her.
When I ask if she thinks a cat's ever killed a person, she replies, "No! How? What? Only if they were sitting up on the stairs and you tripped themselves…. Cats don't get to be 200 pounds. There aren't police cats." She continues, "I don't understand, there's a lot of anti-cat propaganda that I see in the media and I want to call it out, I want to point it out, because it's very offensive to me."
In the world according to Sloan, Bond villains would stroke tiny fluffy dogs, Atlanta would be the setting of every rom-com and Democrats would've effectively dealt with Trump when he first started inserting himself into politics in 2010. It would be a pretty nice place to live.
---
Clare Martin writes about comedy, music and more for Paste.