The Look of Laughter: Four Rising Photographers in the World of Comedy
All photos courtesy of the photographers; banner image: (L to R: Jim Breuer by Phil Provencio; Atsuko Okatsuka by Kim Newmoney; Brian Emond by Lola Scott)
Comedy
Features
photography
Headshots typically adorn the walls of most old-school comedy clubs. Much like the stage these comics grace, the setup for these photos are almost completely devoid of any frills. Just standard framing, standard stool, and that standard old school microphone that nobody has ever actually used for stand-up.
Partially why everyone's portraits and headshots used to look the same is that the comedians featured tended to look the same as well. When every comedian on the wall has the same receding hairline and brown tweed sports blazer, they're going to have the same composition and lighting too. There was less thinking outside the box because it wasn't necessary, your portrait functioned more like a driver's license, just proof of name and face.
Like the material itself, the talent pool making its way into mainstream media over the years has become much less homogenous. More diverse voices lends to more diversity in style choices. Through indie/alt scenes, social media, podcasts, etc. comedians have found new ways to catch people's attention.
As stand-up has evolved into a much more multifaceted medium, thankfully the photography has too as more and more value is being placed onto it. Today, comedians are putting just as much thought into making their album cover art stand out as they are putting into the jokes recorded for them, which is a breath of fresh air. The images you see today have an artistic flair that is more akin to what you'd find in a high-end lifestyle magazine than a bargain-bin of DVDs at a gas station—less rubber chickens, more natural light.
For years, it's been all about getting a snap (aka "a Mindy") from the iconic Mindy Tucker, one of the earliest photographers to make a name for herself shooting comedy shows and performers, in the green rooms and on the streets of New York. Nine times out of ten, when you see a photo of a comedian, be it at Brooklyn's Bell House or SXSW, it was taken by Tucker. While she's become a fixture in the national scene, she's certainly not alone. Perusing through Instagram, a consistent bill of names pop up, attributed to a stunning array of nifty camera work. Paste takes a peek behind the lights to see comedy's cache of Annie Liebowitzs.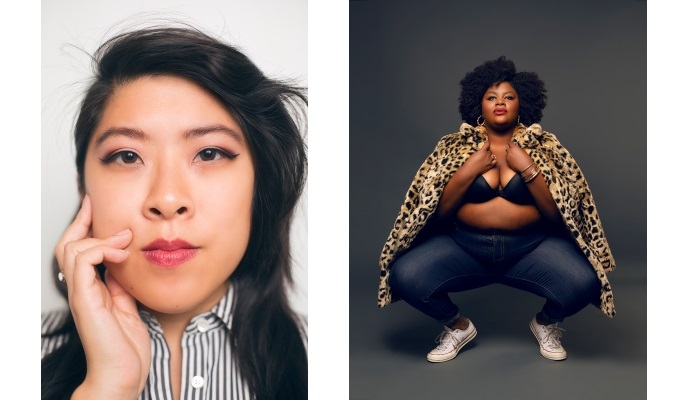 (pictured: Kim Newmoney (left), Nicole Byer (right). Photos courtesy of Kim Newmoney)
Kim Newmoney
Los Angeles, CA
Shooting since: 2008/2009
https://www.kimnewmoney.com/
Locking down the West Coast is Kim Newmoney. The North Carolina native started a budding photography career working with toddlers and sorority and fraternity pledges, juggling stints at a portrait studio and an event photography company. It wasn't until she moved to Los Angeles that she started shooting her biggest clientele. "I moved out here and didn't really have any friends. And I was like, 'What do I do?' Newmoney says. "So I started going to comedy shows by myself."
Immersing herself into the community, it wasn't long before Newmoney starting shooting comedy shows, then behind the scene portraits, and eventually her current forte of in-studio portraits. If you follow any LA-based comedians, you've likely seen her work. Comedians such as Nicole Byer, Marcello Arguello and Megan Gailey have been the subject of beautifully balanced and vibrant photo sessions with Newmoney. She's built quite the portfolio making her funny friends look sharp for headshots, album covers, podcast artwork, and wedding/elopement photos.
"It's different to be in the studio and be able to joke with someone who already understands that you're being sarcastic," she says. "There are certain people you just can't go in a studio with and just do that."
While comedians make up the bulk of her subjects, Newmoney also captures photos of folks at the ACLU and Crooked Media, as well as projects focusing on undocumented immigrants and members of the LGBTQIA community.
"I've always photographed people [that] I think should have higher visibility," she notes. "It just kind of keeps me sane, I guess. It's funny cause I feel like I could be considered a pretty serious person yet all I do is photograph comedians."
---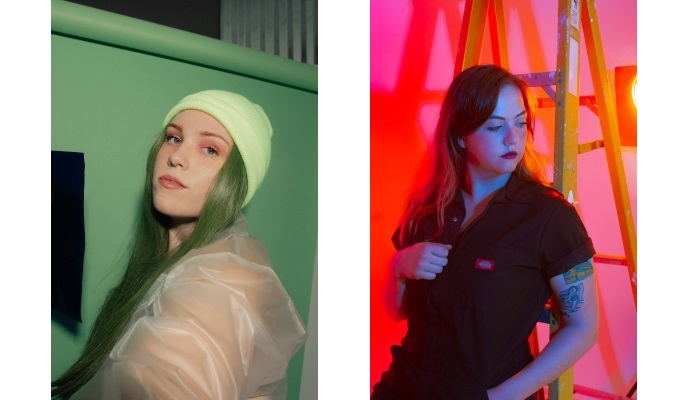 (pictured: Lola Scott (left), Cherith Fuller (right). Photos courtesy of Lola Scott)
Lola Scott
Atlanta, GA
Shooting since: 2009
http://lolascottart.com/
The South's got something to say. Atlanta is the biggest hub for comedy in the Southeast. With no shortage of great artists across all mediums, comedians had turned to a rotating door of local photographers for their headshots over the years without one person really cementing their spot as THE go-to photog, until Lola Scott came around. The southerner started out shooting a random assortment of subjects before shifting to a steady gig of taking headshots for local actors, one of whom was actor and comedian Fray Forde. "After I did his headshot, he introduced me to a lot of other comics," Scott says. "I met Brian Emond, and at the time I was working on a project called 'Neo-psychedelia,' and he was kind of like my muse at that point." As her photos with Emond quickly circulated through social media, more and more comedians took notice of Scott's photographic prowess.
Today, comedian portraits make up the majority of Scott's schedule. Anytime you see an Atlanta comic post a new photo, it's almost guaranteed to be a Lola Scott original, often draped in a multicolored glow of mesmerizing light and shadow. She's the official photographer for Lace Larrabee's Laugh Lab workshop at The Punchline and was the official photographer at the 2019 Red Clay Comedy Festival, her first festival. "There's such a good energy around comics, like everybody that I've met has been super humble and down to earth and funny as hell."
Scott hopes to expand her professional relationship with the local jokesmiths with a new project that aims to create a visual representation of comedian's jokes. "The whole comedy scene is so welcoming," Scott says. "It's great. I never feel like I'm actually working."
---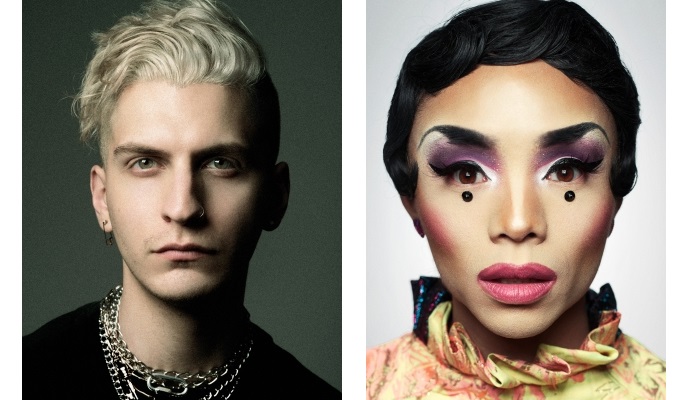 (pictured: Alex Schaefer (left), Kiko Soiree (right). Photos courtesy of Alex Schaefer)
Alex Schaefer
New York, NY
Shooting since: 2014/2015
http://www.alexschaefer.com/
Now working full-time as a photographer, it was film that originally pushed Alex Schaefer to get behind the camera. Schaefer studied film in New York and worked as a camera assistant after graduation on feature films, commercials and his friend's comedy sketches, building up a network of comedians that would soon be a frequent subject of his photography.
Schaefer's first client was himself. Starting off by dabbling in self-portraiture, it steadily grew into a new business venture and his current passion. As a photographer, Schaefer has a knack for capturing soft yet powerful photos of his subjects, portraits that are compelling yet serene. "I thought for me my path was going to be either a director or cinematographer and I kinda took on work as one or the other and neither one seemed to satisfy creatively," Schaefer says. "I feel like photography in some sense is a little bit of both, you have to keep the visuals in mind but you're also working with people and, to me, it's so much more than taking a picture; it's working with a person and [it's] much more of the experience before the picture is even taken, too."
Schaefer works freelance as well as being a member of the photography department of the iconic Saturday Night Live, crafting the sets and lighting for their iconic bumper images as well as collaborating with the show's longtime photographer, Mary Ellen Matthews, on video content. While he works with many artists from different genres and backgrounds, his past and present work in the sketch comedy world regularly presents him with a steady stream of funny subjects. "Comedy is a good way to kind of process things that happen in your life and sort of find the humor in them," Schaefer says. "I feel like I kind of connect in that way because that was sort of photography for me, being able to connect to all these emotions that I really didn't know what to do with."
---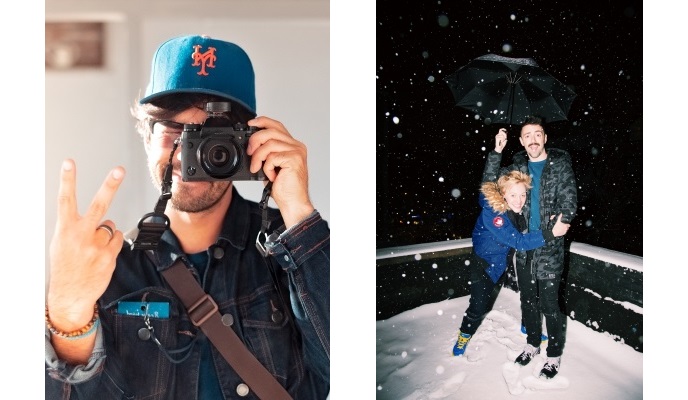 (pictured: Phil Provencio (left), Emma Willmann & Matteo Lane (right). Photos courtesy of Phil Provencio)
Phil Provencio
New York, NY
Shooting since: 2008
https://www.philprovencio.com/
California native Phil Provencio got sucked into the world of stand-up through working at Boston's Improv comedy club while in college. Seeing household names on a regular basis got Provencio hooked and inspired him to go down a new career path. "Stand-up represented this new and exciting way of life I never knew existed, while college represented this boring, calculated and safe life I was supposed to go down," Provencio says. "So instead of dropping out, I compromised with the parents and graduated, but booked a one way flight to New York almost immediately."
Camera in hand, Provencio quickly became one of the New York comedy scene's go-to photogs, a clientele he instantly became very comfortable working with. "There's this almost instantaneous connection and bond you get with them," Provencio says. "… You can let your guard down and just freely express yourself."
Provencio's work captures the excitement of a great comedy show; his backstage candids and studio sessions are full of life. Such handiwork can be seen at Caroline's on Broadway and The Comedy Cellar's Village Underground. Outside of the comedy world, Provencio has shot for Urban Outfitters and various travel blogs. Stand-up is still his bread and butter, though. "The unique thing which I love and is growing year by year is getting to work with [comedians] one-on-one in studio," Provencio says. "Photoshoots can sound terrifying at first and absolutely can be in the wrong hands, but there's this moment when you both leave—feeling better than when you came in, having shared an experience together and come out better from it. When you both just 'get it'… is one of the most rewarding things I've ever experienced."
---
Olivia Cathcart is Paste's assistant comedy editor.