Check Out Exclusive Preview Pages from Heavy Metal's New Tattoo-Inspired Space Warrior Comic, Atomahawk
Images via Heavy Metal
Comics
News
Heavy Metal Magazine, celebrated for its undying love of science fiction/fantasy comics, will publish a uniquely created comic dubbed the badass Atomahawk.
The story will debut in the forthcoming September issue and will be later collected into a one-shot comic. It 's written by Donny Cates (The Paybacks, Ghost Fleet) and drawn by tattoo artist Ian Bederman.
First, marvel at the metal-as-hell cover, and then read the apt description Heavy Metal shared.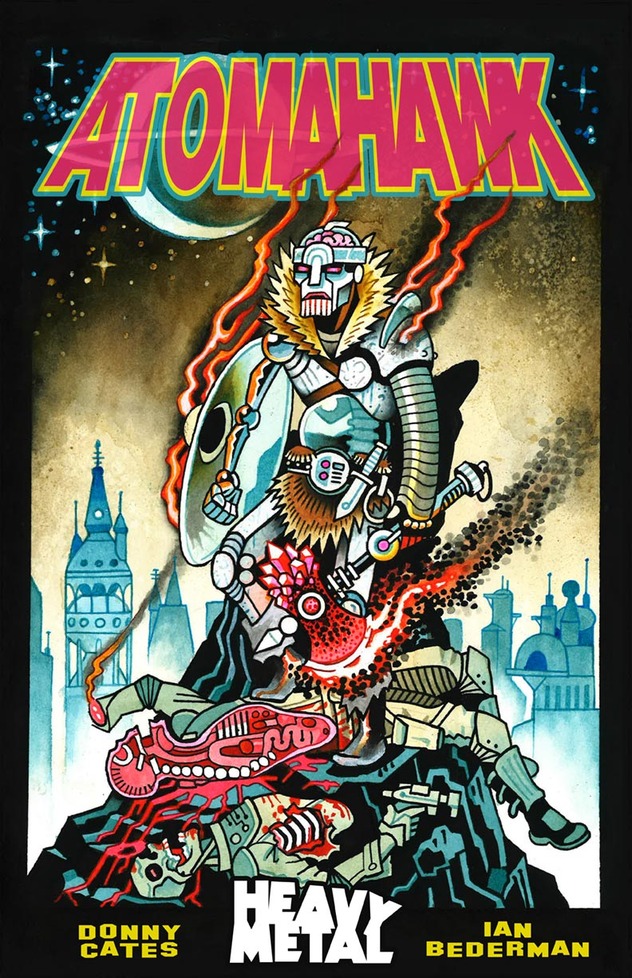 A powerful and mysterious weapon known as THE ATOMAHAWK has fallen to earth and resurrected the body of an ancient and savage warrior now known as the CYBERZERKER in order to free an imprisoned god. Along the way, he'll encounter animals infected with deadly space crystals, sorcerers from another time, knights of the cosmic realm, beautiful and deadly women, and horrors beyond mortal comprehension!
According to Cates, the idea for Atomahawk was birthed from conversations he and Bederman would have whenever the writer would go in to get work done. "Then one day Atomahawk was born, and clearly, there's no better place for this than Heavy Metal Magazine," he said. "Atomahawk is the most metal thing ever created."
"I think it's cool because it's this meshing of comic books and tattooing that you haven't really seen in a while," said Bederman. "The series itself is this bizarre combination of Mike Mignola, Jack Kirby, Robert E. Howard, and Sailor Jerry … it's insane. I think people are going to dig it."
Look below for two exclusive interior page previews, along with a few of Bederman's tattoos that inspired Atomahawk.