Our Tears Won't Stop Falling on the Cover for Hellboy in Hell: The Death Card TPB
We don't want to talk about it.
Art by Mike Mignola
Comics
News
Hellboy
Even though our favorite big, red paranormal investigator shuffled off his mortal coil four years ago, it looks like his life under creator Mike Mignola is finally coming to a more permanent conclusion. Hellboy in Hell is wrapping at issue ten, and with it a foreseeable future of Mignola's shaded, moody depictions of the character. For 22 years, Mignola has escorted his creation through the supernatural back alleys of Earth and, recently, through the inferno after the character fell in battle to a witchy dragon in the 2011 miniseries, "The Fury." Mignola recently told Entertainment Weekly, "I have no concrete plans to do any other Hellboy stuff myself," but admits that his epic "does end in a pretty interesting way."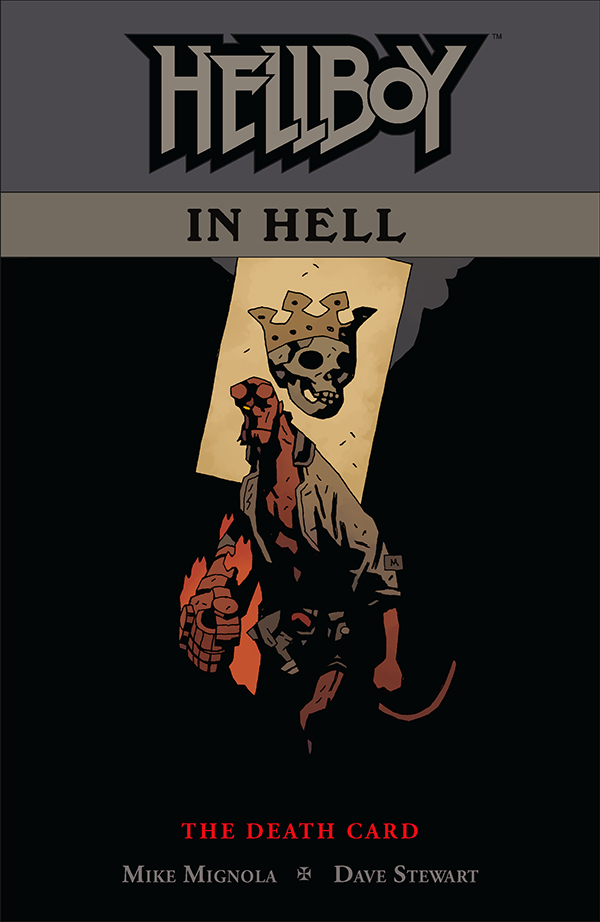 Most Hellboy arcs guaranteed an "interesting" reading experience, if not downright absorbing. Mignola primarily wrote and drew Hellboy alongside occasional collaborators, including writer John Byrne and artists Richard Corben and Duncan Fegredo. He used the character to explore a vast swath of international mythology and supernatural history, ranging from Biblical prophecies to Mexican vampires and Appalachian folklore. At its center, Hellboy battled his fate as a reality-ending demigod, while throwing brutal haymakers at all manner of monster.
Mignola plans to take a year to work on art, though branching titles helmed by other creators with input from Mignola, like Hellboy and the B.P.R.D., will continue to showcase untold stories from the character's past.
Whatever. We don't want to talk about it. Check out the exclusive cover image for Hellboy in Hell: The Death Card, featuring gorgeous colors from longtime collaborator Dave Stewart. The trade paperback collects issues 6-10 of the series, our tears, melted Ben & Jerry's and maybe some spilled Right Hand of Doom Red Ale.