Agents of the Realm is Back on Kickstarter & More Magical Than Ever
Mildred Lewis' Magical Girl Saga Returns to Crowdfunding for a New Print Edition
Art by Mildred Lewis
Comics
Features
Mildred Lewis
No bones about it: Kickstarter has revolutionized comics publishing. Crowdfunding campaigns have opened up the industry to more creators than ever before, and projects launched through Kickstarter are now taking home some of the biggest accolades in comics, evidenced most recently by editor Taneka Stotts' Elements anthology nabbing the Eisner for Best Anthology just weeks ago.
Elements: Fire contributor Mildred Lewis recently returned to Kickstarter with a new project of her own, launching a campaign on July 16th to fund a print edition of volume two of her long-running webcomic Agents of the Realm. Lewis successfully funded volume one in 2016, and her new campaign has a bolder goal, bigger rewards and plenty of tiers for readers, including those who missed out on the first run and now want to pick up both volumes at once.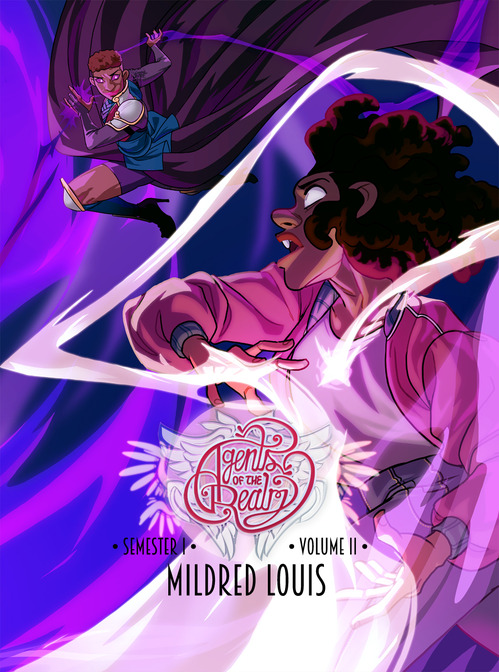 Agents of the Realm Vol. 2 Cover Art by Mildred Lewis
For the uninitiated, Agents of the Realm is a magical girl webcomic following five young women whose freshman year at Silvermount University gives a whole new meaning to "finding yourself." The ragtag team is thrown in the middle of a conflict between worlds that will put their time management skills to the test—how hard can it be to manage a full course load and protect campus from interdimensional interlopers?
Agents of the Realm Vol. 1 introduced Norah, Adele, Kendall, Paige and Jordan, revealed their powers, and explained the strange conflict they've unexpectedly found themselves thrust into. Volume 2 offers a deeper dive into the relationship between their mentor and their mentor's estranged sister, and the chaos sewn by the girls' enemy—not to mention all the romance and magical girl hijinks you could hope for. If you grew up with Sailor Moon, Card Captor Sakura and Utena or still find yourself charmed by the likes of Pretty Cure, you'll love Agents of the Realm, and if you didn't, just check out Lewis' art—her vibrant colors, expressive faces and excellent comedic timing should be enough to convince you.
As with many webcomic-related Kickstarters, Agents of the Realm has the luxury of being somewhat low-risk: the full comic is still available online, meaning you can check out a few pages before you commit, and will be able to continue reading if the campaign doesn't succeed. The first Kickstarter successfully funded for almost twice its $17,000 goal, and Lewis has plans in place for fulfilling the campaign both at its existing goal and if the volume two campaign hits the same high number as its predecessor. As a backer of the first Agents of the Realm Kickstarter, I can confirm that Mildred Lewis is a communicative Kickstarter manager who does her best to be transparent in all steps of the process.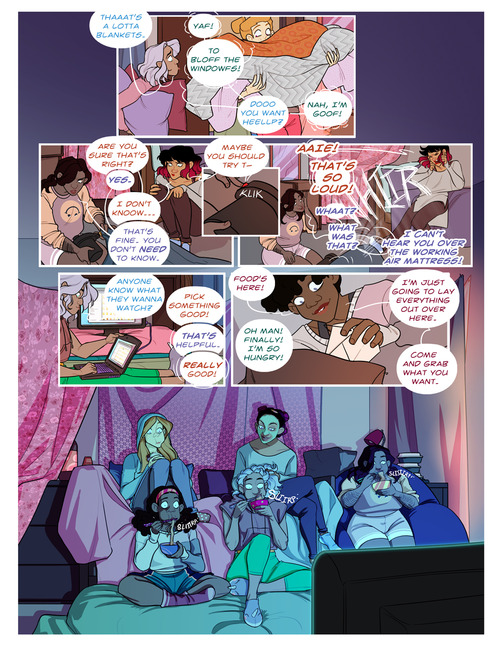 Agents of the Realm Vol. 2 Interior Art by Mildred Lewis
Right now the campaign is at roughly $19,000 of its $40,000 goal, with just under two weeks to go. A pledge of $20 will net you digital copies of both volume 1 and volume 2 (a great deal for a massive amount of content) while $55 plus shipping will get you physical and digital copies of both books. If you're really looking to treat yourself and want some Kickstarter-exclusive swag, the $90 tier is the way to go, featuring a beautiful enamel pin and several print goodies in addition to print and digital versions of both books. If you're interested in backing the campaign, this will be your only chance to get these particular rewards—you won't be able to place an order for the pin and additional print items after the campaign ends.
Lewis is a reliable and consistent creator with a successful Kickstarter project under her belt already, and has taken steps to make her second campaign run even more smoothly. The digital PDF tier for both volumes is an excellent value, and based on Lewis' previous Kickstarter success, the $40,000 goal is both reasonable and attainable. This is a low-risk investment for a great comic that frankly has the same lasting appeal and re-readability as the manga and anime that inspired it in the first place.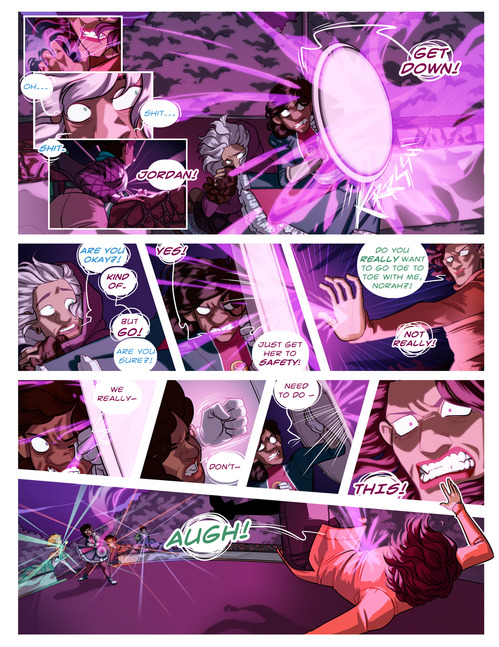 Agents of the Realm Vol. 2 Interior Art by Mildred Lewis