The reign of dude only bands is over, especially with groups like Moonrise Nation on the scene. The Chicago-based three-piece consists of sisters Arden and Eva Baldinger and ride or die Emma McCall. Their sound on the same dreamy wavelength as fellow power girl groups First Aid Kit and Joseph, their debut album, Glamour Child, is set for release this Friday, July 28 via Zinc Records. And with tour dates scheduled through mid-August, the band's taking the album on the road, alongside their collected style.
"For the most part, I collect clothes that remind me of people and places I've been," Emma told Paste. "I'm comfortable on stage in what I wear because I know that each piece means something to me and I know no one else will have that. Like a style fingerprint."
And it's the combination of their individual styles that makes Moonrise Nation's vibe oh so cool. We caught up with Emma, Eva and Arden to talk sentimental duds, Chicago thrifting and meshing styles on stage. Read on below.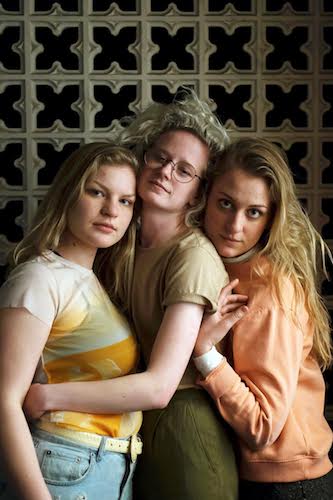 Paste: Tell us a little bit about your style and how it influences you and your performance on stage.
Arden: I find so much joy in piecing outfits together. Performing can be super fun because it's an excuse to put together something a bit more extravagant or different from what I wear on a day-to-day basis. I'd like to think that I am still defining my style (and will continue to do so as I age); it's ever-evolving in a way. I look to my mom a lot as an example of this. There are a few things that have stayed consistent through the years, such as her love for Doc Martens and all shoes in general. While her style has always been wacky and fun, it's differentiated among the decades. I love that because it showed me how your style can reflect your state and experience in life… always ever-changing.
Eva: My style tends to vary a decent amount based on my environment BUT consistent aspects of it are: comfort, classic/timeless pieces and articles of clothing with a story. I love to thrift shop. I am a huge fan of shoes, but primarily boots and sneakers. As Arden mentioned, our mother is a huge influence on both of our styles. Half of what I wear was hers at some point. I love graphic tee's, jeans, etc. but I'm also into more bohemian items as well. As of late, I have begun to separate my performance self from everyday self. I now go looking for items that stand out, ones I may be apprehensive about wearing on the street, but know I can rock on stage.
Emma: My style is fairly laid back. I like thrifting for odd pieces to work around that throw my style slightly off center from simple, but for the most part, I collect clothes that remind me of people and places I've been. Clothing is very sentimental for me… most of my pieces are collected from friends, parents and my sister… or at least I consult their style when choosing items. For example, I have had this oversized blue button up shirt for years and it is perfectly tattered and covered in paint. It was my father's "paint shirt" and there are splotches of color on there that were the color of the walls in my childhood home. I wear it everywhere like a badge of honor. As I reflect on it now, try to utilize sentimentality in performance as well as in my everyday. I'm comfortable on stage in what I wear because I know that each piece means something to me and I know no one else will have that. Like a style fingerprint.
Paste: What do you think makes up an ideal stage outfit?
Emma: I think looking comfortable on stage is essential. It has to fit the music. Our album is very personal and honest and I think our look represents that. We try to stick to the venue and our personalities. Emma wears a lot of dad hats…
Arden: To me, the perfect stage outfit is something that isn't entirely out of the ordinary from what you wear normally, but still represents the difference between your 'onstage' persona and your 'everyday-life' persona. In order to achieve this, I like to add pieces (such as jewelery or more unique shoes) to a simple outfit. I have to admit that most of my closet is black, grey, maroon, or white… so it's nice to add some color here and there.
Eva: Anything that gives the viewer a real feel for who the artist is. That will vary depending on each person. But I do think you can never go wrong with all black.
Paste: How would you say your on-stage style differs from your off-stage style?
Emma: For me, I try to match my bandmates as much as possible, while keeping my expression in tact. Picking out outfits for stage can grow very tiring very fast, especially when you're on tour and trying to stay on a budget. We have been trying to get more creative with it, for example we were thinking that we might start picking themes for each show and want to play a show in which the unifying theme is color blocking, but we get to represent that with cuts and styles that are respective to our individual expression.
Arden: I usually wear primarily black on stage because it's an easy way to look dressier, plus it's just flattering. As I said before, I usually like to piece in some more colorful items but that usually depends on what Eva and Emma are wearing.
Eva: I am more willing to be adventurous and wear something like snakeskin pants. As Emma said, coordinating with the other members ultimately evokes a style that is slightly different than my everyday, but nothing too drastic.
Paste: What's your go to summer outfit?
Emma: Right now, I'm really into Birkenstock sandals with/without socks. I wear them with everything.The other night I paired my Birks with this amazingly rad coverall I picked up from Sugarhigh Lovestoned. So most days in the summer you can find me in Birks, oh… and dad hats. I love my dad hats.
Arden: I just got a pair of OG Reebok sneakers that I'm obsessed with, so usually those, my Levi's and a tee. If not the sneakers, I wear my favorite pair of sandals that I got for $1 thrifting. On hot days I wear my favorite pair of jean shorts—they're vintage Calvin Klein denim, with a cropped tee and sandals.
Eva: A pair of wrangler shorts, vans and a comfy tee or tank.
Paste: Are there any specific artists who have influenced your style?
Arden: It's hard for me to pinpoint a specific artist or well-known figure because a lot of my fashion inspiration actually comes from some boss ass women in my personal life, but if I had to pick three icons it would probably be Rihanna, Lorde and Ravyn Lanea. Rihanna is obviously a huge fashion idol to many people, but I love her because she really inspired me to incorporate athletic wear (like sneakers) with jeans and other more glammed out pieces. Plus she is just a BOSS, and can rock essentially anything she chooses to put on. I love Lorde mainly because of her dope pantsuits or sets that she wears on stage… #goals. Lorde is also one of my idols because she is both my age and (I'm convinced) has taken thoughts of mine and put them into words through her music so I'm pretty sure that we would make good friends (haha). I love love Ravyn Lanea's style because it's just beautifully unique to her, which honestly aligns with me the most. That's pretty much how it is for the other woman in my life that I look up to for fashion. Each of their styles is perfectly unique to themselves, yet can be appreciated and perhaps modeled by the outside world.
Eva: As far as musicians… St. Vincent. She's classic but also a bit edgy. She knows how to pair more traditional items with modern pieces very well.
Emma: HAIM is killing it. Each one of those ladies has a sharp clean and classic style that just oozes cool. Their choices are unique and while I might not be emulating them, I'm a fan girl of their overall vibe and aesthetic.
Paste: Any favorite places to shop or find one of a kind wardrobe pieces?
Emma: There is a place in Chicago called Rad Vintage that always amazes me. It's like a one-of-a-kind treasure chest. They have some of the coolest handpicked vintage stuff that is centered around 90's culture.
Arden: I would tell you my ALL TIME favorite thrift store in Chicago but… then it wouldn't be a secret anymore, so I will just say that thrift stores and resale shops are definitely my favorite places to find pieces for my closet. The reward from the hunt is the most thrilling thing ever!
Eva: The Village Outlet and Second Chance Thrift are two of my favorite places to thrift in Chicago. I never leave Second Chance empty handed.
Paste: Do you have any beauty essentials?
Arden: CeraVe face wash, tea tree oil and amber oil for perfume (BEST SMELL EVER). I never go a day without amber oil for sure.
Eva: I have recently gotten into RMS Cosmetics. Their entire natural and eco-responsible line is great. Also The Balm "Tall Dark and Handsome" mascara… and as Arden said, for perfume I wear Amber oil.
Paste:If you had to sum up your personal style in three words, what would they be?
Band: Sentimental, classic, comfortable.