Having recently shared two tracks from her forthcoming record, "Like I Used To" featuring Andrew Davie of Bear's Den and "Shallow Digger," Norwegian artist Siv Jakobsen is receiving attention from Norway to the States. But while the album, due out August 25, is making Jakobsen's life anything but calm, both her soothing sound and unique style say otherwise. "Understated, comfortable and calm," her aesthetic thrives on minimalist staple pieces.
"I have a few go-to pieces that I tend to repeat again and again both on and off tour," Jakobsen told Paste. "And I usually end up having to get new versions of the exact same items over and over."
But that doesn't mean her style is anywhere close to boring. Accented with colorful necklaces and inspired by fellow artists including Liza Anne and Angel Olsen, Jakobsen's style is all her own. We caught up with the emerging artist to talk flowy dresses, packing for tour and when you get the urge to wear something other than black. Read on below.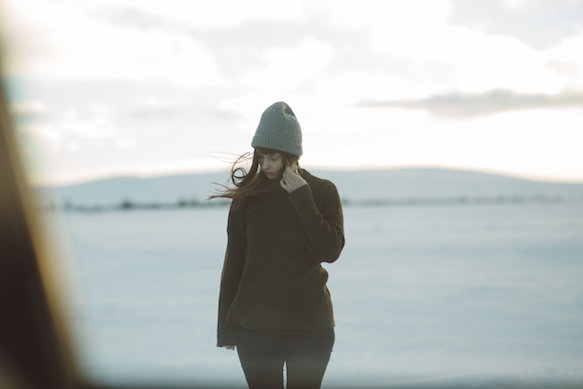 Paste: Tell us a little bit about your style and how it influences you and your performance on stage.
Siv Jakobsen: For the last couple of years. I've worn these long, flowy black dresses onstage, which are super comfortable. It somehow makes me feel ready to perform when I put one of them on.
Paste: What do you think makes up an ideal stage outfit?
Jakobsen: Something comfortable, simple and beautiful—something I can move and breathe in, that still looks good and isn't too loud of an outfit. All of this, and it shouldn't wrinkle in your suitcase, heh. I usually go for an all black outfit, with a colorful necklace.
Paste: How would you say your on-stage style differs from your off-stage style?
Jakobsen: Onstage, I wear (as previously mentioned) this long and flowy black dress paired a red leather necklace, which is a bit more bold than my off stage style. I also wear make-up on stage, which I very rarely do otherwise. I'd say my style is a lot more artistic onstage than off stage—offstage, I am usually wearing black jeans and a t-shirt, or black tights and a black, simple dress. On tour, the key for me is bringing a select few pieces that are all really versatile, so I can get by with only bringing a few outfits. I have a few go-to pieces that I tend to repeat again and again both on and off tour, and I usually end up having to get new versions of the exact same items over and over. I also tend to wear the same grey hat from mid september to end of april with basically everything.
Paste: What's your go to summer outfit?
Jakobsen: I love colorful summer dresses—during the rest of the year, I usually only or mostly wear black clothes, but in the summer I always get this urge to wear lighter colors and prints. My go-to summer outfit right now is this red floral-printed dress I just got that I really like.
Paste: Are there any specific artists who have influenced your style?
Jakobsen: As for musical style, I am influenced by Ane Brun, Laura Marling and Damien Rice—to name a few. As far as personal style goes, I am not the most "aware" when it comes to style icons and such, but someone I'd mention with impeccable style is my friend friend Liza Anne (the Nashville based indie artist), along with Angel Olsen (her stage-wear, and music, is amazing).
Paste: Any favorite places to shop or find one of a kind wardrobe pieces?
Jakobsen: I don't go shopping that often, but I have a few go to shops in Oslo for stage-wear I really like—Monki and Weekday are both great for simple and beautiful pieces that work great on stage. Several of my off stage clothes are from Monki as well.
Paste: Do you have any beauty essentials?
Jakobsen: I always wear sunscreen in the summer-half of the year—other than that I've worn the same brand of make up for stage for years (ID minerals powder and Sensai liquid foundation). I really like simple and understated make-up, and on the rare occasion that I do wear any, it's usually just foundation and a bit of mascara.
Paste: If you had to sum up your personal style in three words, what would they be?
Jakobsen: Understated, comfortable and calm.