Forget Dope, Amsterdam is a Beer Paradise: 7 Places to Drink in The Dam
Photo via Holland Tourism
Drink
Lists
Amsterdam
Through a series of ridiculously fortunate circumstances, I got to spend two weeks in Europe this past summer: one in Belgium, and one in the Netherlands. Belgium, obviously, is the mecca, but despite a smattering of esoteric producers (De Dolle, De la Senne, De Struise), the country carries an air of the expected: Trappist beers, lambic, and generic lager.
Amsterdam is, however, a fount of discovery. And it carries this distinction not necessarily because The Netherlands is making completely unique beer, but because the sheer array of styles and influences is dizzyingly eclectic. There is certainly an undercurrent of tradition—the La Trappe monastery is, after all, one of the nation's most prominent and treasured producers—but Amsterdam in particular is highlighted by a palpable drive, a need, to be different. Here, then, are some of the best places in and around Amsterdam to drink.
Proefloekaal Arendsnest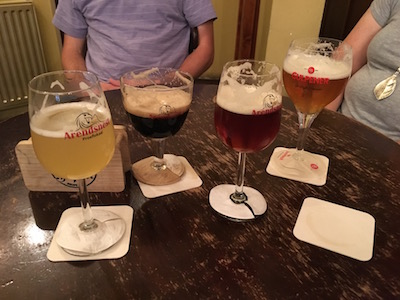 After dropping your bags off at the Hotel Max Brown, head over the bridge and down one block to Proefloekaal Arendsnest ("The Eagle's Nest"). Facing the canal, with a few tables also situated alongside the waterway, the bar is decidedly old school in its aesthetics, with a hint of the traditional "brown café" about it, but the beer list caters to contemporary palates. On that note, it's a testament to The Netherlands' booming beer scene that Arendsnest proudly proclaims "Dutch Beer Only," and follows through on it. Yes, you can usually find one or two La Trappe beers on tap, but these folks go hard in the paint with a selection including De Molen, Jopen, Kees, Oedipus (more on them shortly) and others.
We visited twice: once right at noon, and once around 10pm. Service was excellent, informative, and to-the-point. Food is limited to charcuterie, cheese, and pickled veggies, perfect accompaniments to slow sipping and conversation.
Beer Highlights
Oedipus Warme Dagen: A dry-hopped Berliner weisse with elderberry, this was a great choice to start off the day. Tart, juicy, with just a hint of elderberry spice and lemon/peach for days.
De Molen Amarillo: Bottles and draft occasionally make their way to the States, but this beer is a whole 'nother beast on its home turf. Dark amber and intensely malty, it comes across like orange sugar cookies.
Brouwerij Kees American Barleywine: Formerly the brewmaster at Emelisse, Kees Bubberman started this venture just a few years back, and he is KILLING it. This strong ale bears a passing resemblance to hoppy barleywines like Stone Old Guardian and Avery Hog Heaven, but with an added raisin/date note that ties everything together.
---
BeerTemple
I'm fairly certain that every major city in the world has a bar or bottle shop called Beer Temple. Anyway, this is probably one of the best bars in the world with that name; it's certainly one of the best overall in Amsterdam, and not just because their draft list is accessible to American palates, with selections from Anchor, Stone, Bagby Beer, Anderson Valley, and Hoppin' Frog. They also feature an array of Dutch and Belgian beers, two of them usually served on a modified cask delivery system, and typically provided by Rodenbach and Boon—these two being Palm-owned, that's not surprising, but no less welcome.
Space is limited, with a bar seating perhaps 15 people, a couple of tables, and fairly ample standing room. Food, again, is limited to meat/veggie/cheese boards, but I'm not complaining. The atmosphere is dark and intimate, yet somehow warm and inviting. Here, of all places, it's perilously easy to forget about what's going on outside of BeerTemple's doors.
Beer Highlight
Boon Oud Lambiek (Two Year): Remember that cask doohickey I mentioned? Yeah, this was on, and it was awesome. Unblended lambic is difficult to find outside of Belgium, so this funky, oaky, leathery gem was quite the treat.
---
'Cause Beer Loves Food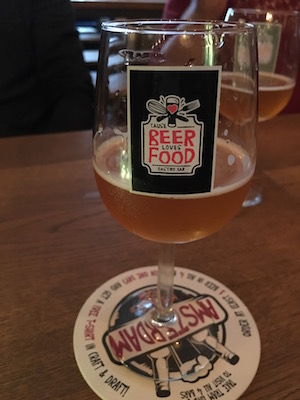 Located on a small side street away from the city center, this hole-in-the-wall is strikingly sleek inside, with a dark wood interior and the entire food menu written in chalk on the wall beside the bar. Lots of selections from the usual suspects—Jopen, Kees, etc.—but CBLF goes a bit deeper, featuring foreign breweries like Del Ducato and Mikkeller. The staff is warm and welcoming, willing to answer any and all questions about the beers on offer.
Oh yeah. Food. It's in the name, and they do it well here. Sliders were on the menu that evening, and they were great: goat cheese, beets, and micro greens helped to brighten them up. Served alongside some roasted potatoes, it made for a hearty, yet not weighty meal to wrap up the day.
Beer Highlights
Sori Coffee Gorilla: Truly one of the better coffee beers I've had, this Baltic porter is loaded with black coffee notes, with just a hint of chocolatey sweetness for balance. Keep an eye on Estonia.
Mikkeller Big Worst Barleywine (St. Emilion Barrel): Holy god, what a beer. Mikkeller is, in general, not renowned for restraint; try Black Fist or The Forager if you find your faith lacking. The base beer tries my patience; it's overtly boozy, hot, and tastes something like a toffee nightmare. This is, however, a beer apart. Aging in the St. Emilion casks has bestowed true digestif status on this beer: pure liquid fig, with balancing oak tannin. Little else, and it doesn't need it.
---
Craft & Draft
If you're looking to complete the More Beer walking tour of these four bars, you must end up here: it's the only way you get your T-shirt, and the only way to let your friends and family know it's OK to give you a swirly at Thanksgiving. A small tap room and even smaller bottle shop off the main street, Craft & Draft boasts around 30 tap lines, with a tightly curated selection of to-go options as well. Service, near-close on a Sunday evening, was a tad surly, but I'd want to go home too, so whatever. The bartender, as much as he wanted to not be there, was knowledgeable about the beers on offer, and was able to get each of us what we wanted based on descriptors alone. That requires patience. I empathize.
Beer Highlights
Del Ducato La Luna Rossa: I work at a world-class beer bar, I've had this beer several times, so I'm really spoiled. That, however, does nothing to diminish how stunning this beer is. A blend of oak-aged sour ales, some aged on cherries, and stock barleywine, the most readily available point of reference are the stronger fruited sours produced by The Bruery or Rare Barrel: huge cherry, just enough sweetness to balance, bolstered by massive tannic character and a distinct saline presence.
---
Jopen
Located in Haarlem, about a 15-minute train ride from Amsterdam central, the Jopen brewery is housed in a former cathedral just off the city center. I'm familiar with the beers, but only a very few of them make it into the United States—through boutique importer Shelton Brothers—and sporadically at that. Bearing that in mind, the size of the facility is jarring. The brewing equipment, visible behind floor-to-ceiling glass from most anywhere in the building, operates at full capacity onsite, but Jopen also houses a full-service bar and restaurant, with a mix of tall-top tables, communal benches and bar stools, along with a smattering of comfortable chairs and sofas.
Among our party of four, we made our way through most of Jopen's lineup. It's hard to say that they specialize in any one style; rather, their execution of a wide range varies from adept at worst, to sublime at best: Blood Moon, a session-strength sour ale, is tart and refreshing, with a hint of red berry; the rye pale ale Jacobus is refreshing and balanced, with a bit of spice and floral hop character. There was also a bone-dry session IPA, and a bock-style beer that recalls New Glarus' Uff-Da.
Beer Highlights
Doubting Thomas: This is billed as an "imperial quad." Okay. Redundant labeling aside, this is a fantastic beer, something of a cross between a classic abbey-style quad and an American barleywine like Bigfoot. Lots of dark fruit and toffee malt, with a hop profile that borders on juicy.
Lazy Sunday Morning: Alright, maybe Jopen specializes in high-octane beers. A behemoth of an imperial stout brewed with coffee, it hits all the right notes without overreaching: medium-bodied despite carrying 12% ABV, it smells just like a cup of fine black coffee. There are notes of bitter chocolate, but the beer isn't sweet—again, remarkable considering the strength.
---
De Molen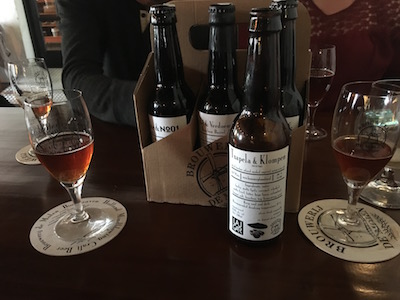 De Molen is a fair bit outside Amsterdam, in the town of Bodegraven; still, it's only a little more than half an hour by train, so I'm going to include it here. Plus, c'mon…it's De Molen.
Featuring only a black script on stark white background, the labels only provide the consumer with bare-bones info: name, style, alcohol content, and a suggested "consume by" date. The quality and complexity of De Molen beers, however, belie their Spartan appearance. Typically, you might find these bottles at your finer bars and shops here in the States, and even then only their stronger stuff, as it tends to travel well.
But we're talking about De Molen, the place. A direct parallel to their high-quality/low-profile plan of attack, the pub is located on the outskirts of Bodegraven, a few blocks' walk from the train station, past a few low-rise apartment complexes and quaint houses. We arrived just after opening on a weekday; an older gentleman drinking lager by the window was the only one there before us.
The menu, a typically Dutch assortment of cured meats and veggies, was simply prepared but delicious. I neglected my notes—being way too excited about this whole ordeal—but I had something resembling a potted beef sandwich, and it was fantastic.
Just around the side of the bar, a large wooden gives way to a short hallway, leading to the pub's small bottle shop in the back. It's the size of the average college dorm room, but offers a wide array of De Molen's beers, as well as others from regional breweries and American friends. There are, of course, gift packs, glassware, and a few clothing items, but you'll want to focus on nabbing as many barrel-aged variants of Bommen & Granaten, their lethally delicious barleywine, as you can.
Beer Highlights
Hoger & Lager: A heavily hopped lager that was crisp yet soft, with a minerally sort of texture, and a little melon. A true testament to De Molen's preternatural brewing prowess (there's nothing to hide behind in a light lager), I could have sat and drank this all day if there weren't more beers to try.
Hel & Verdomenis (Bruichladdich brett barrel): This shouldn't work. It couldn't work. Something of a flagship stout for De Molen, "Hell & Damnation" is a big, oily, roasty, bitter-chocolate bomb of an imperial stout, and the brewery has maximized the beer's mileage, aging it in a variety of barrels, yielding wildly different results. And on the surface, adding brettanomyces to a beer this big smacks not of hubris, but of flippancy: it wouldn't ruin the beer, necessarily, but why do it?
This beer, though, justifies whatever De Molen's motivations were. Bruichladdich casks are fairly heavy on the peat side, but it never overwhelms the base beer: rich, oily, chocolatey, with a hint of dark roast coffee. And the brett is present, but serves to soften and dry the beer out.
---
Oedipus Brewing
Take the free ferry across to North Amsterdam—the city-proper's slightly more working-class, faintly Liverpudlian cousin—and walk the remaining mile or so to Oedipus Brewing. Quietly formed just a few years ago, Oedipus is doing its best to surreptitiously alter the trajectory of Amsterdam beer, focusing mainly on sessionable, thirst-quenching sours.
The building is semi-open, with outdoor and indoor seating, only a lifted auto-shop garage door separating the two. It's little more than a converted warehouse, but the team has done a fine job of imbuing the place with some spirit: the branding is something of a mix between Mikkeller and Hoof Hearted, even if the beers remain balanced and approachable across the board.
Also: there's a ping-pong table, a brewery cat, and ridiculously friendly bartenders who—and I say this from experience—will absolutely take care of you if you show some genuine interest in their venture. This is away from everything else in Amsterdam, but make a point to visit.
Beer Highlights
Salty Dick, aka Swingers: A gose-style ale with lime peel and grapefruit added, Oedipus could make just this and probably still turn a profit. Not overtly tart but still punchy, the beer is exceedingly dry, with citrusy flavors that demand a second and third glass.
Gaia: New-school palates won't be impressed by this, because it's not a milkshake and doesn't have coconut or whatever. Their loss. It's as dialed-in an American-style IPA as you're going to get, with a classic C-hop profile bolstered by a small addition of Amarillo. Dry and piney, with malt backbone for days.
---