Everything You Need to Know About Bottled in Bond Bourbon
Photo via Old Forester
Drink
Lists
bourbon
An often-overlooked category of whiskey is bottled in bond bourbon. This is probably mostly due to the fact that not very many brands actually carry expressions that fit the stringent criteria, part of which involves minutiae like government-certified warehouses. Obviously, the rules that classify bourbon as bonded aren't mandatory, so why would a brand even bother? Well, there's a bit of history behind it.
In 1897, the Bottled-In-Bond Act was passed as a type of consumer protection legislation to help ensure that the whiskey people were drinking met certain standards. Those were as follows: the whiskey must be the product of one distillation season, it must be distilled by one distiller at one distillery, it must be at least four years old, and it must be stored and aged in government bonded warehouses. The whiskey must also be at least 100 proof, and nothing except water may be added (a common practice which is done to reduce the proof before bottling). Clearly, this was an attempt to standardize whiskey production to a certain degree at a time when certain unsavory characters were bottling paint thinner, adding a splash of caramel coloring, and calling it whiskey.
So what does bottled in bond mean today? It's largely a throwback concept that some brands use as a marketing tool and a nod to the long and storied history of bourbon distillation. Yes, these expressions meet the definition of bonded whiskey, but concerns about people buying crap are not as pressing in today's world of "all whiskey everything" and bourbon-obsessed tippler-nerds. It's hard to pull a fast one when everybody's a whiskey dilettante. On the other hand, the proof and age aspects defined by bottle in bond can go a long way, with upstart distilleries popping up in every corner of the country and many brands choosing to be very tight-lipped about just where their sourced whiskey actually comes from. So maybe bottled in bond still means something; a statement that a brand not only recognizes bourbon distilling as an integral part of American history, but a declaration and adherence to certain standards that are universally recognized as helping to produce decent, if not always excellent, whiskey.
Here's a list of some bottled in bond expressions available today, some easier to find than others, and many of which are part of the Heaven Hill family. With few exceptions, most of these are pretty cheap, but don't let that fool you. Sometimes those bottles gathering dust on the back shelf at some Podunk liquor store marked at $14.99 yield some surprisingly good finds.
---
Jim Beam Bonded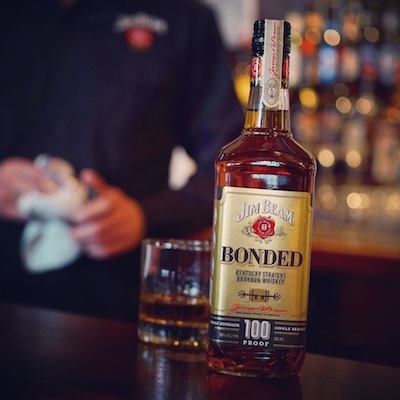 It's no surprise that Jim Beam came out with bottled in bond bourbon (released this year), given the brand's huge variety of expressions, from Devil's Cut to "small batch" bottles from sister brands like Knob Creek and Booker's. I spoke with master distiller Fred Noe via email, and he told me people had been asking for a bottled in bond Beam for some time. "Since we age our whiskies four years already, all we had to do was design the package," he said. "While we love to experiment with new variants, sometimes the old stuff works just fine. We kept with our family tradition when it came to the taste of Jim Beam Bonded by delivering a slight oak spiciness, medium-bodied with a warm, balanced flavor that rests well on the palate."
It's probably best to compare the Bonded to the White Label, because the two are indeed very similar, with a slightly higher emphasis on the nutty oak flavor Noe spoke of in the Bonded. Plus, the bottle looks much cooler, like something from the early 1900s, which, according to Noe, was exactly what they were going for. "Jim Beam Bonded is a historic, pre-Prohibition style of bourbon that's perfect for bartenders and craft mixologists," he told me, "as they continue to experiment and look for bourbons with a strong flavor to stand up well in classic cocktails – most commonly Manhattans and Old Fashioneds."
---
Colonel EH Taylor
Buffalo Trace's Colonel EH Taylor bourbon line has some fine offerings, most of which are bottled in bond, which makes sense given the colonel's legacy. According to master distiller Harlan Wheatley, "because of some of the work that EH Taylor did, the concept of quality and assuring that quality are guaranteed through the Bottled-In-Bond Act of 1897. [He] was really our first known master distiller and was responsible for bringing our distillery into the modern age." Some of that work included pushing for the Act to be passed and introducing copper fermentation tanks and columnar stills. The expressions of Colonel EH Taylor that are bottled in bond include the Small Batch, Single Barrel, the really superb Straight Rye, Old Fashioned Sour Mash, Warehouse C Tornado Surviving, and the spectacularly flavorful and complex (and completely sold out) Cured Oak. If you happen to see a bottle of this last one anywhere, grab it (probably best to pay for it on your way out of the store as well).
---
Old Grand-Dad Bonded
Beam Suntory re-launched this celebrated brand last winter, and for a detailed analysis you can read whiskey expert Chuck Chowdery's thoughts here. Old Grand-Dad remains one of the best well bourbons available – if your local watering hole keeps it behind the bar, don't be afraid to order a glass instead of something more expensive – and the bonded version keeps up the standards at a budget price.
---
Rittenhouse Rye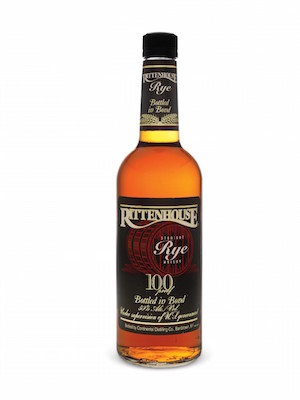 Rittenhouse has made my go-to list of budget ryes before, but the bottled in bond version is definitely the way to go (the non-bonded is only a paltry 80 proof, and not as readily available). Rittenhouse is the perfect backup rye for your Manhattan when you run out of Old Overholt.
---
Very Old Barton
Apparently this is almost impossible to find outside of Kentucky, but people love it for its price (cheap) and flavor (a little spicy).
---
Old Heaven Hill
Heaven Hill is a distillery with countless expressions, many of which are featured here under various names. One of them is this bottled in bond bourbon that displays the distillery's name front and center on the bottle. It's also cheap, said to be simple, and I have yet to see it in a store.
---
Evan Williams Bottled In Bond
I think I might be crossing over from Jim Beam to Evan Williams as my go-to budget bourbon. Evan Williams is inexpensive, easy to find, and drinks just as smooth and flavorful neat as it does mixed in a cocktail. I have yet to try the bottled in bond version with its pretty white label, but my eyes are peeled.
---
Old Forester 1897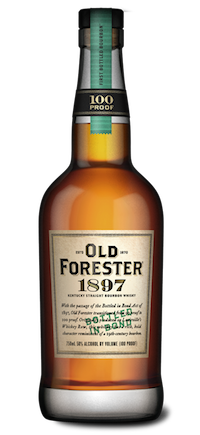 It's right in the name. Old Forester 1897 is only available in less than half of our 50 states, so it may be hard to find for, well, more than half of us. But the people behind "Louisville's Hometown Bourbon" (trademarked) know what they are doing. They also claim that in 1870, "America's First Bottled Bourbon" (also trademarked) helped lead the way to the eventual passage of the Bottled-In-Bond Act almost 30 years later.
---
J.T.S. Brown Bottled In Bond
I'm sure I'm not the only one who has never heard of or seen this Heaven Hill expression before, but maybe that's the price one pays for living in a major metropolitan area. At under 15 bucks a bottle, it's gotta be… something.
---