It's an exciting time to be a coffee addict. Across the country, independent coffee shops are changing the coffee game. As much as people enjoy the convenience and predictability of some major chains, indie coffee shops can provide a more creative approach to coffee.
Some indie shops roast their own beans onsite, or buy their beans from small local businesses that work directly with coffee farms in a sustainable supply chain. With increased room for flexibility, they can offer more single origin coffees, change up their menu and experiment with different brewing processes.
Road tripping season is upon us. Here are 10 indie shops to check out from coast to coast.
North
Maglianero
47 Maple Street, Burlington, VT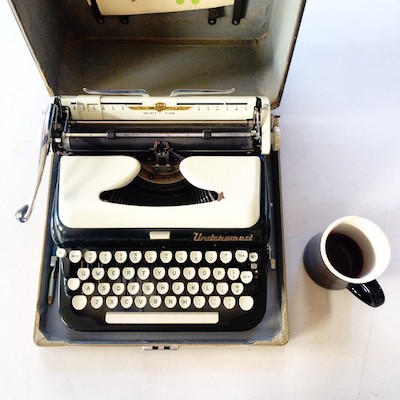 With a name that means "black jersey" in Italian, this café combines a love of cycling and specialty coffee. Maglianero serves coffee from Counter Culture, an award-winning sustainability-focused roaster. The café's artisanal drinks include experiments of flavor and spice such as their ginger honey latte; a Pedestrian with maple, cayenne and cinnamon; or a cashew milk cappuccino with Vermont honey and Himalayan pink salt. Fresh pastries, local art and indoor bike parking round out this coffee shop experience.
---
East
La Colombe
1335 N. Frankford Ave. Philadelphia, PA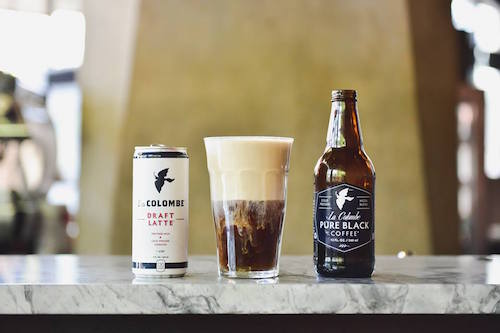 La Colombe sources its beans through direct relationships with coffee farmers around the world. Right now they're serving up a single origin Ethiopia Ardi, which is fruity and balanced, and a washed Ethiopian YirgZ that adds bright citrus flavors and peachy sweetness to their espresso drinks. For summer, try their silky Draft Latte (cold-pressed espresso and frothed milk) or Pure Black cold-pressed coffee. The flagship location in Fishtown includes the roastery, tasting room, bakery and distillery for its Different Drum Rum.
---
Ceremony
520 Park Ave, Baltimore, MD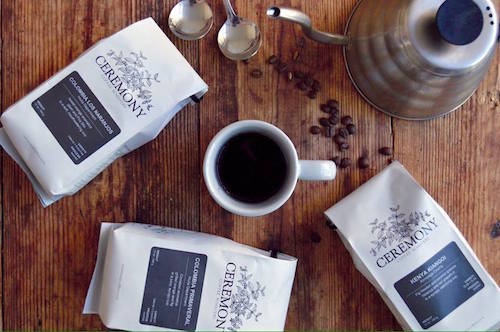 Ceremony, a coffee roaster from Annapolis, MD, opened a café in Baltimore last fall. On bar now are pour overs from Papua New Guinea, Brazil and Ethiopia. If you're looking for something refreshing, try a Walk in the Park — nitro cold brew, rose water, lavender syrup and fresh lime — or a Lady Rose —espresso, steamed almond milk, rose water and cardamom. Also worth mentioning is the selection of fancy grilled cheese sandwiches. Yum.
---
Midwest
Spyhouse
945 Broadway St, NE, Minneapolis, MN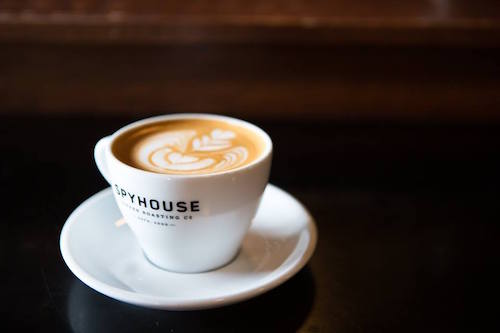 With four locations across Minneapolis, Spyhouse Coffee's flagship café is in the arts district. The company's Director of Coffee recently took first place at the 2016 U.S. Roaster Championship, which means you can expect great things. A red plum, Prosecco and tarragon flavored coffee from Papua New Guinea and a sweet cherry, peach pie and jasmine sencha tea flavored coffee from the Congo are just a sample of what Spyhouse has to offer.
---
Milktooth
534 Virginia Avenue, Indianapolis, IN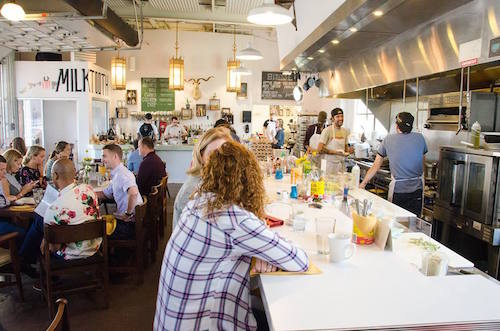 This Indianapolis breakfast spot specializes in farm-fresh local fare and creatively-prepared coffee. Owned by chef Jonathan Brooks and his wife, Ashley, Milktooth is a city favorite. With such an eclectic coffee menu, you might have a hard time deciding what to try. Current offerings include coffees from Malawi, Ethiopia and Burundi; a cold brew with watermelon and plum tasting notes; a Love Train with espresso, sage, vanilla, coconut and caramel sticky bun sauce; and a matcha cappuccino.
---
Sawada
112 N Green St, Chicago, IL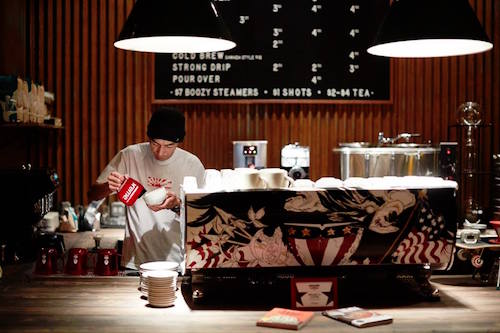 On Sawada Coffee's building face are two black and white street art portraits of the owner, Hiroshi Sawada, a Latte Art World Champion from Japan. Inside, the décor reflects that same gritty aesthetic. Sawada features locally roasted coffee from Chicago's Metropolis Coffee. The drink menu includes the traditional drinks (cappuccinos, pour overs and cortados) executed with a close attention to detail. House specialties include the Military Latte, matcha tea and espresso, and the spirited "Sawada style" cold brew with Japanese shochu (liquor).
---
South
Cherry Espresso Bar
4877 Laurel St, New Orleans, LA
This New Orleans coffee spot started off as a pop-up shop. Now, it's in its own space in a former firehouse. By featuring different guest roasters that have included Heart, Madcap and Roseline, Cherry Espresso never gets boring. Each espresso shot is weighed on a digital scale and timed so you can expect consistent quality. The shop also offers monthly cuppings where you can learn to identify tasting notes and refine your coffee palate.
---
Avoca Coffee Roasters
835 Foch St., Fort Worth, Texas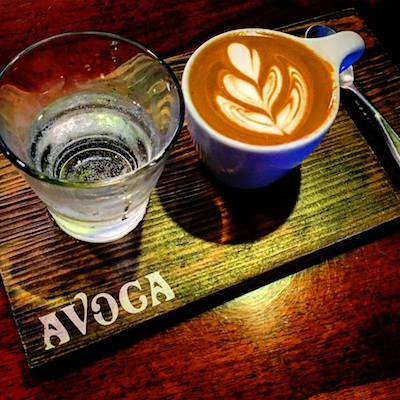 Fort Worth-based microroaster Avoca Coffee opened in 2011, and offers freshly roasted blends and single origin coffees, as well as pastries from local spots, including Spiral Diner, an organic vegan bakery. Co-owners Garold LaRue, a fifth generation coffee farmer, and Jimmy Story wanted to create a coffee shop for locals, by locals. Voted "Best Coffee Shop" by the readers of Fort Worth, Texas magazine, Avoca has become a favorite. The newly opened location on Foch Street features nitro cold brew and Chemex and press pot brews.
---
West
The Mill
736 Divisadero Street, San Francisco CA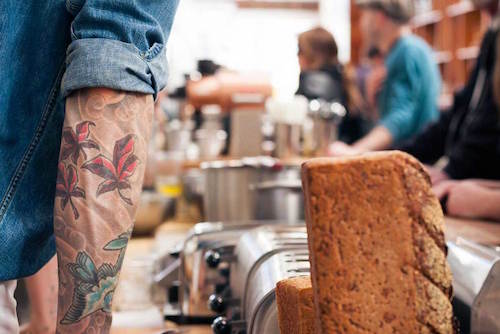 A joint venture between Four Barrel Coffee & Josey Baker Bread, this hipster paradise has a chic rustic feel, high ceilings and plenty of natural light. The Mill up delicious coffee and what we'll call amazing fresh bread — rather than really expensive toast. San Fran seed-to-cup roaster and retailer Four Barrel produces excellent coffee. Current offerings include a coffee from Java with notes of peach, pine and caramel and an Ethiopian coffee with notes of candied ginger and white flower.
---
Tov
SE 32nd & Hawthorne, Portland, OR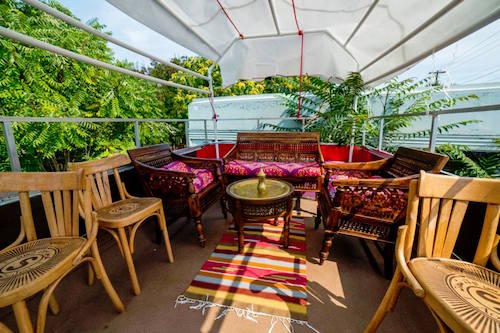 Authentically prepared Egyptian coffee on top of a double-decker coffee bus? Yes, please! Tov's menu features Espresso Vivace coffee, and includes pour overs, traditional espresso drinks and Turkish coffee (available with chocolate). Try something special like the Mint Thing (cold brew with mint), an Are you crazy?! (Turkish coffee with an espresso shot) or a Winey Mocha (which is pretty much how it sounds). Enjoy a cup of coffee and one of the "mom made desserts" — baklawa and Egyptian shortbread cookies – in the perfect Egyptian style café (on a bus).
---