Surly's head brewer jumps ship, Buffalo Wild Wings adds a new draft, Anthony Bourdain slams beer nerds and the capital of craft beer might surprise you. All this and more in this week's craft beer news breakdown.
Minnesota: Shakeup at Surly
Minnesota's Surly Brewing will be on the hunt for a new head brewer after the position was vacated by Todd Haug. The metal music-loving Haug is taking his axe and heading to 3 Floyds Brewing in Munster, Ind., a brewery known to embrace hard rock. According to the Mpls.St.Paul Magazine the split did not come on the best of terms. Haug's wife, Linda, was let go earlier in the year after having helped guide the food segment of Surley's beer hall. She will join her husband at 3 Floyds as they flesh out their brewpub concept. Haug will work with current 3 Floyds head brewer, Chris Boggess, as the brewery expands and branches out into distilling.
---
National: Beer and wings
"Beer, Wings, Sports" is the concept behind Buffalo Wild Wings and the first part of the mantra will soon include an exclusively brewed offering. Lagunitas Brewing Company has created a hoppy pale wheat beer for the purveyor of chicken wings. Fandom Ale was created to compliment the chain's menu with a balance of malt sweetness and hoppiness. "We're upping our game in craft beer innovation by offering this limited release from Lagunitas Brewing Company, which was designed with the sports fan in mind," said Todd Kronebusch, vice president of guest innovation at Buffalo Wild Wings, in a press release. The restaurant has more than 1,200 locations and serves more craft beer than any other restaurant in the country, according to the same press release.
---
National: Craft beer confidential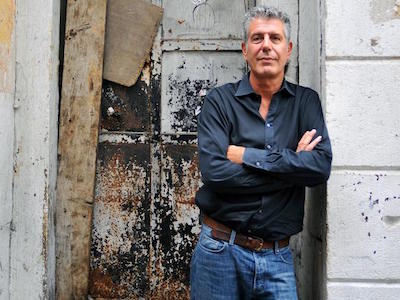 Photo via Travel Channel
Anthony Bourdain raised the shackles of some when he told Thrillist that craft beer can turn a perfectly good bar into something resembling Invasion of the Body Snatchers. He relayed that many of his fiercest critics are beer snobs who chastise him for drinking whatever is readily available as opposed to local craft beer. Bourdain, who is promoting his latest cookbook, Appetites, went on to explain his personal outlook: "I like cold beer. And I like to have a good time. I don't like to talk about beer, honestly. I don't like to talk about wine. I like to drink beer."
---
National: The capital of craft beer
Statista has released a chart documenting "America's Craft Beer Capitals." The data is broken down in terms of microbreweries per 100,000 inhabitants. Portland, Maine leads the pack with 17 total microbreweries equaling 25.5 breweries per 100,000 inhabitants. Boulder, Colo. Comes in second with 21.9 breweries per 100,000 denizens. The only other locale with more than 20 breweries per 100,000 citizens is Asheville, N.C. The rest of the top 10 is rounded out by Bend, Ore. (14.3), Kalamazoo, Mich. (13.2), Portland, Ore. (11), Denver, Colo. (8.7), Missoula, Mont. (8.6), Seattle, Wash. (8.1) and Grand Rapids, Mich. (7.2). Out of the top 10 "Beer Capitals," Portland is number one in terms of total breweries with 68, followed by Denver (58) and Seattle (54).
---
United Kingdom: An ear for beer
Vinyl subscription club, Hurd, is offering a novel add-on for their record of the month service: craft beer. Subscribers can choose cider, beer or a combination of both to accompany their exclusive 7" record from an up and coming band. Sourced from small, artisan producers, the beers and ciders will be curated based on what best compliments the music. First up is Liverpool's Trudy and the Romance, "with a sound combining vintage '50s doo-wop with a dosing of garage grunge." For those "all about the music," Hurd also offers an alcohol free option.
---