Dogfish Head Brewery is no stranger to new beers, consistently releasing an impressive blend of traditional recipes, historic recreations, and off the wall new flavors. Two of 2016's newest additions to their inches-thick portfolio are Bière de Provence (saison) and Festina Peche (Berliner Weisse). We tried both. Here are our thoughts.
Bière de Provence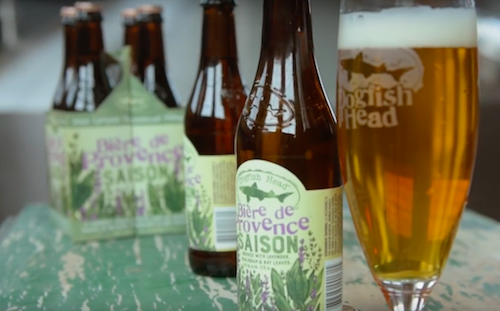 This French inspired saison is a cloudy gold color with an aroma that's floral with both sweet and spiced notes. It features sweet fruits and black pepper, cardamom, and the as-advertised additional ingredients of bay leaves, marjoram, and a subtle touch of lavender. Think bananas and cloves for simplicity.
Often, a beer that uses the banana descriptor is overpowered and over-sweetened by the adjunct, but Bière de Provence begins fizzy and clean, with the carbonation evaporating off the tongue in a wash of spicy Belgian yeast that leads into that fruit character. It starts spiced and ends with banana with a green herbal undernote from the marjoram and bay leaf additions. This beer shares similar complexities with Boulevard's Tank 7, but is less sweet and more herbal, though equally potent in ABV.
Brewery:Dogfish Head Brewery
City: Milton, DE
ABV: 8.3%
Availability: 12 oz. bottles, draft (limited)
Rating: 87
---
Festina Peche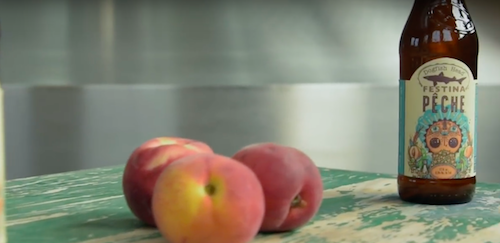 A "neo-Berliner Weisse," this beer wasn't what I expected upon seeing the use of peach juice. Even though Dogfish Head uses peach as a sugar supply, there's nothing sweet here, just tart.
This lacto-cultured beer pours a straw yellow with an earthy, lemongrass and lager aroma with a hint of funk. First impression is loaded with acidic and tart notes, with a salty presence to boot. As consumption continues, the lactobacillus steals the show atop a base peach flavor minus that sugar rush, while the mouthfeel is juicy and soft. Overall, it's a very clean beer that's heavy on the tart, but is just forgiving enough that no sugars are needed to counter the experience. It's a perfect blend of sweet backbone and acidic refreshment.
Brewery:Dogfish Head Brewery
City: Milton, DE
ABV: 4.5%
Availability: 12 oz. bottles, draft (limited)
Rating: 86
---
Loren Green is a Minneapolis writer covering beer, music, and more. Follow him on Twitter at @lorenmgreen.