PROMOTIONAL
So, you got conned into hosting the holiday shindig.
Or maybe you just test positive for the "Martha Stewart Gene" and offer your place and your culinary chops because that's your jam. Either way, there is a delicate, subtle, infinitely complex art and science to selecting the right wine for holiday parties.
And guess what? You totally get to blow that off. Or at least let your inner artist be Jackson Pollock and your inner scientist be one of those guys who thinks there are probably parallel universes. Your holiday event might be anything from an intimate candlelight dinner to a few buddies hanging out on the couch to a potluck free-for-all. You probably don't have an infinite budget, and you definitely want everyone to leave happy.
Here are some quick-and-dirty, make-it-easy-on-yourself, you're-not-a-sommelier-and-guess-what-neither-are-your-guests tips on party pairing. The basic rules of thumb couldn't be more simple.
1. Pair wine region to food region if possible and appropriate. Southern Italian food? Grab something from Campania.
2. Keep it simple. Unless your guests are a bunch of wine experts, don't turn yourself inside out over expensive and exotic stuff. In fact, if they are a bunch of wine experts, tell them they are welcome to supply the wine themselves.
3. Serve wines with a complementary flavor to what you're serving.
4. Your main course cheat sheet: Beef = cabernet. Turkey & salmon = pinot noir. Chili peppers = Riesling and Gewurztraminer. Grilling = Grenache/Garnacha and Zinfandel. Oysters = Savignon Blanc.
5. Don't try to cover all tastes with one style of wine, regardless of how much you enjoy them. Rather, buy one red, one white, and one sparkling and let your guests decide for themselves.
6. When in doubt, sparkling wine is the Little Black Dress of the Wine World. Seriously, it goes with everything, and there is nothing more festive for the season.
All of these rules are breakable. And for anything I just said you can substitute "bubbly!" and you'll be cool. Really, I cannot say it enough times. Bubbles are practically their own holiday.
You want solid and not overly challenging. For instance, Chardonnays that are neither malolactic pineapple upside-down cake in a glass, nor ascetic Burgundian calcareous gravel in a glass, but moderate types with a broad appeal. For reds, something medium-bodied will be the least likely to cause palate burnout—you probably don't want a late-harvest Barbera to be the only choice. Bubbly-wise, Cava is great for groups because it's big flavor for an affordable price.
Here are my suggested picks.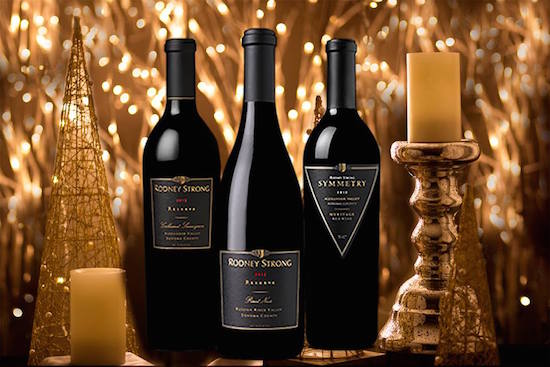 Photo via Rodney Strong
Crowd Pleaser Whites: Rodney Strong and La Crema are both turning out Chardonnays that don't ruffle feathers. Quivira makes one of my favorite Sauv Blancs; if budget is a big issue there are a lot of SB's coming out of New Zealand that are great. If budget isn't that much of an issue, you cannot, as far as I am aware, go wrong with Cakebread.
Medium Bodied Reds: You can get some smokin' deals on great Merlots since Paul Giamatti snob-shamed it off the map, and their soft, plummy character is super food friendly. (Again, Rodney Strong is a good choice, and so is Hogue.) Grenache/ Garnacha is also a great choice. (I like Quivira's Grenache, personally. And no, they're not paying me – I just dig their wines. A lot.) Evodia Garnacha is also a drag and drop at a great price.
The Bubbles: Bisol and La Marca are lovely Proseccos, Segura Viudas is a great accessible Cava, Graham Beck has South African sparklers to watch for, and Piper-Sonoma, Gruet and Roederer are great domestic options that won't mess with your credit card balance.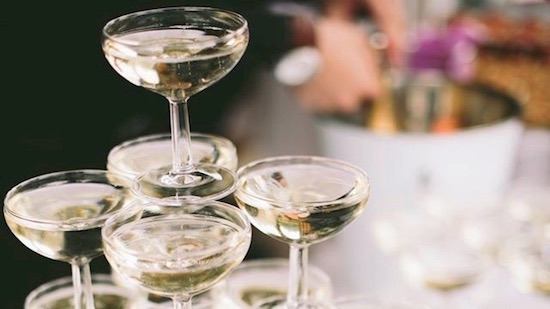 Photo via Segura Viudas
The takeaway? You're the host, and you make the rules. The worst pairing on earth is a dinner party and a host who's in a Xanax stupor because the details were so overwhelming. Let. It. Go. People are happy to be there, popping a cork or 10 with you. You can get completely OCD-specific about pairing foods and wines for social events, down to vintage and time of day and every ingredient in your sauce. But I would argue that this ain't the time to go there. Keep it simple and lighthearted and, in case you didn't hear me the first 10 times, sparkling wine is never the wrong answer. It just isn't.