As fall trudges inexorably onward towards winter, with Thanksgiving lurking festively just around the corner, it's time to consider the autumnal pleasures of apple-based booze. For many, the most familiar of the bunch is probably applejack, which happens to be one of America's oldest indigenous spirits dating back to colonial times. Laird's is the most ubiquitous brand of applejack, a mixture of 35% apple brandy and 65% neutral spirits. It's a little harsh to drink on its own, but it works well as a substitute for whiskey in a Manhattan. There are many other apple-based spirits available that can be incorporated into excellent cold weather holiday cocktails or enjoyed neat or on the rocks. Here is a list of five, ranging from craft operation to conglomerate production, all of which can and should be enjoyed as part of your holiday festivities.
Jim Beam Apple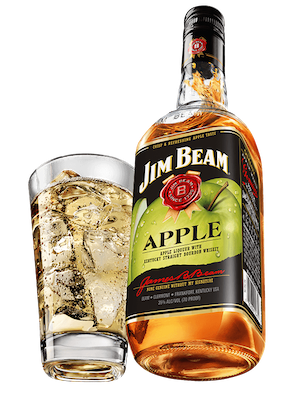 Jim Beam's bourbon catalogue seems to expand every year, with signature craft additions, small batch expressions, and flavored whiskeys adding to the venerable distillery's portfolio. Clearly, Jim Beam Apple is targeting a certain audience… let's just say a younger, party-oriented, inexperienced drinking crowd. The serious whiskey drinker isn't going to sit down by the fire with a tumbler of Jim Beam Apple, but I wouldn't be surprised if it becomes a popular club beverage. The taste is intensely sweet, with an artificial apple flavor that is more Jolly Rancher than Granny Smith. It's cheap (about 15 bucks per bottle) and only 70 proof, so this is an easy drink for those so inclined. Drinking it on its own might be a mistake. But mixed with some club soda and a twist of lemon, Jim Beam Apple isn't half bad, and I would think it might work well as the spike in hot mulled cider.
Try this: Beam Orchard Twist
Ingredients
1 part Jim Beam Apple
1 part cranberry juice
splash of club soda
lime wedge
Directions: Combine ingredients in highball glass filled with ice, garnish with lime.
---
Barking Irons Applejack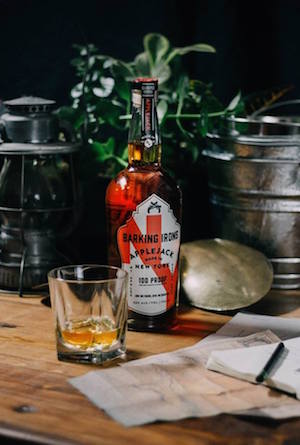 Barking Irons clothing company has collaborated with Elliot Phear and Casey McGrath to create a new 100-proof applejack, which aims to "resurrect that stylish, notorious and dangerous era of New York history through a family of colorful and unique spirits," according to the press release. This seems like a questionable goal as the city is currently experiencing some of the lowest crime rates on record. I'm not sure that reminiscing about the good old bad days is what anyone wants to do… but I digress. Barking Irons is produced with cider made from a blend of Jonagold, Macoun, and Gala apples, all from New York State, and ageing it in char #2 oak barrels for an unspecified length of time at Brooklyn's Van Brunt Stillhouse. The result is a lightly spicy and definably apple spirit that's not too sweet. Ultimately, it's a successful modern take on an old idea.
Try this: The Widow Maker
Ingredients
2 oz. Barking Irons Applejack
½ oz. Benedictine
½ oz. Green Chartreuse
2 dashes Angostura bitters
Directions: Stir and strain into chilled cocktail glass.
---
Calvados Boulard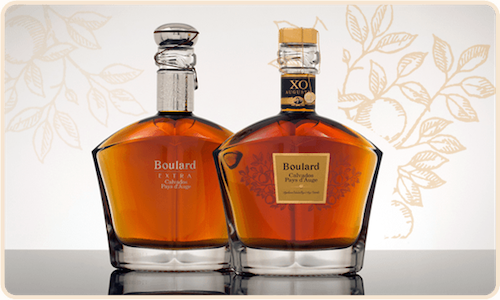 Calvados is an apple brandy that has been produced in France, typically the Lower Normandy region, since the at least 16th century. It can be drunk neat, on the rocks, or used in cooking – it's often a crucial ingredient in concocting a delicious French onion soup. Boulard, a juggernaut of calvados production founded in 1825 that dominates the US market, produces a range of calvados, ranging from the lower-end VSOP ($45) to the exorbitant Extra ($420). I was able to sample the VSOP, and it's a lovely, mild drink, with strong hints of pear competing with the apple on the nose and palate.
Try this: Boulard Old Fashioned
Ingredients
1.5 oz. Calvados Boulard XO
1 dash Angostura bitters
1 teaspoon sugar cane syrup
1/2 orange slice
2 Amarena cherries
Directions: In a rocks glass, add sugar cane syrup and bitters along with a small dash of water, stir. Add .75 oz of Boulard and ice, stir. Add second measure of Calvados, stir. Garnish with orange and cherries.
---
St. George California Reserve Apple Brandy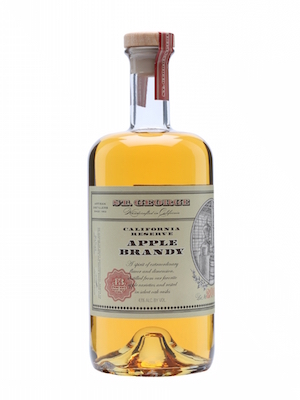 St. George Spirits is doing some wonderful boozy things. Their gins are complex and surprising, and their single malt is a perfect example of an American take on a respected whiskey classic. The distillery's brand-new 2015 apple brandy release is only the their second, made from a blend of California apples including Fall Pippin, Black Arkansas, and Red Delicious. It's aged for up to four years in wine casks, bourbon barrels, and single malt casks before blending. It's a lovely, smooth brandy, with just a hint of honey and a spicy finish that doesn't overpower the subtle apple base. I advise pouring yourself a snifter to savor after a meal, but there are cocktails to be made as well.
Try this: Apple Old Fashioned
Ingredients
2 oz. apple brandy
3 dashes Angostura bitters
teaspoon maple syrup
Directions: Muddle maple syrup with bitters. Add ice, apple brandy, garnish with wedge of apple.
---
1911 Spirits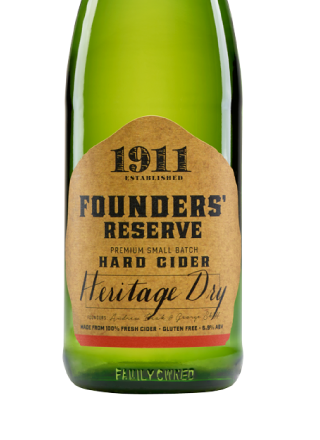 1911 Spirits is an upstate New York distillery that produces spirits from apples grown on their own land, the Beak & Skiff Orchard, which includes gin, vodka, and a range of hard ciders. The vodka and gin are sibling spirits – the gin is created by vaporizing the vodka and running it through a vessel filled with botanicals like juniper, coriander, and citrus, allowing the apple base of the vodka to shine through. 1911 can only be found in select markets in New York State at the moment, and the distillery has a café/tasting room open seven days a week to visitors.
Try this: Apple Business
Ingredients
2 oz. 1911 Gin
1 oz. apple juice
½ oz. lime juice
½ oz. honey
Directions: Add all ingredients to shaker filled with ice, shake, strain into rocks glass with ice. Garnish with fresh apple.
---