Have you ever loved a whiskey so much that you wanted to buy a whole barrel? Well, if you have the cash, you actually can. A number of distilleries offer this service to whiskey fans willing to spend a hefty sum to have a whole barrel to call their own. Garrison Brothers, in Texas, recently began offering customers the ability to buy whole barrels of their award-winning whiskey. They refer to it as their "Single Barrel Program."
Located in Hye, Texas, Garrison Brothers Distillery is the first legal bourbon distillery in Texas. "We have around 3,000 barrels of it aging on the ranch," says Dan Garrison, founder of the distillery.
Contrary to popular belief, you can make bourbon outside of Kentucky and Tennessee. And the Garrison Brothers prove you can make good bourbon beyond Kentucky; Jim Murray's Whisky Bible named Garrison's Cowboy Bourbon the American Micro Whiskey of the Year in 2014. Texas itself has become a hotbed of distilling in recent years, and Garrison says there's a sense of camaraderie between the distillers operating in the Lone Star state. "We always say in Texas 'you dance with the one who brung ya' so the community takes care of one another, appreciating each others' product, Whether it be wine, vodka, or bourbon," Garrison says.
Despite the growth of the brand, the Garrison farm and ranch remains a small family owned and operated business with a focus on hand-crafted quality. "We make what we consider to be one of the finest bourbon whiskeys in the world, and the first bourbon whiskey anywhere made entirely from organic grain," Garrison says. "[We make] a flagship bourbon released yearly, a limited release every two years called Cowboy Bourbon, and a Garrison Brothers Single Barrel bourbon, sold by the barrel."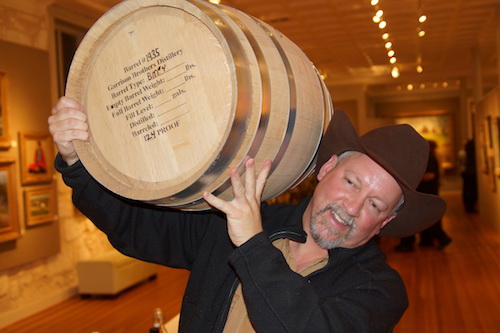 Dan Garrison hoisting a new barrel, like a boss
One of the more whimsical attributes of barrel-aged whiskey, is that every barrel produced has its own distinct personality and flavor profile because of variances in the wood, temperature, time in the barrel… "It's our mission to understand what we did to make each barrel special so we can continue to get better at it every day," Garrison says.
The whiskey in the Single Barrel Program is Garrison Brothers' three to five year old flagship, which is a sweet mash made of 74% food grade organic corn from the Texas Panhandle, 15% soft red winter wheat grown on Garrison's own farm, and 11% malted barley from Canada. Each barrel yields 40 to 80 bottles depending on the Angel's Share losses, and the buyer commits to buying whatever bottles the barrel yields. Total cost can range from $5,000 to $8,000. Each bottle is customized for the buyer with "Hand Crafted for YOU" in a gorgeous bottle with their signature silver Texas star. And you get the barrel itself because the bottles are shipped with it.
"It's a really unique way to buy bourbon, whether you're a liquor store, restaurant-bar or a CEO gifting bottles to your company or team," Garrison says. "It's for serious bourbon lovers."
And Garrison Brothers isn't alone in offering entire barrels to serious bourbon lovers. Most of the "big boys" offer whole barrel programs, from Jack Daniels and Jim Beam to Knob Creek and Four Roses. As for the Garrison Brothers Single Barrel Program, if you're serious about buying a bunch of whiskey with your name on it, Garrison invites you to visit the distillery in Hye, Texas and taste all the barrels you want. Or you can contact Garrison Brothers and they'll have a distributor bring you samples to try.
"Bourbon is the nectar of the gods," Garrison says. "It encourages storytelling. It brings people together. It builds friendships. It helps people get laid. Imagine how popular you'll become when you have your own barrel of the stuff."