If you find yourself walking around the scenic streets of Savannah somewhere between early June and late August, the operative word will quickly become "steamy." That city's famed atmosphere—massive live oaks with branches that thread from the trunks like a kid's scribble dripping with Spanish moss; pedestrian walkways lined with tiny art galleries with brightly-painted canvasses; architectural influences that range from Colonial to gingerbread-accented Victorian to Medieval-style cathedrals; the 24 squares scattered throughout the downtown, replete with dense foliage and monuments…as postcard perfect and as instantly charming as Savannah might be, walk two blocks in any direction in the heart of the summer, and all you'll think is, my GOD it's steamy. Simply put, the heat—and humidity—are pretty much merciless. It's the kind of place where even the most ardent urbanite will attempt to walk slow, where you'll willingly go well out of your way to walk on the shady side of the street.
This naturally benefits the legions of tourist shops and galleries, whose air-conditions are always cranked and beckon with blasts of cold air flooding out their open doors as you saunter past. But it also highlights one of Savannah's other champion achievements: allowing a pedestrian to wander the streets with an alcoholic beverage. It's a rule similar to the one in New Orleans, though in Savannah it all feels decidedly less seedy, the profusion of bachelorette parties notwithstanding. Unlike that other pillar of the South, there aren't as many street-facing walk-up bars in Savannah. And while you can choose from an assortment of high-alcohol frozen drinks, arranged in massive dispensers with colors that cover every shade of neon, discerning consumers should gravitate to a handful of other establishments that offer more than a quick head rush and a valve-release future hangover to tap into the varied cocktail, beer, and wine scene happening in Savannah.
As with pretty much everywhere, the craft beer scene is booming in Savannah, which benefits from several breweries within the city as well as throughout the rest of Georgia. One stop at the Whole Foods can deliver a serious bounty of canned six-packs. Scofflaw Brewery's Basement IPA, imported from Atlanta, might've been the best of the bunch, though the Compass Rose IPA from Savannah's own Service Brewing ran a close second, and barely outpaced Orpheus' Ascending IPA (Atlanta) and the offerings from other breweries like Terrapin, Sweetwater, Gate City, Southbound, Wild Heaven, and Treehorn Cidery out of Marietta. Only the Thai Wheat from Second Self Brewing, made with fresh lemongrass and ginger, tasted a bit off for a style that's tailor-made for hot days. Thankfully their Maverick & Gose did the trick, with slightly less salt and slightly more tartness than your traditional Gose—it didn't kill the heat and humidity, mind you. But it made you think about it less.
Here are a handful of clutch locales that proffer strong a/cs, great food, a festive atmosphere, and even better drinks, where to-go is always an option.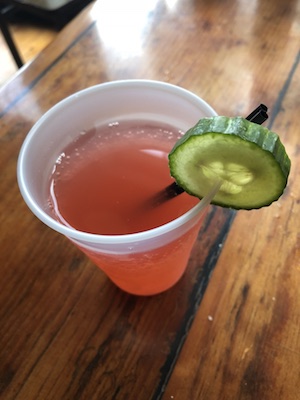 The Georgia Tasting Room
Located in Savannah's Historic District, they offer $3 wine tastings of six different wines as well as 22 local beers on tap, in addition to Georgia Wine and Southern Moonshine Smoothies in a casual environment with walk-up bars. They also sell beer by the six-pack and wine by the bottle, along with meat and cheese plates. With no seating, it's the best place in the city to quickly sample what the state has to offer, so that you better navigate future choices as you continue to explore.
---
The Gray
This hot spot already garnished a best new restaurant award from Esquire, and the food lives up to its rep with a refreshingly modern take on Southern food like roasted chicken topped with a turmeric sauce and currant-and-green-pepper relish. But their spirits program may compete with the cuisine. In addition to a handful of classic and house cocktails, they also offer Atlantic Trade Flights. Echoing back to Savannah's historical port, the options (which come in three one-ounce servings) include flights of amaros, gin and tonics, ports, rums, madeiras, and whiskeys of various ages. It's housed in a former Jim Crow-era Greyhound bus depot, with a casual side bar in one room and a massive dining room dominated by a half-circle bar. The beer list is far from encyclopedic, but a handful of local breweries (and local-ish suspects like Florida's Cigar City) are well represented.
---
Moon River Brewery
This brewpub located a few blocks off the Savannah River doesn't break the mold—the interior feels a touch cluttered and the smell of brewing is pervasive, as it is in pretty much every brew-pub in the country. But they made some solid beer, including a handful of standard as well as a few one-off options. The Cone of Uncertainty stood out, a cloudy New England-style IPA with a relatively humble 6.4% ABV, while the Sombra de la Marmota displays Moon River's experimental style. The Belgian-style pale was aged in tequila barrels for 18 months, offering a bit of wood and funkiness that nicely complements the smooth ale. If it's not crazy-hot, leave the shadows of the cavernous insides for their refreshingly modern beer garden, a 5,400-square-foot space with a full kitchen and space for up to 200.
---
Sorry Charlie's Oyster Bar
Though you can score traditional Southern cuisine like hot-boiled peanuts, pimento cornbread and a low-country boil at Sorry Charlie's it's all about the oysters—and the drinks. Pair a dozen on the half-shell with one of their white wines like a crisp and lively Spanish Albarino, followed by the peel and eat shrimp with a pint of Scofflaw's Basement IPA. Then choose from one of the house-specialty rum drinks for your to-go cocktail. Who know garnishing a plastic cup with a slice of cucumber could look as inviting as crystal stemware?
---
1540 Room
Don't let the fact that this spot sits off the lobby of the DeSoto Hotel dissuade you. The farm-to-table restaurant mixes a variety of styles—Southern as well as Latin and Italian—to proffer cuisine sourced from Savannah's surrounding farms, fields, and fishing docks. As such, the menu changes often. But hopefully the cast iron octopus, served with Puerto Rican-inspired sofrito along with preserved lemon, harissa, chorizo, and sauce escabeche, will remain. The featured cocktail list won't blow your mind—negroni, caipirinha, or an aperol spritz—but well-made classics are classics for a reason. The wine follows a similar geographical path, with selections from Italy, South America, and Spain. The only knock? No Georgia breweries on the menu, though The Bruery Terreux's Orchard Wit and a white ale from Japan's Hitachino Nest are worthy options. But for a local-centric locale, it's an odd choice.
---