Can tiny pictures of tamales, empanadas, ceviche and flan really make an impact on the heated national debate about immigrants? In our boiling political pot of travel ban battles and deportations, one government agency, the U.S. Postal Service, has taken a bold (and possibly subversive) step with their new set of "Delicioso" stamps that "celebrate the influence of Central and South American, Mexican and Caribbean foods and flavors in American cuisine."
The six stamps highlighting tamales, ceviche, empanadas, chile relleno, sancocho and flan debuted in April. It's an audacious move considering that in the 124-year history of U.S. commemorative stamps — which usually glorify unarguably American symbols such as Old Glory, baseball and Elvis — the subject of "American food" has been conspicuously absent. Scouring lists of commemoratives since 1893 reveals a meager few that innocuously glorify summer fruit or soda fountain treats. Nowhere is there even an attempt to honor any quintessential "American foods."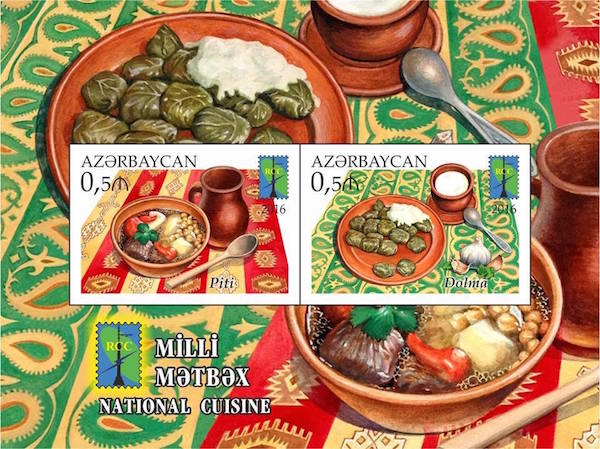 Azerbaijan celebrates its national dishes: dolma and piti (a hearty soup with lamb and vegetables)
This culinary omission stands in strong contrast to the rest of the world, where almost every country, large or small, exalts and enshrines their national foods and regional specialties in the miniature works of art that grace their snail mail.
The countless edible national treasures highlighted on postage stamps include: Morocco's couscous, Vietnam's pho, Portugal's fried mackerel and sweet potato bread, Turkey's soups, kebabs and baked goods, Singapore's colorful dessert, ice kachang. A set of seafood stamps from Mozambique celebrates its long coastline and rich fishing grounds. France recently featured a dozen stamps spotlighting beloved regional cheeses and other specialties.
Yet, our nation has never chosen an official "American national dish." Some countries hold nationwide elections to pick their favorite. (In Norway, fårikål, a warming stew made of not much more than lamb and cabbage, won the popular vote – twice.) Would the red and blue states divide up contentiously if we brought the issue of our national dish to a vote?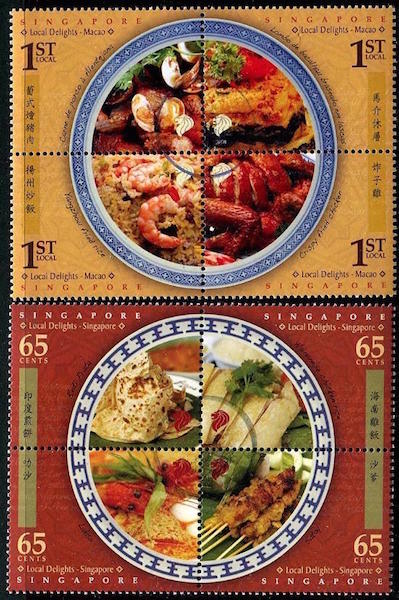 Local delights from Macau and Singapore: Yangzhou fried rice and Hainanese chicken.
What popular dish would actually qualify as a national American food? Apple pie was brought over by British, Dutch and Swedish settlers in the 17th and 18th centuries. Hamburgers and hot dogs trace their roots to Germany. And pizza … No need to spell that one out.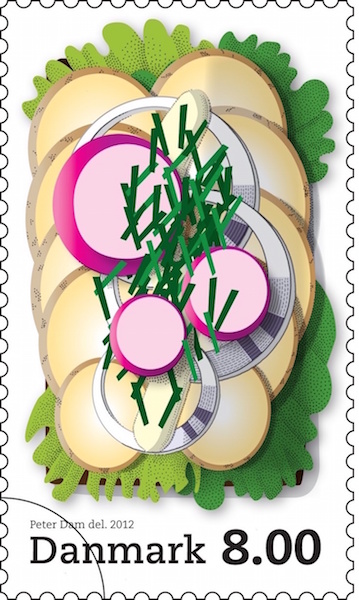 Denmark employs stylized design in a series that honors smørrebrød, their creative, open-faced sandwiches. The combinations like potatoes, radish, chives and onion or salmon with shrimp and dill are truly edible art.
For those hard-nosed enough to insist on a dish that can produce an "American birth certificate," the unexpected contenders could be California roll or General Tso's chicken.
Since cuisine is such an integral part of culture, by acknowledging immigrants' culinary contributions to our American way of life (even just via stamps), we validate the people without whom we would never have enjoyed these tasty and satisfying foods that are now so much a part of our culture.
Despite his insulting invective against immigrants and his insistence about building that wall, even 45 claimed to love taco bowls in one of his infamous tweets.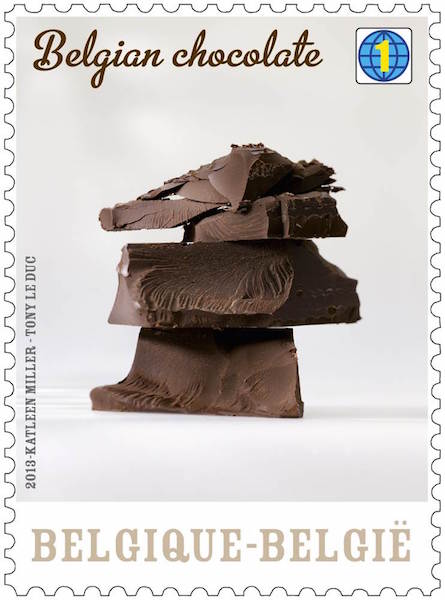 Belgian chocolate – Now here's a country obsessed with its national food. This set delivers "stamp sense-surround" (they smell and even taste like chocolate when licked.)
On the first day of the Delicioso stamps' issue, the USPS held a ceremony in Albuquerque. "Ours is truly a world culture, and our stamps allow us to weave together the many threads of our national tapestry," said Robert Cintron, vice president, Network Operations for the U.S. Postal Service. He added, "With the issuance of the beautiful Delicioso Forever stamps, it is the Postal Service's way of saying these Delicioso dishes epitomize the best of America, and will do so forever."
Delicioso stamps images painted by John Parra, an award-winning illustrator of Latino-themed children's books, art direction by Antonio Alcalá.
---
Anna Mindess leads a double life in Berkeley, California. She is a food and travel writer and a sign language interpreter, two fields bridged by a fascination with culture. Her work has been published in Oakland Magazine, Edible East Bay, KQED's Bay Area Bites and The Washington Post. Share her visual take on the world via Instagram @annamindess.