This Father-Son Duo Transformed a Bushwick Garage into a Beer Lover's Go-To
Photos courtesy of Lantern Hall
Food
Features
Lantern Hall
If you're familiar with the craft brew scene, you've probably heard of Lantern Hall, Bushwick's largest beer hall specializing in the kind of brews you won't find at your local corner store. Originally an auto body shop, Lantern is now a chill beer lover's haven that still exudes some of its previous industrial vibes. In addition to a draught beer menu which changes weekly with a combination of local and rare brews, Lantern Hall also boasts sales partnerships with Space Craft Coffee and Awesometown Market.
Further setting itself apart from your average bar, Lantern Hall offers comedy on Tuesdays and free live music on the weekends. In fact, music or no music, this beer hall maintains a no-cover-at-the-door policy. Moreover, Lantern Halls cooks up what has been voted as the neighborhood's best burger.
Despite the budding popularity of this Brooklyn beer hall, at one point it was just a garage in the once not-so-cool Bushwick area. So what happened? After leaving his career in finance behind, Jeff Wong designed and physically built Lantern Hall hangout with his father, Luis Wong, who has been involved in the contracting of some of New York's favorite restaurants including Momofuku and Ippudo. Together they took the space from a garage into a gaming bar and industrial venue with graffiti-covered walls, natural wood touches and vintage electronics on each table.
Paste chatted with the father-son duo about this progression and what it's like to work with family.
Paste: What kinds of craft beer do you offer? For those that don't know much about beer, what's experimental about it?
Jeff Wong We offer 14 rotating lines from mostly local breweries. The beers change weekly, so each visit is a completely unique experience.
Craft and experimental beers are specific brews that are usually from smaller breweries that don't have a presence and distribution like, say Budweiser, for example. Some of our beers are one off brews and allocations from breweries that we've worked with and have known for a long time. One example is our Soft Serve Mosaic IPA from Gun Hill Brewing that's an IPA brewed with oats, milk, and mosaic hops.
Paste: How did Lantern Hall come about? Why a beer hall? What was the inspiration for the design?
JW: Lantern Hall came about as a fun side project when we found out the car shop operator, whom we've also known for years, was vacating the property.
We chose a beer hall because of how much I liked beer, how strong the craft beer scene has grown in recent years and because aesthetically, it would easily fit the existing design.
Paste: What was/is it like working together as a father/son duo?
JW: We don't see eye to eye on many things. For example, we sometimes butted heads on design and aesthetics, but it was really a fun experience. My dad, Luis, is an engineer by trade so he's all about practicality and efficiency, making him perfect for bringing my creative vision to life — even if he didn't always understand the artistic value.
Paste: How is Lantern Hall unique to other beer halls?
Vintage console games and free live music! Most bars in the area charge a cover, but we want to attract passionate people who love beer and music, so we have a policy of keeping the door cover-free.
Paste: Did you ever think that you guys would have gone into business with each other?
JW: I definitely thought I would go into business with my dad someday! We come from a strong entrepreneurial and real estate minded family that works very closely with other family members.
Paste: Perks of working with family?
JW: A perk is that you can be brutally honest. No one knows you like your parent.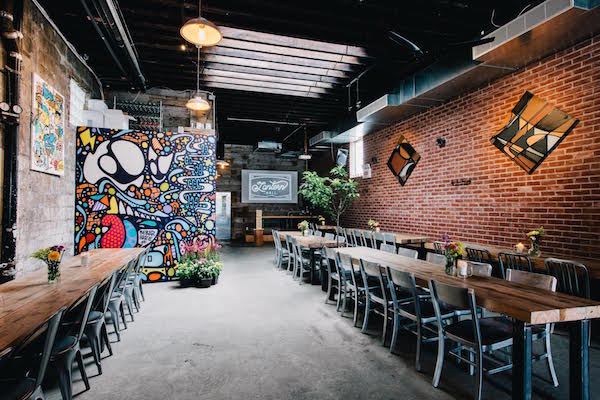 Photo courtesy of Lantern Hall
---
Hailing from California, Chelsea is an inquisitive dessert enthusiast and Golden State Warriors fan. Since graduating from Columbia University, she has amassed a colorful professional background, with experiences in industries that include news production, radio, public relations & media communications. Upon realizing that her true passion revolves around traveling the world, immersing herself in new cultures and eating, she is now a full-time freelance journalist, based in New York City. Chelsea's work has been featured on Thrillist, The Daily Meal, Yahoo! and MSN, among other nationally recognized outlets. Follow her on Instagram and her blog .