Isolated by train tracks and bridges, Leeward Bay is not a destination one finds themselves in by accident. A sea-scented oblivion of semis, refineries, and low-rent hideaways, it has but one oasis; one reason why anyone not a port worker, truck driver or local would cruise its deserted streets—The Chowder Barge.
Giant cranes moving shipping containers are the closest structures to sky scrappers visible at the floating restaurant and time capsule docked in the Port of Los Angeles. The legend of the ship is that it was built in 1934 as a support vessel for the filming of the Clark Gable feature, The Mutiny On The Bounty. Since then, it's been everything from a brothel to an art studio. Fifty years a chowder churning haven for beer guzzling locals, it seems the barge has solved its identity crisis.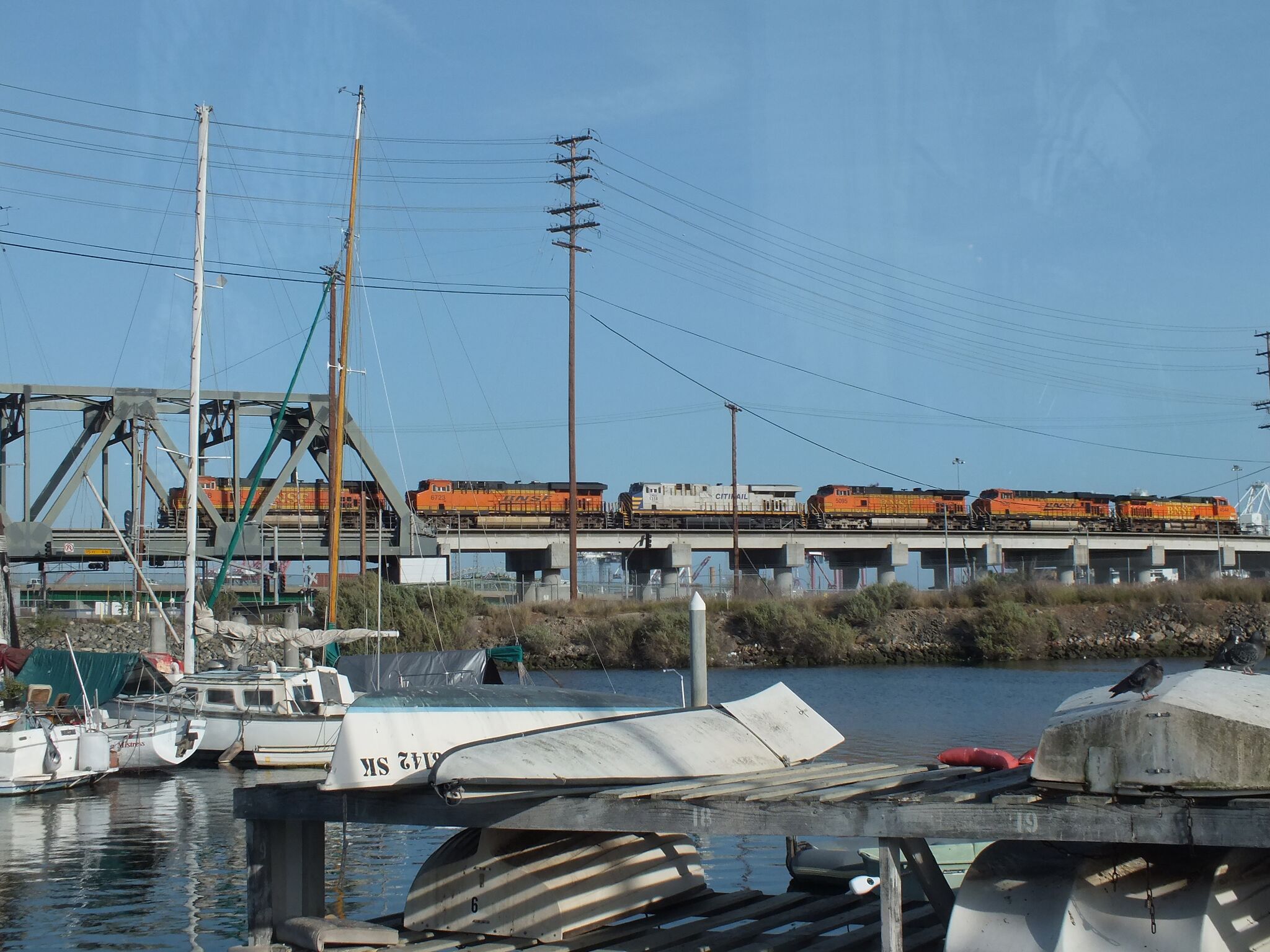 The grimy location, nestled in the toxic waters of the Dominguez Channel, has returned the barge to it's Hollywood roots; a favorite backdrop for location scouts on productions like Dexter, Sons Of Anarchy and Inherent Vice. Sitting on the deck outside, watching the twinkling tide sway the harbor's rusting, paint-peeled boats, the cinematic appeal is obvious.
The faraway horn of the Union Pacific passing in the distance is all that disturbs the mellow of the harbor. Inside is a different scene. Loud with a vibrant and eclectic crowd of families, port workers, executives in suits, bikers, boaters and surfers, the nautically-themed accoutrements that dress the warm wooden interior of the barge lend to a feeling of being below deck on a long voyage. Traditional restaurant boundaries are broken by shared benches, and in their place is a sense of camaraderie.
Started by Lyle and Mary Panter, the business was run by the same family for over 40 years, and their distinct band of followers have been with them for just as long.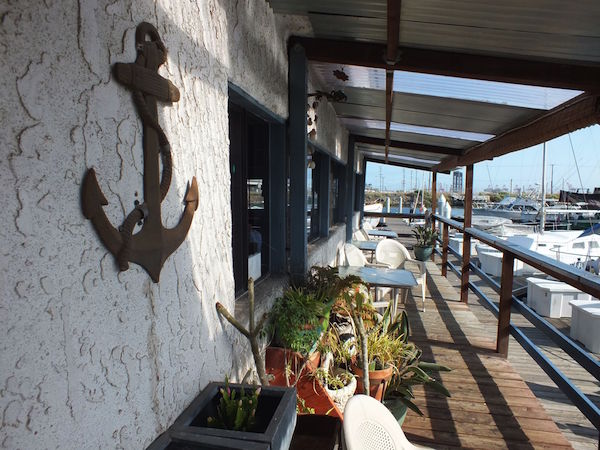 In an article he wrote for the Los Angeles Times, Louis Sahagun described the regulars, residents of Leeward Bay: "Awash in bad debt, lost jobs and lost weekends, the residents — retirees, disabled veterans, shut-ins, runaways, ex-cons, day workers and a few sex offenders — have come to view Leeward Bay and its listing watering hole, the Chowder Barge, as their isle of dreams."
Listless dreams on a listing boat more romantic in word than reality, when Mary and Lyle Panter passed away, current owner Nyla Olsen's good friends purchased the barge, and closed it for two weeks while they made repairs. With the same renowned chowder and kitschy tiki decor, the barge's business picked up right where it left off. Not long after, Olsen asked to waitress for her friends.
Olsen took over ownership a few years later, leaving the waitressing to her daughter. Both of
Olsen's sons work for the business as well. It's been that family dynamic which has fostered some of the barge's now signature dishes, like the Double Chowder Burger. A slab of meat and melted cheese on a brioche bun, smothered in creamy clam chowder, it's a gluttonous treat that tastes every bit as good as you want it to.
"My son, who's a surfer, came in really tired one day," says Olsen. "And that's what he wanted. A cheeseburger inside the chowder. Then we were goofing around, and we thought, 'Why not try putting fried clams in the chowder, too?'"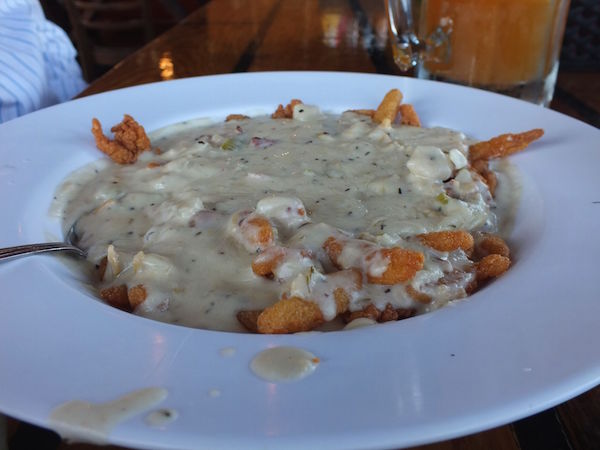 Hence, the birth of the barge's most requested dish, the Double Clam Chowder; fried clams swimming in a delicious bowl packed with potatoes and thick chowder. For those seeking to take the natural next step, also available is The Triple Chowder, clam chowder with fried clams served up in a sourdough bread bowl.
A woman visiting the barge with her husband and daughter for the first time struggles with what to order.
"What's the most adventurous thing I have to try," she asks her waitress. The waitress' finger confidently lands on the Double Chowder Burger. The woman looks to her family for approval.
"Well, if I'm going to try that," she proclaims. "I have to do it with fried clams, too!"
She goes for The Triple Chowder Burger, a cheeseburger stuffed with fried clams and then
drenched in chowder. She, like almost everyone who arrives at the barge, heard about it through word-of-mouth. The rest come from Yelp, or because they saw it in Inherent Vice.
For nearly half century, The Chowder Barge has maintained its far-from-mainstream following
with its simple but immaculately prepared seaside classics. While these newer, off-center items, along with the barge's cult film appearances, may be bringing people in from outside the port, these newcomers enter with the same sense of unpretentious, authentic-seeking spirit that barge-goers always have.
Jessica Carreiro is a freelance journalist based out of Los Angeles. When she is not writing about a place that is equal parts weird, fantastic, and unknown, she is usually having an internal conflict about whether she should write about it at all.