Poor Marge. I often watch The Simpsons and wonder, how (and why) does she do it? She's married to Homer and has three kids including Bart, and (most of the time) she manages to be relentlessly upbeat. Well, even saints like Marge can crack under pressure. And that's exactly what happens in season three's "Homer Alone."
The episode begins by really illustrating how under-appreciated Marge is, with her family nagging and nagging without offering a helping hand. She's finally pushed to the edge, and literally screeches to a halt on the Springfield Memorial Bridge. She won't move the car, and the scene is blocked off with "distressed mother, please stay back" police tape. Homer manages to talk her down, and even though the police take her into custody, Mayor Quimby insists she is set free so he doesn't lose "the chick vote." Marge realizes that she needs to unwind, and books a stay at Rancho Relaxo ("you can't spell Relaxo without relax").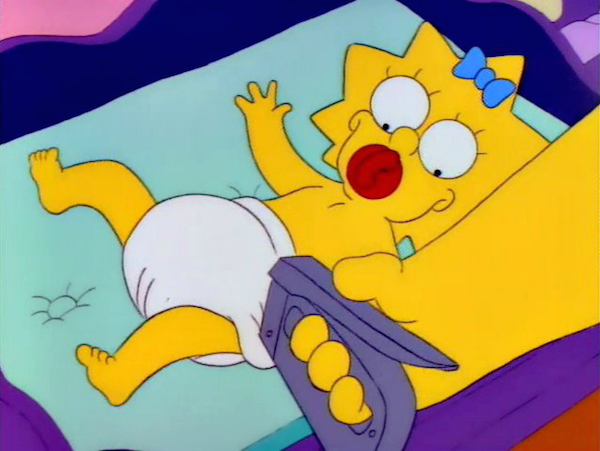 While she's gone, the kids go to stay with Patty and Selma (shudder) and Homer is left with Maggie. Despite his mediocre efforts, he promptly loses his youngest daughter and he and Barney go searching for her all over town. After Homer reports his daughter missing (cue "Baby Come Back" hold music), Quimby manages to do some actual police work and returns Maggie just in time for Homer to pick up Marge at the train station. The family is elated to see their matriarch, and she's somehow happy to see them to. That Rancho Relaxo really works.
But what does Marge do at Rancho Relaxo? This is where we get to the food part. After exhausting their many activities, Marge realizes that what she needs is some junk food and a soak in the tub. She calls up room service and orders the following: a hot fudge sundae with whipped cream, some chocolate chip cheesecake and a bottle of tequila. Way to go, Marge.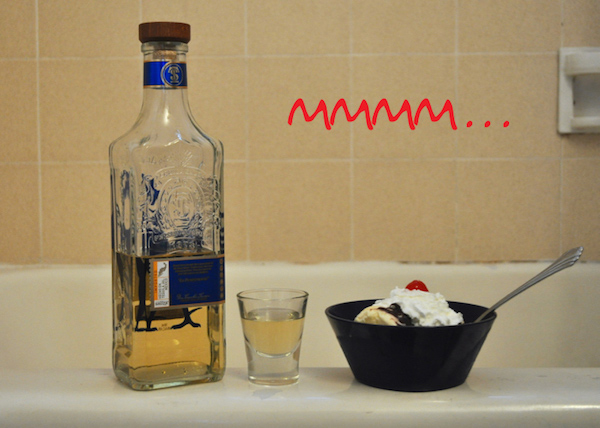 Marge's Recipe for Chilling Out*
Serves one and ONLY one
1 bathtub full of suds
1 TV playing Thelma and Louise
1 bottle of tequila
1 slice of chocolate chip cheesecake
1 hot fudge sundae with whipped cream
*No kids or Homer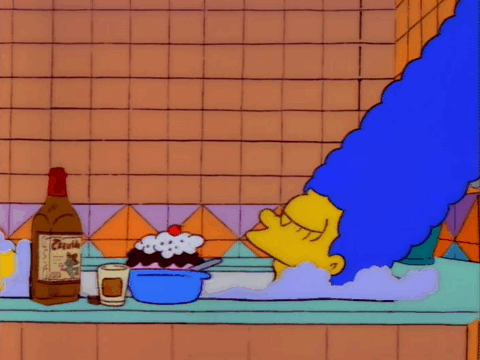 Now, there is nothing wrong with a slice of cheesecake, a hot fudge sundae and a bottle of tequila. But what if we could combine them all into one Marge-worthy dessert? I took a simple recipe for lime cheesecake bars, added tequila (think margarita), and gave it a chocolate crust, chocolate chips and hot fudge sauce. I feel relaxo just thinking about it.
It's worth noting that there are some other great food references in this episode, including Krusty-brand duck sausage frozen pizza and all of the food at Patty and Selma's. Who doesn't love a good tongue sandwich with your choice of beverage: Clamato, Mr. Pibb or soy milk? That one might come back to haunt me (and you) for a later edition.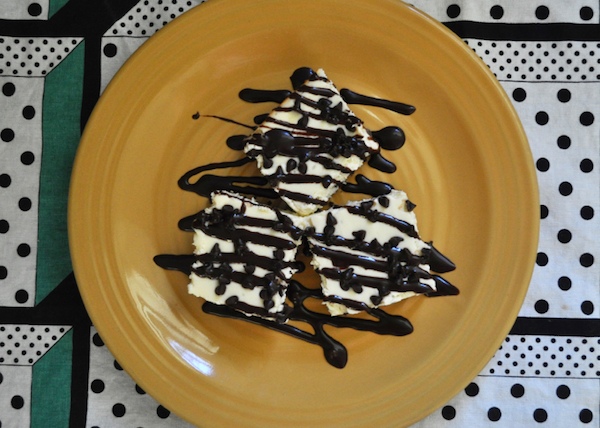 Chocolate Chip Margarita Cheesecake Bars (With Hot Fudge)
Inspired by Sweet Peas and Saffron
Serves 12
Crust:
About 30 chocolate wafer cookies processed into fine crumbs (1 ½ cups crumbs)
4 tablespoons melted butter
Pinch salt
Filling:
2 8-ounce packages cream cheese, room temperature
½ cup sugar
¼ teaspoon salt
1 heaping teaspoon lime zest (about 2 limes)
¼ cup fresh lime juice (about 2 limes)
3 tablespoons tequila
2 tablespoons cointreau or triple sec
2 eggs, room temperature
1/3 cup mini chocolate chips
Topping:
1/3 cup hot fudge, warmed
Preheat oven to 350 degrees. Prepare a 9×9-inch square pan by lining with aluminum foil and spraying with nonstick spray.
Combine the chocolate cookie crumbs, melted butter, and pinch of salt in a bowl. Mix until well combined and press evenly into the bottom of the prepared pan. Bake the crust for 10 minutes.
While the crust bakes, make the filling. Beat together the cream cheese and sugar until creamy. Add the salt, lime zest, lime juice, tequila, and triple sec and mix well. Add the eggs one at a time and mix until completely incorporated.
Pour the mixture over the baked crust and spread evenly. Sprinkle mini chocolate chips on top.
Bake at 350 degrees for 20-25 minutes, until the edges are fully set and the middle has a slight jiggle. Let cool completely in the pan before refrigerating for at least 2 hours.
Cut into bars and drizzle with hot fudge before serving. Store in the refrigerator for up to 3 days.
Laurel Randolph is a food and lifestyle writer hailing from Tennessee and living in Los Angeles. She enjoys cooking, baking and candlestick making. Tweet at her face:
@laurelrandy; .