Nintendo Announces Super Nintendo Classic
Just take our money
Images via Nintendo of America
Games
News
SNES Classic
The dawn of micro consoles is upon us, and Nintendo is keeping their craze going strong this fall with the release of the Super Nintendo (SNES) Classic edition on Sept. 29.
This retro darling will include 21 classic Nintendo games, including the previously unreleased Star Fox 2. And to top it off, it's only the size of your hand.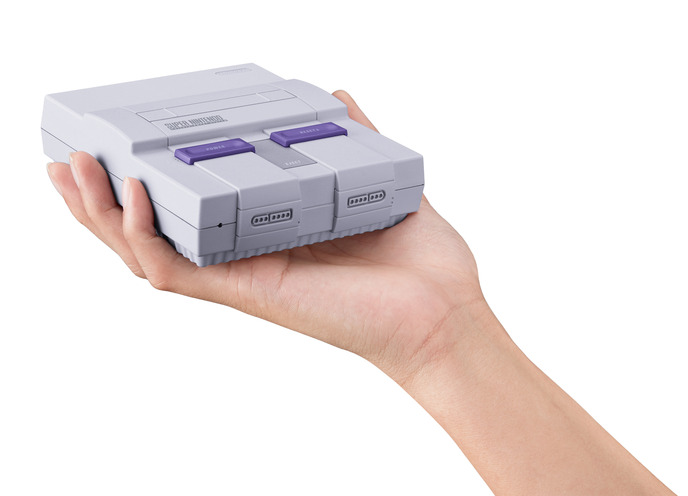 The box will come with the mini console, an HDMI cable, one USB charging cable with AC adapter, and two wired controllers. If you get the chance to get your hands on the system, it'll be going for $20 more than its predecessor, the NES Classic, at $79.99.
Find the full list of games pre-loaded on the SNES Classic below, and find out more about the console here.
– Contra III: The Alien Wars
– Donkey Kong Country
– EarthBound
– Final Fantasy III
– F-ZERO
– Kirby Super Star
– Kirby's Dream Course
– The Legend of Zelda: A Link to the Past
– Mega Man X
– Secret of Mana
– Star Fox
– Star Fox 2
– Street Fighter II Turbo: Hyper Fighting
– Super Castlevania IV
– Super Ghouls 'n Ghosts
– Super Mario Kart
– Super Mario RPG: Legend of the Seven Stars
– Super Mario World
– Super Metroid
– Super Punch-Out!!
– Yoshi's Island