In 2004, developer Bungie Studios set the path for the next decade of multiplayer gaming with the launch of Halo 2. While the previous Halo: Combat Evolved had a huge LAN community, it wasn't until the sequel, coupled with the advent of Xbox Live, that FPS multiplayer rose to prominence. Besides the flawless controls, innovations like playlist matchmaking, skill-based ranks and a party lobby system allowed Halo 2 to top the Xbox Live charts for years to come. Fast-forward to 2015 and recent Halo titles have faltered in this regard, with Halo 4 reaching #1 on Xbox Live population charts for only one week, with Black Ops 2 quickly taking half its player base.
2014's Master Chief Collection was supposed to revive the community, but its problem-plagued launch was a huge reputation hit, forcing the once legendary multiplayer giant to make serious changes or face irrelevancy. At launch and beyond, the hotly anticipated collection was marred with networking issues that subsequently caused a large and fast drop in player populations. There was a severe lack of the ranked playlists that were promised by the developers, and there were even bugs in the offline campaigns. 343 Industries head Bonnie Ross did confirm that all future Halo titles would have a beta to prevent these issues from popping up again.
343 will attempt to restore the suddenly tenuous reputation of Halo with Halo 5: Guardians. They're putting their money where their mouth is by announcing a $1 million dollar Halo World Championship tournament. With Halo 5, 343 Industries have set out to restore the competitive culture missing in Halo for the last five years. Steps include introducing a new ranking system, adding huge support for e-sports, and the well-received decision to not split the online player base by making all future Halo 5 multiplayer maps free for all players.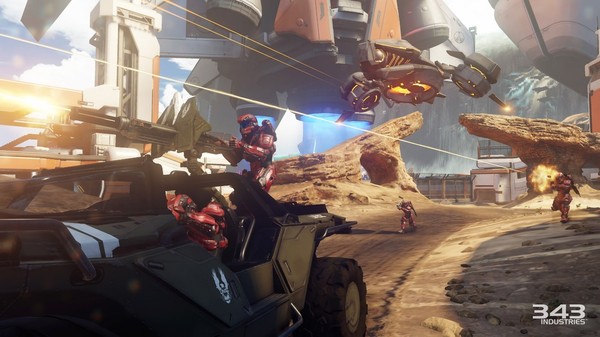 343 Industries and parent company Microsoft know they cannot sit on their laurels if they want to take Halo back into the upper echelons of competitive console shooters. Black Ops 3 is pushing e-sports even more this year on the Call of Duty side, while PC titles like Dota 2 are able to offer an $18 million prize pool, the biggest in e-sports history, thanks in part to crowd funding. 343 Industries took a cue from Dota 2's publisher Valve, offering REQ packs to be bought as micro transactions available in the all-new Warzone mode. These REQ packs are essentially cards that can be earned through levelling up your XP rank and completing multiplayer commendations a la Halo Reach, or by purchasing them from the Xbox Marketplace. Some of the profit earned from these REQ packs will directly be placed into future Halo tournament prize pools that will only encourage pro players back into the Halo fold, players like Call of Duty champion Formal of Optic Gaming, who has openly stated his desire to come back to the Halo competitive scene on his social media profiles following the new prize pool news.
It'll take efforts like this to bring professional players back to the game. A string of unsuccessful Halo 4 tournaments beset with low prize pools and mismanagement from Arena Gaming League (AGL) seemed to have signaled the end of any hope of Halo getting back into the competitive scene. Joseph B. of TeamBeyond.net, the founder of one of the leading competitive Halo forums, was at those events. Speaking about the Halo 5 news revealed at this summer's Gamescom event, he said there was an "about time" feeling with many in the Halo community being puzzled at Microsoft not financially backing their biggest title. He continued saying, "Halo e-sports has been nearly non-existent for years, suffering from a major 'drought.' Almost no reputable tournament organizers were hosting Halo events on a consistent basis (since Halo Reach), and the developers had appeared to write the entire competitive community off, going in the complete opposite direction, focusing on 'user friendly' gameplay rather than a competitive style of gameplay." In terms of the future of the series and coming up against console counterpart Call of Duty, a TeamBeyond.net community member known as "Saucey" added, "I think that Halo will never be able to compete with Call of Duty. It has nothing to do with the 'quality' of the game titles, but rather the platform that each respective game is playable on. Call of Duty is a multi-platform title, which in turn makes it available to a massively larger audience than a title exclusive to one platform."
Even with all the positive vibes surrounding the sixth mainline game in the Halo series, developer 343 Industries has a huge task to please fans from day one, whether that is confirming a significant amount of ranked playlists at launch instead of rolling them out like with the Master Chief Collection, or with a fully functional file browser available immediately to those who want to both share their creations and jump into others. Halo 5: Guardians has the huge expectation of being the flagship title for the Xbox One and reclaiming the status the Halo games reached in the past as multiplayer juggernauts. While pro players and competitive minded Halo fans might bemoan the inclusion of features that they deem unfit for Halo, most notably the ability to sprint, they will be satisfied for now with all the e-sports support and return of classic features like de-scope. Although we don't know what Halo 5 will fully look like in the end, 343 Industries seems focused on reinvigorating the moribund state of Halo e-sports.
Ahmed Mohamed is a games journalist from southern Ontario. He has an unhealthy attachment to Jet Set Radio Future. You can find him on Twitter @KiloFive.