Each month, Paste brings you a look at the best new selections from the Criterion Collection. Much beloved by casual fans and cinephiles alike, Criterion has for over three decades presented special editions of important classic and contemporary films. You can explore the complete collection here. In the meantime, because chances are you may be looking for something to give the discerning (raises pinkie) cinephile this month, find all of our Criterion picks here, and check out some of our top titles this July:
---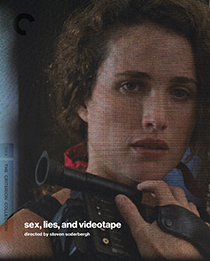 Sex, Lies, and Videotape
Year: 1989
Director: Steven Soderbergh
When the Berlin wall fell in 1989, Sex, Lies, and Videotape was being shown all across what used to be known, mere hours beforehand, as West Berlin. Citizens of East Germany, whose access to "subversive" art had been heavily censored for decades, flocked to theaters to see Steven Soderbergh's film, judging by the title that they were in for some real adult entertainment. Imagine going through hell for so many years, looking forward to enjoying your first taste of naughty freedom, only to be met with an American intellectual filmmaker's abrasively un-erotic, deeply thoughtful examination of sexual ennui amidst a quartet of middle class whites. The universe has a sick sense of humor.
Soderbergh's feature debut, which immediately solidified him as an impressive new voice in American independent cinema, is a frank, stripped-down study on how one's sexual nature can inform one's character: Can a change in sexual behavior in service of a partner's needs truly lead to happiness? Ann (Andie MacDowell), a rather conservative southern belle, find her life turned upside down by the introduction of her husband's (Peter Gallagher) old college friend, Graham (James Spader), whose physical impotence leads him to record other women talking about their sexual experiences as his only way of getting off. Intrigued by the possibility of unconventional erotic experiences, Ann's drawn to Graham, exposing her husband's callous approach to sex as power play in the process. Expertly using his meager budget to capture the essential themes of his story, Soderbergh relies on a minimal amount of locations and basic production design to stay focused on the characters and the performances. Criterion's blu-ray, from a new 4K transfer, seethes with the heat of the film's Louisiana locations, shot in stunning clarity. Criterion's extras range from vintage to the recent, and there are plenty, the best being a new comprehensive series of interviews with most of the cast. The packaging, which gives the illusion of old school analog video noise by use of a plastic sleeve, is also pretty spiffy. —Oktay Ege Kozak
---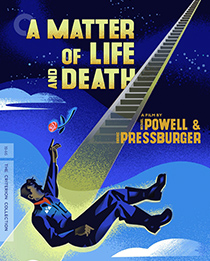 A Matter of Life and Death
Year: 1947
Directors: Michael Powell, Emeric Pressburger
Michael Powell and Emeric Pressburger ("the Archers") had a unique ability to take epic subject matter and extract the simple human story out of it. The grand nature of the universe might be unknowable to us, but it's our ability for love and compassion that makes this conflict-filled, relatively small existence so worthwhile. The powers that get in the way of the brand new romance between a wistful Royal Air Force aviator (David Niven) and a loving American radio operator (Kim Hunter) in the Archer's sublime supernatural melodrama A Matter of Life and Death are as grand as they get. You see, the aviator was supposed to die after his plane was shot down, but due to a clerical error in the afterlife, he survives and falls in love with the radio operator. When a whimsical official from the other world (Marius Goring) finally comes to Earth to collect him, the aviator challenges the decision, claiming that he can't leave now that the mistake has resulted in his new romance. The following courtroom drama in Heaven twists the film into a treatise on whether or not it's the individual or that individual's cultural/national affiliation that matters when it comes to strength of character. Made directly after World War II, the film poses tough yet necessary questions, and who better than the Archers to deliver them via a thoroughly entertaining and breathtaking package?
If you appreciate the quirky depictions of the afterlife in comedies like Defending Your Life and Bill & Ted's Bogus Journey, you have the Archer's vision to thank for it. A literal stairway to Heaven, optical effects that bend time and space, groovy matte paintings that look like a black-and-white Led Zeppelin cover: A Matter of Life and Death is an absolute delight. Criterion's new HD transfer predictably reproduces the Archer's trademark Technicolor look beautifully, but in the film's black and white sections, the contrast and grain levels truly shine. There are plenty of terrific extras, but the best is a new interview with Thelma Schoonmaker, Martin Scorsese's editor and Powell's widow, talking in-depth about the social makeup of the world at the time of the film's release. —Oktay Ege Kozak
---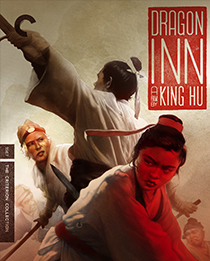 Dragon Inn
Year: 1967
Director: King Hu
A corrupt elected official. An army of equally corrupt government cronies. A team of political opponents caught in their crosshairs. A cadre of heroes, ranging from gallant to roguish, each avowed to protect the innocent from the tyrannical. A remote, isolated location where all of these characters collide in a storm of arrows, a flurry of fists, a hurricane of sword strokes. For anyone well-versed in martial arts cinema—or action cinema in general—this premise likely reads as familiar, but only because King Hu wrote that damn blueprint with Dragon Inn. Grant that Hu is pulling that blueprint's particulars from wuxia literature. Also grant that Hu is the yardstick against which other martial arts directors are measured (and against which they measure themselves). Dragon Inn is, in a word, classic, a masterpiece of fight choreography and geography as well as a lesson in how to slow roll into impressive battle sequences without grinding a movie to a halt. Hu, in his fashion, builds these clashes brick by brick until fighting's the only logical conclusion; when we get there, he lets his actors off the chain, and the products of their violent exchanges are nothing short of magical. Criterion released another Hu treasure, A Touch of Zen, back in 2016, so Dragon Inn's addition to the collection was just a matter of time. —Andy Crump
---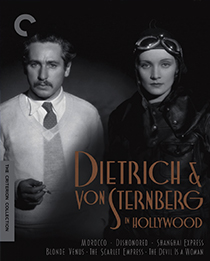 Dietrich & von Sternberg in Hollywood (Morocco, Dishonored, Shanghai Express, Blonde Venus, The Scarlet Empress, The Devil Is a Woman)
Years: 1930-1935
Director: Josef von Sternberg
When watching the films Josef von Sternberg and Marlene Dietrich made together, two things become quickly apparent: Marlene Dietrich is a masterfully unnatural actress, even in the early stages of her career, and Josef von Sternberg was probably a huge asshole. Maybe Dietrich wasn't a nice person either—the interviews included in this modest but lovingly assembled Criterion box set feature an older Dietrich as a no-nonsense icon, unwilling to delve too symbolically into her relationship with the director—but the duo's six Hollywood films embody iconism at its most unbridled. No one who successfully harnessed such artistic control as this, who was so complicit in a vision of perfectly calibrated artificiality as Dietrich, could get away with not being an asshole.
Following Dietrich's first time on screen with The Blue Angel, the director and his nascent star immigrated to California, where they made Morocco (1930), in which Dietrich plays nightclub singer Amy Jolly, able to captivate (white) audiences made permanently uneasy by the African heat even though she dresses like a man and kisses unsuspecting theatergoing wives/mistresses, her brazen shenanigans seemingly the stuff of shameful fantasies. Wooed by French Foreign Legion cad Tom Brown (Gary Cooper), a man who's horndogged his way through every foreign occupation he's passively joined, Jolly must choose between her wealthy father figure of a husband, La Bessière (Adolphe Menjou), and the lanky dreamboat bound to disappoint her. As is the case in Dishonored, the Lady Spy feature Dietrich and von Sternberg made a year later, Dietrich's Morocco character ultimately sacrifices her life (or at least her agency) for a man who doesn't deserve her devotion, but such Hollywood traditionalism takes a backseat for most of the film to simply bearing witness to Dietrich's mesmerizing, gender-flaunting presence. She earned her first Oscar nomination with that year.
Morocco perhaps best distinguishes itself as an early indication of von Sternberg's penchant for ever-increasing opulence, his frames crowded with ornate signs of life (overly exoticized, as was the racist custom of the time) and his sense of mise-en-scene irrevocably accompanied by cinematographer Lee Garmes's (with whom von Sternberg also made Dishonored and Shanghai Express) ability to graft a discernible geography over von Sternberg's luscious sets. In turn, Dietrich's every movement—her eyes almost always darting to and fro, as if she's overanalyzing the room—is that of caution, of deep consideration, posing and then re-posing and then re-posing again, as if with each film she further confirmed the image of a screen icon in the making, so that by the time the two finished their run together with The Devil Is a Woman (1935), Dietrich was iconic. Even as early as 1932, with the aforementioned Shanghai Express, Dietrich, poised and unflappable, was already a formidable actress, bending the film's melodramatic plot, about a rekindled love affair on a train amidst the Chinese civil war, to her whims. She came off as both the embodiment of a gorgeous male myth and a modern woman completely in control of her own destiny, able to reclaim a former lover (Clive Brook) on her own terms. Look only to a scene in which Shanghai Lily (Dietrich), legendary courtesan, gets her man to bend down to kiss her rather than the other way around. It's a seriously alpha sign of dominance.
While that same year Dietrich and von Sternberg made the achingly melodramatic Blonde Venus, which feels like a step backwards from the triumph of Shanghai Express, at least in terms of Dietrich's role as a wayward female and bad mother in need of redemption—who in the end returns to her maternal role despite her husband's (Herbert Marshall) weasel-y lack of growth and the "other" man being Cary Grant—1934 gave us The Scarlet Empress, an encapsulation and epitome of everything wonderful about von Sternberg and Dietrich working together, tbut driven to the breaking point. Extremely loosely based on the diaries of Catherine the Great, the film operates like a B movie with a lavish budget, reveling in stilted line readings and indulgent caricatures but never once hampered by financial constraints. It's as if Dietrich and von Sternberg defined kitsch before kitsch, demonstrating how the explicitly cinematic extravagance that gave them fame could also be pushed so far as to leave them demented, the final shot of Dietrich a disturbing melange of glee and madness, flanked by Pete Babusch's relentlessly unsettling sculptures of religious figures in the midst of despair. It's all so over the top, one can't help but be bored by Dietrich and von Sternberg's final film together, the comparatively simple The Devil Is a Woman. Still, in the end, even that film lets Dietrich escape on top, her future fully within her grasp. Paramount fired von Sternberg shortly after.
Of course, Dietrich's iconism could be the careful work of von Sternberg, known for meticulously lighting his star to etch her soft features in stone, but that would downplay just how well-calibrated Dietrich's every motion actually was. True too is how notoriously von Sternberg mitigated the contributions of cinematographers, screenwriters, set dressers, costume designers, producers and so on in order to flaunt his pictures as real representations of his, and only his, vision. Makes sense, then, that actress's idea of herself with von Sternberg, decades after the fact, seems so downplayed. But regardless of his ego, the films he helmed with Marlene Dietrich represent the gratuitous nature of Hollywood honed and weaponized, serving a purpose more than just its own existence. With these six films, von Sternberg and Dietrich may have been the first director-actor collaboration to fully justify what Hollywood would, in the decades to come, take for granted: that cinema is an art of enormous stories succeeding through tiny gestures. —Dom Sinacola