Each month, the Paste staff brings you a look at the best new selections from The Criterion Collection. Much beloved by casual fans and cinephiles alike, The Criterion Collection has for over three decades presented special editions of important classic and contemporary films. You can explore the complete collection here. In the meantime, here are our top picks for the month of June: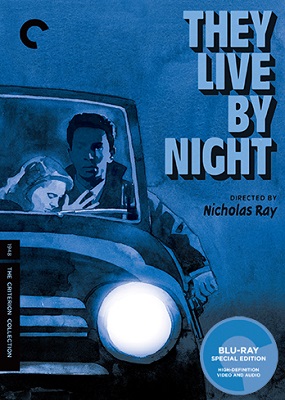 They Live by Night
Director: Nicholas Ray
Year: 1948
I'd be lying if I claimed Criterion released They Live by Night in June to happily coincide with the release of Edgar Wright's Baby Driver, but I'd also be lying if it didn't feel a little like kismet. Nicholas Ray's pre-noir noir is a tragedy; Wright's film is an action musical. But they share in common threads about innocence, outsidership, and the driver's role a well organized bank heist. (This, of course, is the least substantial of the three, but it's sort of hard to ignore the kinship when you see both films within a couple days of each other.) They Live by Night revolves around a common conceit in crime movies: The reluctant participant, the good-hearted criminal who tumbled into his life and breaks laws for the purpose of architecting his salvation, and in this we see another strand of DNA linking Ray to Wright.
But Wright, great though he may be, is Ray's beneficiary, a filmmaker standing on the shoulders of the legions of influential directors that paved the way for his brand of kinetic, genre-forward cinema. They Live by Night is a forerunner of contemporary crime movies, and, if we're being honest, one of the forerunners to noir itself. (At the very least it's a significant entry in the industrial shift Hollywood experienced between the late 1940's and early 1950's. But now we're talking shop, and shop-talk elides They Live by Night's individual value as art.) It's also a textured film shaped by the human ache for love, and belonging, and autonomy. Its protagonists want only to free themselves from the systems and behaviors that keep them on the wrong side of society, and to live their lives as they see fit.
The trouble is, they're both immature, green, totally unprepared to go out in the world on their own, so thank goodness they have each other. (If they must be naive, at least they can be naive together.) Ray and his cinematographer, George E. Diskant, wash They Live by Night in shadow and gloom, portending the film's wrenching climax while young lovers Bowie (Farley Granger) and Keechie (Cathy O'Donnell) try to defy their circumstances by playing house; it's a striking, beautiful film, but Ray's lovely craft is a cover for its undercurrent of hopelessness. ~ Andy Crump
---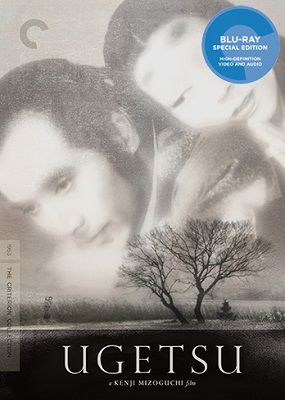 Ugetsu
Director: Kenji Mizoguchi
Year: 1953
Misery unfolds both supernaturally and pointlessly in Kenji Mizoguchi's much-revered masterpiece—so much so that by the time anyone's noticed that tragedy's struck, it's already well-burrowed into the bones of those at its mercy. Which must be Mizoguchi's intent, and not just because he was a notorious perfectionist: War, he seems to be saying with Ugetsu, is like Nature, relentless and indifferent to whatever suffices for our concept of basic human justice.
During an incredibly prolific—and empathetic—point in his career, Mizoguchi released Ugetsu, between The Life of Oharu (1952) and Sansho the Bailiff (1954), only three years before his death. Like in those two films, Mizoguchi set Ugetsu in feudal Japan, using the country's civil war as a milieu through which he could explore the ways in which ordinary people are kept from simply living, instead ground to dirt by forces far beyond their control. So it goes with two couples: Genjuro (Masayuki Mori), a potter hoping to profit from wartime, and his wife Miyagi (Kinuyo Tanaka); Tobei (Eitaro Ozawa) and Ohama (Mitsuko Mito), who rightly indicts her husband's dreams of being a well-decorated samurai as foolish, especially considering that Tobei shows no signs of physical mettle, let alone a brain with any sense of militaristic prowess. Ignoring both their wives' grave concerns and the ecliptic tide of war, the two men set out to make one last big bid for fame and fortune, finding nothing but a country haunted, literally sometimes, by casualties.
For all of its historic implications and historical fastidousness, Ugetsu is a lushly elemental film, epitomized by Mizoguchi's long takes and aloof mise-en-scene, which only highlighted the callousness of what he was trying to capture. Seamlessly shifting between ethereal setpieces—the iconic rendezvous between boats, set amidst a hellish waterscape of mist and portent is perhaps the crux around which the film unwinds—and grittier clusterfucks of mass pain in progress, Mizoguchi conjures up a sense of inevitability: No matter how much these characters learn about love or family or themselves, they are doomed. It's as bleak as it is beautiful—as hypnotic as it is heartbreaking.
Criterion's release of Ugetsu is appropriately stripped to its essentials, including a two-and-a-half-hour documentary about Mizoguchi's legacy, along with an austerely affecting inset featuring the three short stories (by Ueda Akinari and Guy de Maupassant) that most inspired Yoshikata Yoda and Matsutaro Kawaguchi's screenplay. Mizoguchi hardly needs his importance defended, but for such a cinematic great (who's otherwise practically unknown in the West), any background as thorough as this should be welcomed to understand just how primordially Mizoguchi's films are part of the marrow of world cinema. —Dom Sinacola
---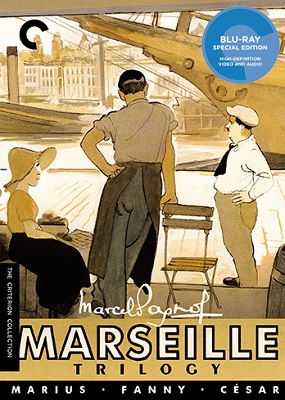 The Marseille Trilogy
Directors: Alexander Korda (Marius), Marc Allégret (Fanny), Marcel Pagnol (César)
Years: 1931 (Marius), 1932, (Fanny), 1936 (César)
If the films of Jacques Tati provide a delightful Post-World War II glimpse of life in a French rural village (Jour de fête) or seaside retreat (Les Vacances de Monsieur Hulot), then Marcel Pagnol's The Marseille Trilogy (Marius, Fanny and César) represents a window flung wide open, offering viewers a sustained opportunity to interact with the rhythms, sounds and inhabitants of 1930s Provence, particularly in regard to the coastal town in which the all-too human drama unfolds.
One could describe the overarching plot of the three films as a lovers' triangle, slowly somewhat resolved, but that would be a bit like describing a sumptuous meal as "appetizer, main course, dessert." Instead, think of The Marseille Trilogy as a gentle, comfortable journey undertaken with a cast of characters who themselves make the journey worthwhile. (Raimu's turn as the patriarch and titular César stands out in particular.)
This new edition features 4K digital restorations of all three films, a new interview with Marcel Pagnol's grandson, Nicolas, as well as several documentaries fleshing out both the life of the author and of the Marseille harbor setting. —Michael Burgin
---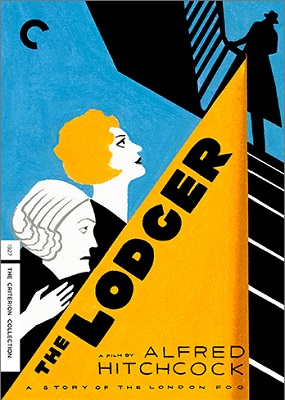 The Lodger: A Story of the London Fog
Director: Alfred Hitchcock
Year: 1927
The British Film Institute recently restored Alfred HItchcock's silent films, and Criterion is showcasing some fruits of that labor in its new release of The Lodger. The film is Hitchcock's most iconic silent work, in part because it's the first in which he overtly hits the themes that he'd explore throughout his career: suspicion of people close to you, public mania, fear of the police. Telling the story of a sexy-but-dangerous lodger—whom the heroine suspects may be Jack the Ripper—Hitchcock builds upon clues and doubts while making Ivor Novello's character increasingly intriguing.
Criterion has included plenty of extras, including archival interviews and video essays, but the clear standout is a whole extra film: Downfall, another 1927 Hitchock masterpiece starring Novello. It actually ranked higher than The Lodger in Paste's list of the 100 best silent films;.
First released in America as When Boys Leave Home, Downhill may not have The Lodger's blueprint for Hitchcock's future thrillers, but it is the work of a master in full control of his craft. The master of suspense's style is on full display as he shows Ivor Novello's character mentally deteriorate using dramatic angles and camera effects. A delirious fever dream is particularly disturbing—as shocking and unsettling as some of Hitch's most iconic scenes. —Jeremy Mathews
---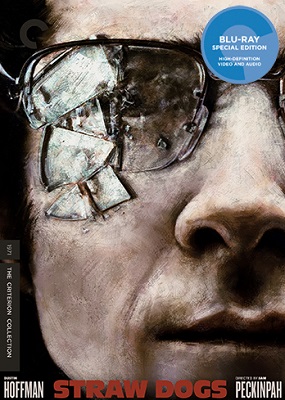 Straw Dogs
Director: Sam Peckinpah
Year: 1971
It's not mentioned much in discussions about Straw Dogs, but I think one of the key sequences in deconstructing Sam Peckinpah's taut and unflinching study on the inescapable violence found in human nature takes place during a scene that seemingly depicts a bit of civilized discussion. Beta male mathematician David Sumner (Dustin Hoffman), who moves to a remote working class English town with his younger and attractive wife Amy (Susan George) in order to work on his math book, hosts the local reverend (Colin Welland) for drinks at his house.
The reverend's goal is to clearly get David and Amy to join the church, but it doesn't take long for him to catch on that David might be an atheist. This propels the reverend to get on the offensive, as he warns David to be careful with his science, since it might lead to the invention of yet another civilization-wiping bomb. David counters with a quote from Montesquieu, which states that more people are slaughtered in the name of religion than anything else. When it comes to our reptilian proneness to violence, no one comes out unscathed, and everyone can be pushed into barbaric acts with even a mild nudge.
On the surface, Peckinpah's relentlessly yet fittingly grim masterpiece can be taken as a run off the mill home invasion thriller that exploits its brutal violence for cheap entertainment, which is what Roger Ebert thought it was upon the film's initial release in 1971. Yet the dialogue and visuals are packed to the brim with references to how violence operates within a "civilized" society, as sexual frustrations, resentment between socioeconomic classes, and a Neanderthal sense of ownership and strength gradually bubbles through the veneer of polite interaction in order to explode in a tragic yet inevitable outcome.
Straw Dogs is an uncompromisingly bleak experience, where everyone is complicit in getting to the shocking final act, and conventional heroes don't exist. The indifferent cruelty of human nature is the real enemy here. Even David, who appears to simply protect his family against the violent towns people, is a condescending prick who's verbally abusive to his wife and pathetically dives into a dick-measuring contest with the working class alpha males in order to prove himself to be the leader of the pack. He eventually comes to the conclusion that violent retort is the answer. But as the brilliant final line (Ad-libbed by Hoffman) shows, it's hard to close that door once it opens.
The new 4K restoration of Straw Dogs, found in the 1080p Blu-ray transfer, is incredibly clean and crisp, and it's probably the closest you'll get to owning a DCP copy. It's not the biggest improvement over the previous Blu-ray release, which supported a grainier yet equally defined transfer with comparable bit rate, but it's the extras that really count this time around. Most of the extras are ported from the 2002 Criterion DVD release, including a great 1993 feature-length documentary on Peckinpah. There are only two new extras: An interview with editor Roger Spottiswoode, and an interview film scholar Linda Williams, which deftly dives into the film's complex and controversial treatment of sexual violence. —Oktay Ege Kozak