John Landis and Greg Nicotero on Modern Horror
Photos by Jim Vorel and Getty Images, Alberto E. Rodriguez
Movies
Features
Few genres really elevate and idolize their iconic figures the way horror does. You don't see giant western film conventions where people discuss John Ford, or martial arts gatherings in honor of Sammo Hung or John Woo. But horror? Devotees of horror movies and the macabre in general venerate the great creators with a passion that is, no pun intended, kind of scary. I should know—I'm one of them.
And so, when I was invited by Universal Studios Orlando to trek down to Orlando for 24 hours to witness the first day of the 25th anniversary of Halloween Horror Nights, the biggest draw for me was the opportunity to sit in on some Q&A sessions with horror luminaries. For about an hour, the assembled journalists got to ask questions of two icons who represent different aspects of the filmmaker's art. There was:
John Landis, director of both classic comedies such as Animal House and The Blues Brothers and horror-inflected fare such as An American Werewolf in London, Burke and Hare and Michael Jackson's Thriller.
Greg Nicotero, perhaps the best practical FX/makeup guy in the business today, executive producer and director on AMC's The Walking Dead.
In a surprise addition, 16-year-old Chandler Riggs (Carl of The Walking Dead), who joined Nicotero for the Q&A.
The three presenters touched on many topics raised by the journalists in attendance, but here are some of the horror and filmmaking-related highlights.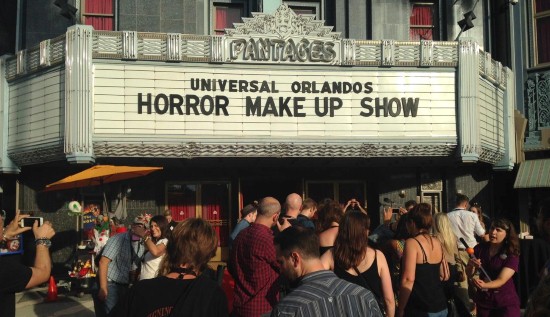 Our venue for the Q&A
---
John Landis on the legacy of American Werewolf in London and seeing it as a haunted house
Landis: Honestly, the first time they did the film as a maze two years ago, I was very happy, but I said: "the wolves should be better." So when they called me and said they wanted to do it again, I said, "You must step up with the wolves." And I'm very happy to say that they did.
Now the film, no one would make the movie. They'd read it, and they'd say two things. Either, "It's much too funny to be scary," OR, "It's much too scary to be funny." And when you say "It's both," they just said "get out of my office." But the only difference with the movie, because I wrote it in 1969 and made it in 1981, is, in London there used to be what were called "cartoon cinemas." They were movie theaters that showed really good prints of classic Warner Brothers cartoons. I used to go to cartoon cinemas because it was the only place you could see those good prints. So when I wrote it, I put it in a cartoon cinema—it's the exact same scene, except in 1981 the Eros Cinema is a porn theater. So I said "alright."
---
Landis on the rise of Greg Nicotero as an industry-leading FX wizard
Landis: Greg Nicotero, who I've known for many years, was this nerdy little kid in Pittsburgh who was fascinated by makeup and horror effects. And he came to LA and started this makeup company called K&B. First of all, they were the guys who were the cheapest, so they got a lot of work. And then they actually got better and better; they do all the work on Tarantino's movies and work all the time.
Greg is now—he's still a creepy little nerd—but what's cool for me is knowing him for so long, he goes from being a gifted makeup artist, and now he's the executive producer of The Walking Dead. He's directed 14 hours of that show? I'm very proud.
---
Greg Nicotero and Chandler Riggs on seeing Season 5 of The Walking Dead turned into a Halloween Horror Nights haunted house
Riggs: It's awesome for me, because I've gone through through that story before, and to see the environment recreated around me is a really cool experience.
Nicotero: John said something interesting today about the nature of television vs. film. In television, we're in your living room, your bedroom, in your house, so there's a familiarity with the material we work on every single day. The fact that fans who love the show get to experience it live action, that's great. You can't get any better than that.
Riggs: Usually the zombies are on the set and it's not a big deal, but when they're jumping out and scaring you in the maze it's a whole different thing.
---
Landis and Nicotero on the role of practical effects in modern horror
Nicotero: On The Walking Dead, the thing that is the most exciting for me is the fact that it showcases practical makeup for a younger generation. I grew up watching Dawn of the Dead, Creepshow, that stuff, so I was really inspired by practical effects. So now when Chandler and I go to a Walking Dead convention, I'll have 10- or 12-year-old kids coming up to me saying, "I want to do what you do." To me, that's me giving back, because I had that opportunity when I met Tom Savini in 1978. For me, it's a tremendous compliment that the work that I love is being celebrated more and more, especially in the nine mazes here at Halloween Horror Nights.
Let me also say, the stuff we're able to do on TV now, the makeup effects that we do, George Romero got an X-rating on Dawn of the Dead because it was so gory, and we're doing more on TV than he could do in the theaters in 1977.
Landis: And AMC is commercial television! It's not even HBO or something. There are gags on Walking Dead that would get you an "R" or "NC-17" in any feature film.
---
Landis on whether he'd ever want to opportunity to change or re-edit any of his films
Landis: Coming to America, because it was made so fast—we literally were cutting negative, scoring and mixing during principal photography. The day it opened in about 4,000 theaters was less than three weeks from the last day of shooting. So it meant for one, we never had a preview. But the other thing that drives me crazy with that movie—I like it—but I think it's too slow. I'd like to take maybe 15 minutes out of it to speed it up. In fact, when it was going to be on Blu-ray, I asked Paramount and they looked at me and said, "John, the movie's made over $600 million. No."
---
Chandler Riggs on someday directing an episode of The Walking Dead
Riggs: Yeah, you know in the first season I was on the show, Gale Anne Hurd said, "You know, when you're 16 you can direct an episode if you want to."
Landis: …when you're 16?!? Where was Gale Anne Hurd when we were 16?
Riggs: Haha, yeah, but I think it would be really interesting to direct an episode. I've been loving Greg's work, and I've been thinking about shadowing him for a few episodes.
---
Landis on his prolific screenwriter son Max, and if we'll ever see a true Max Landis horror film
Landis: Max has been writing scripts forever. He was disgraphic, which means you can't read their writing at all, really had problems when he was little. So he worked with a thing called an AlphaSmart, which is like a keyboard, which resulted in him at the age of 7 being able to type faster than anyone in the world. When he was 8 years old, they came out with a program called Final Draft that now everyone uses, and I bought it for him. And he's been writing screenplays since then, since he was 8 years old. He's written hundreds, and they always had the best titles. One was called "Days of the Worst." Another was called "Love and Trouble." My favorite was "Yelp and Dobie."
Anyway, he's always been a writer, and he's a wonderful writer, and so damn prolific it's annoying. He's got five films that open this year, including American Ultra already out, a movie called Mr. Right and Victor Frankenstein. That one, I haven't seen it, but it's the best script I've ever read, and it pissed me off. Because I said "Why wouldn't you think of showing this to me?" People say to me all the time, "Why don't you have your son Max write you a script?" and I answer truthfully, "I can't afford Max!"
By the way, he's completely done this by himself. When he was a teenager, 13-14 I used to take his scripts and give them to agents, but they don't read! That's why they're making so many graphic novel movies now, because there are pictures.
---
Jim Vorel is Paste's news editor. He's glad John Landis is as funny in person as he always assumed him to be. You can follow him on Twitter.