When the first Sonic the Hedgehog trailer came out earlier this year, to say it flopped is an understatement. People practically rioted and the poor freak humanoid mutant Sonic was endlessly ridiculed until Paramount delayed the movie to fix the guy.
Taking a little more time to make Sonic just right.#novfxartistswereharmedinthemakingofthismoviepic.twitter.com/gxhu9lhU76

— Jeff Fowler (@fowltown) May 24, 2019
Well, the latest trailer for director Jeff Fowler's Sonic is here and he looks like Sonic, so maybe there is a such thing as the power of the people. The film's official synopsis is below:
Sonic the Hedgehog is a live-action adventure comedy based on the global blockbuster videogame franchise from Sega that centers on the infamously brash bright blue hedgehog. The film follows the (mis)adventures of Sonic as he navigates the complexities of life on Earth with his newfound—human—best friend Tom Wachowski (James Marsden). Sonic and Tom join forces to try and stop the villainous Dr. Robotnik (Jim Carrey) from capturing Sonic and using his immense powers for world domination. The film also stars Tika Sumpter and Ben Schwartz as the voice of Sonic.
It's crazy how different the new Sonic looks. He's smaller, cuter and fuzzier. The eyes are no longer the weird, peering marbles that looked into the void last time around. And the teeth! There are significantly less teeth. Essentially, he looks like a cartoon hedgehog, not some weirdo in a knockoff Sonic costume. The trailer doesn't focus all that much on the story, but we do get a good look at the redesigned Sonic and Carrey's Dr. Robotnik mustache.
Sonic the Hedgehog hits theaters on Feb. 14, 2020. In the meantime, check out the significantly less horrifying trailer and the film's new poster below, plus a handful of early reactions to Sonic's glow-up.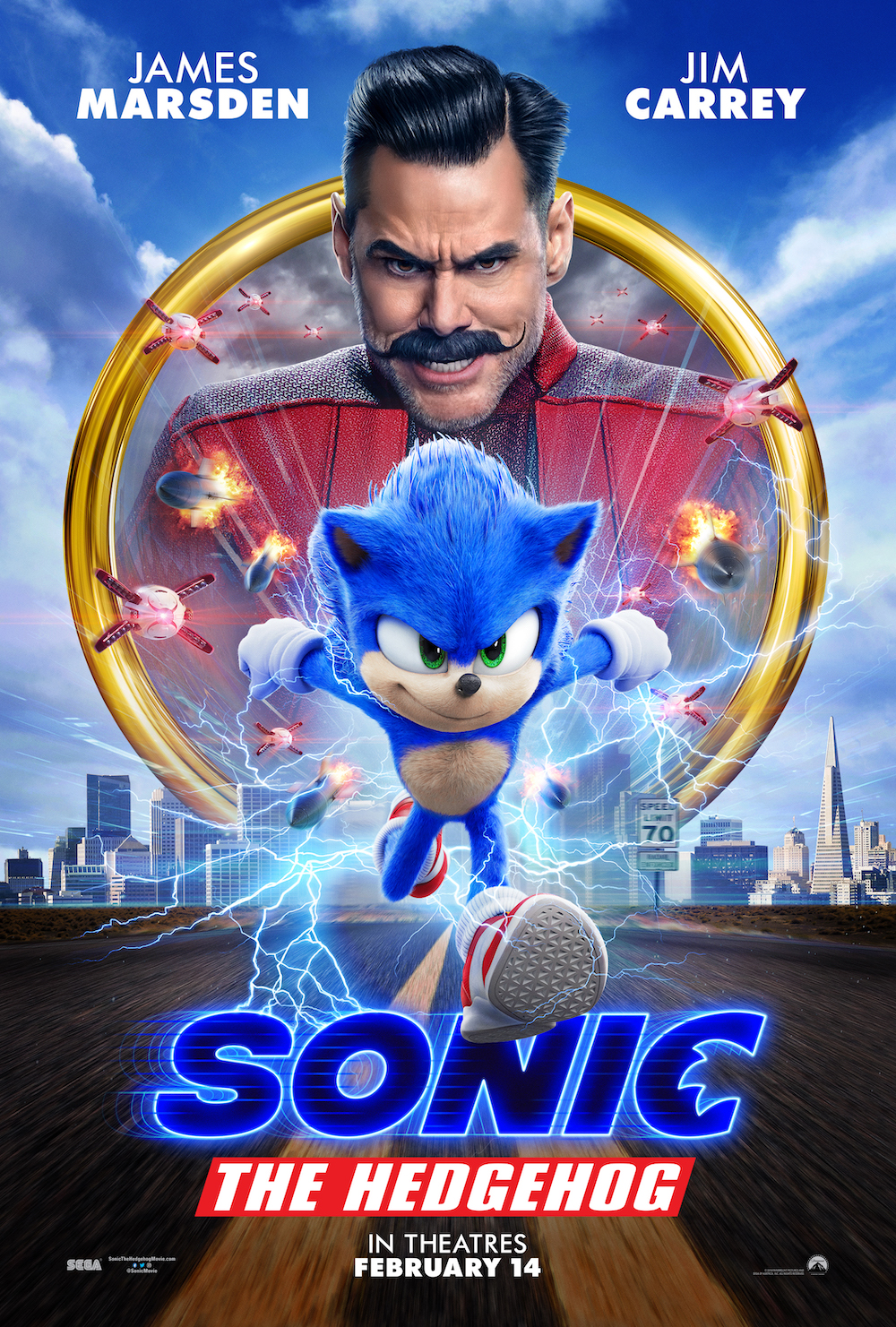 For the most part I'd say that studios letting people on the internet dictate their creative decisions is the worst idea ever but in the case of Sonic, new design looks about 1,000x better and new trailer with new design looks about 10,000x better. Serious respect to that team. pic.twitter.com/w6dT7y4Gz8

— John Squires (@FreddyInSpace) November 12, 2019
Old Sonic vs New Sonic. I'm actually blown away that they listened to us. Love they presented us the Sonic design we all love and cherish instead of the horrific blue rat. #SonicMoviepic.twitter.com/g0yK0tMSqB

— DH | LatinoTechniqueFight for 95 WPB (@LatinoTechnique) November 12, 2019
wish I could glow up like my mans sonic over here #SonicMoviepic.twitter.com/UXUWsx6sw4

— de'oh the silver stan (@DeohOracle) November 12, 2019