For all the riveting outdoor, indoor and acoustic live performances the Latin Alternative Music Conference (LAMC) has delivered for the past 17 years, it has shown its worth by showcasing the most exciting of Latin talent the elastic umbrella term can hold. Powerhouses like Café Tacvba, Bomba Estéreo, Kinky and Calle 13 have all graced the stages, and LAMC has even discovered previously unknown talent like Chilean indie-electro act Astro, Cuban folk-pop chanteuse Diana Fuentes and Peruvian pop darling Pamela Rodriguez. This year held no less.
Last week (July 6-9) housed a myriad of intriguing acts for four consecutive days: Puerto Rican electro-pop dreamers delivered a gem-worthy topical-tinged rendition of the late great Gustavo Cerati's "Un Misil En Mi Placard" at BRIC Celebrate Brooklyn; Brazilian bossa-nova rocker Rodrigo Amarante serenaded the audience with fuzzy-warm sounds and feelings, and made the audience chuckle via his natural wit at SummerStage; Tijuana prog rock quartet Vaya Futuro charmed at Highline Ballroom with Mars Volta-esque solos and a good ol' "f**k Donald Trump" shout to rowdy up the crowd. Those were some good times, but the following are utterly awesome moments.
Mexrrissey Spark Massive Singalong with Juan Gabriel + Morrissey Mashup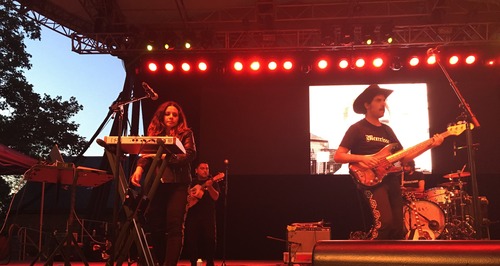 Through their mariachi-infused delivery of No Manchester and many other surprise live remakes, the black-clad, all-star rockers charmingly showcased Mexico's unlikely obsession with The Smiths' bequiffed crooner at Central Park's SummerStage. Their lilting, brassy take on "Suedehead," titled "Estuvo Bien," featured the angelic coo of Jay de la Cueva in duo with Adanowsky's warm growl, while Ceci Bastida channeled Moz's effete cool in her surf-pop remake, "International Playgirl," adding plenty of her badass dance moves. But the most delightful highlight was their rendition of "The More You Ignore Me, The Closer I Get" which got mashed-up with Juan Gabriel's "Querida." It caused the biggest sing-along Central Park could bear.
Los Cafres Captivate Crowd with Laidback Reggae Vibes…Even a Butterfly.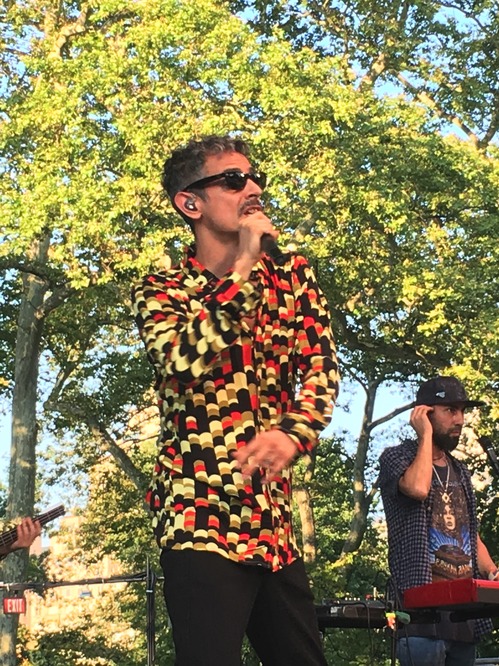 The pioneering reggae en español group, who recently celebrated 25 years as a band, brought their feel-good sound to SummerStage on Wednesday. The shoulder-swaying inducer "La Vela" had the whole crowd in perfect unison, bumping heads. The table setting adjacent to the stage also held a pleasantly social climate—so much so that even a monarch butterfly seemed to stop its migration to listen to some laidback reggae music. It stood still with us for a few good minutes, even letting us hold her on our fingers before drifting back into the ether.
La Dame Blanche's Bombastic Performance Oozes Too Much Cool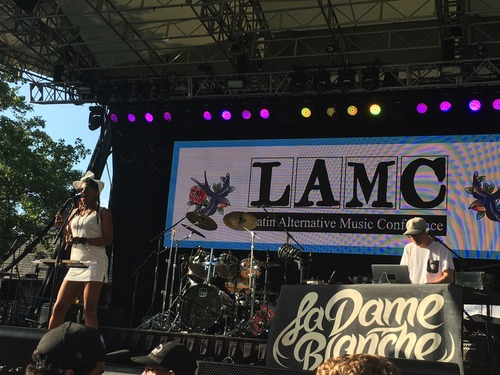 Psshhhh…never mind the face-drenching sweat caused by scorching heat on Wednesday's humid afternoon set at Central Park's SummerStage—La Dame Blanche showed true fiyah. Sporting a freshly minted white dress and a matching headpiece, the France-based Cuban rapper arrived shimmying her way across the stage with utter confidence and a gigantic smile. The bombastic hip-hop beats of her two-piece backing band—made up of a drummer and DJ—contained the right amount of heavy to have thrown arms in the air. Then, our lovely Yaite Ramos, looking as cool as a cuban cigar, lit one up, picked up her silver-colored flute and busted out a mind-blowing solo on "Piratas" from her 2014 album of the same name. As if that act of badassery wasn't enough, she positioned the flute on her shoulder and began acting out military poses with it as if her wind instrument were a rifle. We salute you, La Dame Blanche.
Kokoshca Delivers Idealistic '90s-leaning Noise Rock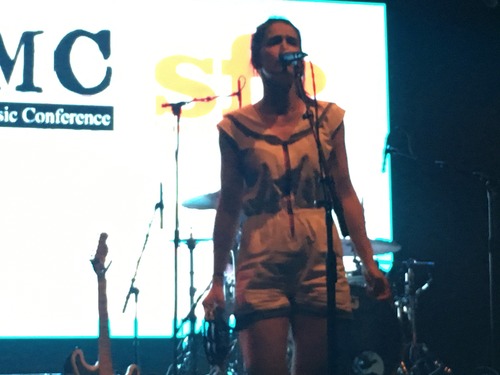 The dream of the '90s is alive with Kokoshca, a nostalgic noise rock quartet hailing from the northern city of Pamplona, Spain. Their surf-tinged "Directo a tu Corazón" struck me like Cupid's arrow in action, and the haze from the fog machine along with dim purple and pink lighting made things feel more surreal. Was I experiencing the reincarnation of The Pixies equipped with the punchy bass riffs of Kim Deal? Probably. Is singer Amaia's haunting yet fascinating vocal delivery of "El Bosque" evoking Nico of the Velvet Underground? Probably as well. Then, Kokoshca uneased the mystery with a dance-friendly pop jammer "Corazón Caliente/Corazón de Hielo," their latest 2016 single, thus sparking a dance-off from the packed venue.
Santi Mostaffa Commands with Charisma at LAMC's Most Difficult Showcase
The Uruguayan emcee tackled head-on one of the most challenging tasks: he made the staunch attendee-press throw their hands up in the air, waving like they just don't care. Now, LAMC's acoustic showcase at S.O.B.s is by far the most difficult gig to get the crowd turnt, because, one, every performing musician is only given two songs to win over the audience. Two, not every artist can pull out an acoustic performance, especially if your genre is rap or electronic. Three, attendees tend to mingle too loudly, especially if they're talking over unplugged instruments. Armed with a mic, a piercing gaze, and a commanding voice and backing beat-box percussion, Santi Mostaffa arrived to the scene with an intoxicating flow and reigned over with his swaggerful yet funky Spanish-language hip-hop. Bravo Mostaffa. Bravo!
The Chamanas' Sonic Intensity Was Literally too Much to Bear (In a Great Way)
Ever had those moments when you listen to a band for the first time via a recording and you really like it, but then you're completely blown to pieces by their live act? Such unexpected awe occurred at the second LAMC gig at Highline Ballroom with El Paso-by-way-of-Mexico The Chamanas. Like a shamanic chanteuse moving theatrically behind the mic, Amalia opened up with one of the most difficult yet haunting songs that Latin American romanticism has to offer: José José "El Triste." Spellbinding with her powerful set of pipes that echoed across the walls and into our spines, the singer managed to also penetrate into our hearts with the band's own nostalgic hymn "Alas de Hierro" and her breathy voice, before she unleashed her ranchera prowess and demonstrated 50 shades of vocal amazingness.
Miranda!'s Juliana Gattas Proves She's the Ultimate Power-Pop Party Girl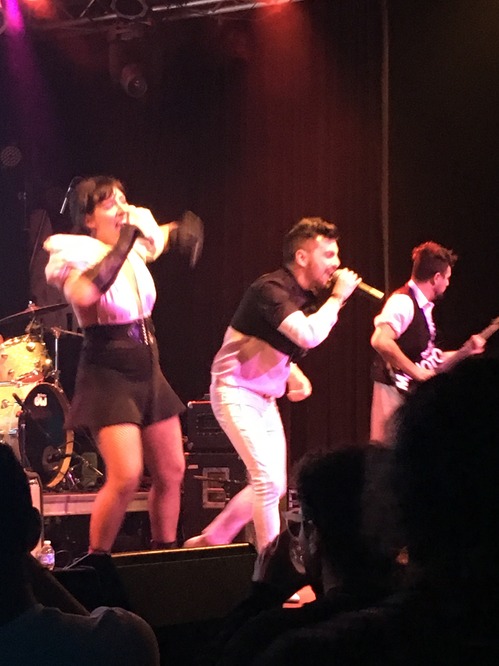 The Argentinean cocktail party band is one of those mystical things like unicorns: their presence is a godsend rarity, and they are just musically glorious, in a surreal way (and believe me, I was only on my second cocktail myself!). Donning cheeky black-and-white outfits, the queer band Miranda! brought their energetic A-game to Highline Ballroom's second LAMC showcase and enhanced the night with glittering synths and upbeat pop rhythms, playing continental hits like "Don" and "Perfecta." A highlight of their performance was Gatta's rave-style party moves which are not to be taken lightly. That woman can vogue, shimmy, cumbia, and rock out! The saddest part of their set? It was six songs too short (tears).
León Larregui Embodies A Space Rock God with an Interstellar Backdrop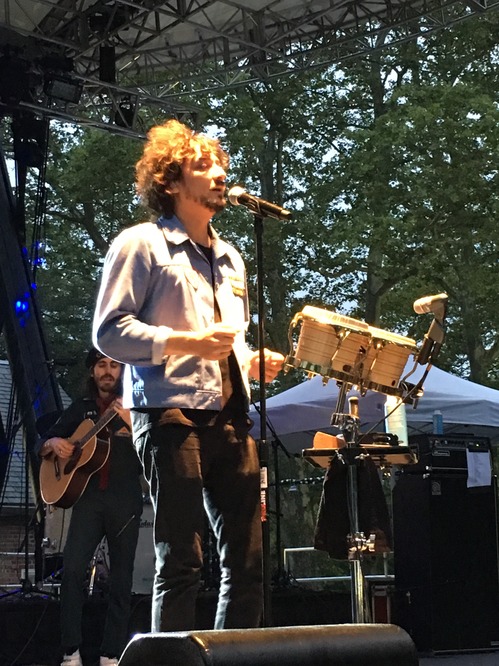 The former Zoé frontman could perhaps be described as a rocker Adrien Brody—he's charismatically languid, possesses beautiful unconventional features and is eternally gloomy and melancholic. But Larregui, the closing headliner at SummerStage/LAMC part two, never brought the actor to mind (Brody who?). The Mexican star arrived to a packed, screaming audience as his band opened up boasting sparkly keys, retro strident guitars and jangle-pop percussions. Meanwhile, Larregui stood still behind bongos and a mic looking effortlessly cool. The aura of his effete cool elevated when "Tiraste a Matar" began, a golden indie rock track from his 2016 LP Voluma. The interstellar backdrop, though, made things visually stellar, which projected glimpses of our solar system's planetary objects that meshed gorgeously with Lerragi's head, thus making him look like a space rock god. I swear to Larregui.
Hurray for the Riff Raff Resurrects a Jam-infused Folk-Rock Revival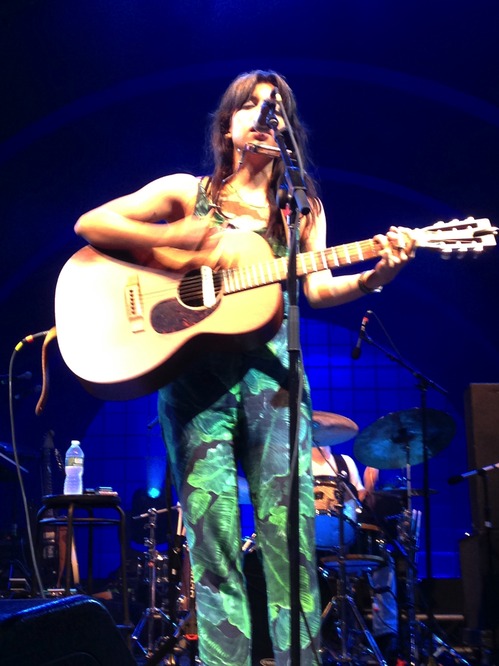 One of the most special LAMC performances came from Alynda Lee Segarra, who fronts New Orleans country-folk band Hurray for the Riff Raff and brought authenticity and solidarity at BRIC Celebrate Brooklyn. Outspoken like a young Bob Dylan in the mid-'60s while sticking it to the man when going folk-rock, Segarra illuminated issues of our socio-political climate, feminism and race, which the audience received with welcoming praise. She lit up the crowd with the jam-infused "The Body Electric" and the fiddle-driven "Blue Ridge Mountain," which at times reminded of a folk-rock goddess called Stevie Nicks. Hurray for Segarra and folk rock!
Carla Morrison's Flame-like Dance Moves Hypnotized, Her Guitarist's Epileptic-like Moves Made Us Chuckle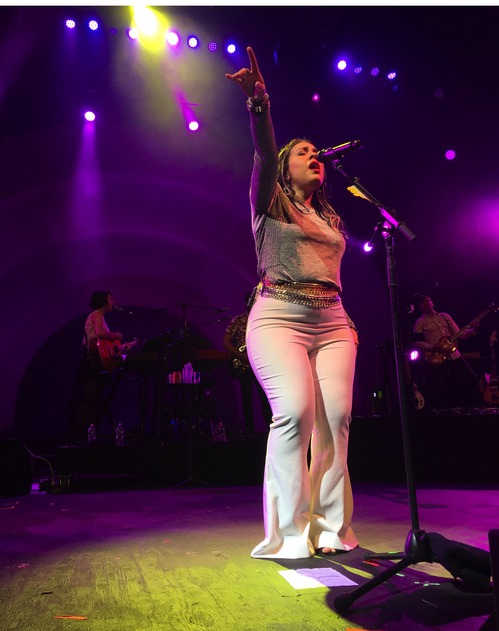 Hands down, Carla Morrison is indie pop royalty. Her special brand of ethereal pop and unrequited-love lyricism can dizzy you; her silvery pipes could also weaken knees, or even cause an epileptic-like reaction. Such was the case with her guitarist. It seemed like he was barely able to contain himself with the sonic euphoria produced by the Mexican singer-songwriter, himself and the rest of the backing band. It was hard to tell if he was being silly, was secretly enamored by her or her music, was too into himself, or if the holy ghost of Morrison's music entered him. However that went down, Morrison stole the night with her signature heartbreak songs, and her ever-magnificent coo, making hundreds of attendees laugh, cry and smile.