Though none of its cities have a population over 52,000 and touring bands often skip over it on East Coast tours, West Virginia has recently developed a surprisingly rich and varied music scene, especially around WVU hub, Morgantown. From modern newgrass tunesters penning tracks about that time-honored subject, moonshine, to the wild experimentalism of bands like Qiet, the Mountain State isn't lacking for homegrown talent.
AC30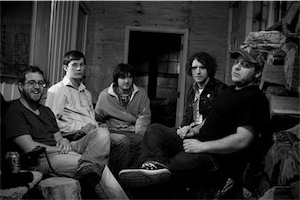 Hometown: Huntington
Members: Bud Carroll, Alex McCoy, Ian Thornton, Ryan Weaver, Doug Woodward, Rod Elkins, P.J. Woodard
Album: AC30
It's tough to write about AC30 without mentioning Big Star. There are moments with Bud Carroll's country-tinged rock outfit sounds like a dead ringer for the '70s Memphis quartet. But with an emphasis on British Invasion-era harmonies and sharp musicianship, AC30's sonic throwback revives a much-loved classic style in a way that feels fresh.
Aristotle Jones & the Like Minds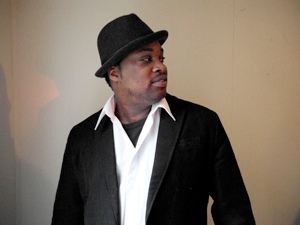 Hometown: Morgantown
Members: Aristotle Jones, Justin Bricker, Nicholas Filippelli, Drew Jones
Album: Meeting of the Minds
Aristotle Jones & the Like Minds would be a great band to book for your Parents Weekend frat party. This is not meant to be an insult. The foursome blends funk, classic rock, hip-hop and blues into jams so smooth, they're practically begging to be grooved to by a mass of sauced young people (and their parents).
The Boatmen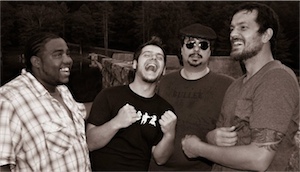 Hometown: Beckley
Members: Randy Gilkey, Nick Durm, Matt Mullins, Robert Gross, Jonathan Sneed
Album: The Boatmen
The Boatmen's self-titled "Americana soulgrass" album opens with the soaring "Holy Ghost," a harbinger of what's to come if you keep listening. Building on a straightforward and familiar rock-grass foundation, The Boatmen, incorporate expertly executed, multi-part harmonies to make spirit-lifting music. And hot damn, do they sound like they have fun doing it.
The Demon Beat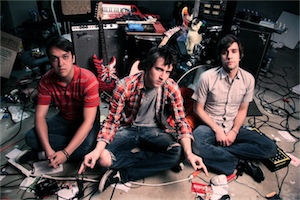 Hometown: Shepherdstown
Members: Adam Meisterhans, Jordan Hudgins, Tucker Riggleman
Album: Bullshit Walks
Members of The Demon Beat are veterans of the West Virginia music scene and are well known in the state for their loose, aggressive garage rock. With songs that often clock in under the three-minute mark, they make visceral music that seeks to "hit you right in the pit of your stomach."
(Photo by Brian Scott)
FOX Japan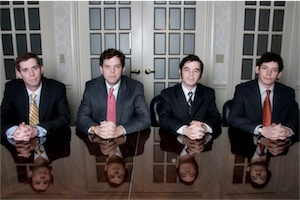 Hometown: Morgantown
Members: Charlie Wilmoth, Andrew Slater, Sam Wilmoth, Pete Wilmoth
Album: Glory, Glory Hallelujah!
Charlie Wilmoth's FOX Japan makes smart, arty power pop with weird, hiccupping lyrics from the songwriting school of David Byrne. Delivered over tight, crashing bass, drums and guitar, Wilmoth's sad, searing lyrics can fly under the radar. But close listens to "On Christmas" or "Windows Closing" (from 2010's Reenactment) reveal a clever pathos that adds depths to their chugging tunes. (Photo by Nikki Rotunda)
Goodwolf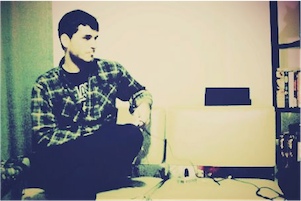 Hometown: Morgantown
Members: Tyler Grady
Album: Shitty Kids
Judging from his lyrics, Tyler Grady may have chosen Shitty Kids as an album title because it's some kind of eponymous. "This is the last year I can act like this," he sings on "Last Year," the first song on an album that presents an abrasive young man fumbling his way through adulthood. It's a well-tread path, but Grady's dark take on the subject—which draws stylistically from the '90s lo-fi of Sebadoh and the mild experimentalism of bands like Suckers—is compelling.
Qiet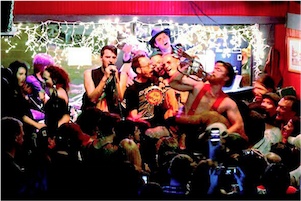 Hometown: Huntington
Members: Christopher Harris, Mike Waldeck, Jake Arnoldt, Jordan Trent, Lacey Hazel, Jason Myer, Alasha, al-Qudwah, Nick Blain
Album: Composition #7
Qiet loves a bit of theater. From the carnival they held in a bar prior to a spring show to their invitation to a local baker to sleep onstage while they played, Christopher Harris and co. are always searching for a little something extra to make their music pop. That's true when it comes to their sound, as well. Channeling the likes of Nick Cave, Gogol Bordello and Man Man, they make raucous art rock that's nothing if not an invitation to dance.
Sasha Colette and the Magnolias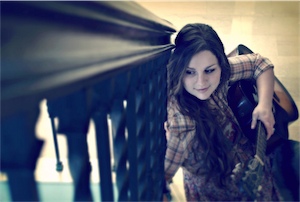 Hometown: Huntington
Members: Sasha Colette, Chris Justice, Jeremy Short, Steve Barker
Album: Ridin' Away EP
Sasha Colette and the Magnolias make soulful, bluesy folk and Americana, staying close to the musical tradition of their Mountain State. Colette's lovely alto is delivered with a twang and sounds made to be accompanied by the rich strings of her backing band, The Magnolias.
Sleepwalker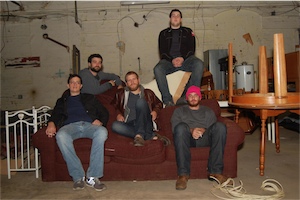 Hometown: Morgantown
Members: David Bello, Tyler Grady, Will Foreman, Pat Manzi, Jason McCarty
Album: Salad Days EP
When he's not moonlighting as Goodwolf, Tyler Grady sings and plays with Sleepwalker, a group of seasoned West Virginia rockers ("the who's who of the late-night drinking circuit," proclaims their Facebook) who have been making music for the better part of a decade. They make dark, sometimes angry post-hardcore that's just deliciously gloomy.
Sly Roosevelt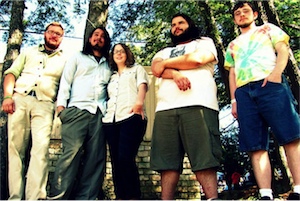 Hometown: Huntington
Members: Sean McDaniel, Alexander Durand, Matthew Marshall, Jyosh Sanders, Megan Durand
Album: Animal Tracks
Sly Roosevelt make a rousing mix of punk and Pavementesque nineties guitar pop in one of the state's hubs of art and activism. Bandleader Sean McDaniel's populist lyrical themes and the palpable unease in his whispers and howls give their music a sense of urgency.