Avey Tare Shares 3 Songs from New EP, Conference of Birds / Birds in Disguise
Photo by Madelyn Anderson
Music
News
Avey Tare
In the past few years, Avey Tare—one of Animal Collective's leading members—has released a good chunk of music under his solo project. In 2017, he shared Eucalyptus, followed by this year's strangely titled Cows on Hourglass Pond. These two releases allowed Dave Portner—the voice behind the Avey Tare moniker—to follow his avant-garde musical vision without compromise. The songs under his name are ethereal, murky and often puzzling, but show Portner in all his wild creative splendor.
After touring to support his aforementioned releases, Portner went back into the studio to record an EP, Conference of Birds / Birds in Disguise, which features studio versions of live fan-favorites. The first half of the EP is out today (Nov. 25), with three songs and a slightly disturbing visualizer following the artist into his reverberating ambient bliss.
Fans of Animal Collective's most bizarre works need have no fear—the EP's first tracks only step further into the outlandish. The record's first track, "Midnight Special," opens with an infinite sounding echo chamber of noise, which forms a soft arrhythmic bed for Portner's hushed vocals. The piece is enchanting, beckoning the listener like a siren to come just a bit closer to it.
The second track, "Red Light Water Show," is more conventional, with a lush synth line providing an underlying rhythm for Portner's impassioned yelps. The song seamlessly transitions into the blissful closer, "Disc One," highlighted by a gleefully strummed acoustic guitar.
After listening to the 13-minute collective runtime of the pieces while staring at their accompanying psychedelic visuals, one can't help but feel hypnotized by the experience—though a Portner-induced trance is sure to be an uplifting one.
Sticking to his brand of oddball mysticism, Portner provided a handful of descriptions for the release in his own words:
Early mornings at the bar. Deep conversations with a stranger. A Disney Night parade gone wrong. The White Album is two CDs.
The second half, Birds in Disguise, of Avey Tare's five-song EP will be released Dec. 5 on Domino, and the full release can be preordered on vinyl here. You can listen to the three songs as a group in the Conference of Birds video below, and check out the EP's cover art and tracklist further down.
Conference of Birds / Birds in Disguise Album Art: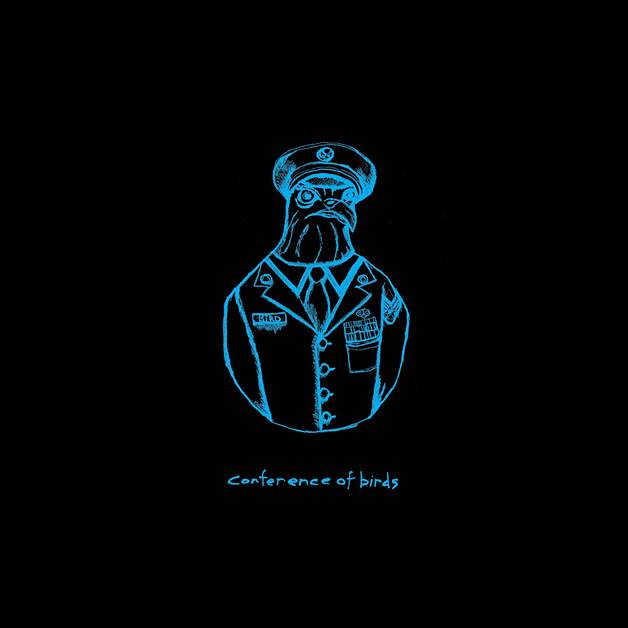 Conference of Birds / Birds in Disguise Tracklist:
1. Midnight Special
2. Red Light Water Show
3. Disc One
4. Enjoy the Change
5. Uncle Donut