Now that the 11th annual Bonnaroo Music and Arts festival has come to a close, Paste correspondent Lindsey Hughes counts down her 10 favorite festival memories this year.
10. An impromptu parade and food-truck DJ set
As shows by Big Gigantic and Alabama Shakes came to a close an impromptu Mardi Gras parade led crowds to the festival's infamous water fountain, where Jansen Skivvy and The Soul Rebels played the night away. Later Taiwanese-American chef Eddie Huang jumped on a flat bed truck and drove around Centeroo throwing out bao (Taiwanese steamed pork) in a bun to hungry Bonnaroovians as a DJ played on his truck.
9. Brotherly love on the What Stage
The Avett Brothers set had many memorable moments, including a tribute to Doc Watson and 10,000+ fans finishing out "I and Love and You." But my favorite moment came during "Murder in the City." Letting their band take a rest, the North Carolinian brothers stood with just a mic and Scott's guitar. You couldn't help but feel the brotherly love between the two as Scott side-eyed his brother Seth, singing, "I wonder which brother is better. Which one our parents loved the most."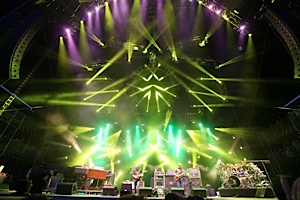 8. Phish sings Rocky Top
As a Tennessee Vol, I can't help but get giddy every time I hear the East Tennessee anthem. And while the band has played the song in the past, I don't think it's ever been at such an appropriate time. Every summer music makers and music lovers journey to the middle of Tennessee to celebrate the world they love so much, making the farm a second home for four short days. The last few words of the song—"Rocky Top you'll always be home sweet home to me"—echoed through the field as the band and festival patrons began to say goodbye to their beloved farm.
7. Two Door Cinema Club's Bonnaroo anthem
The trio from Northern Ireland was blessed with one of the best show times of the jam-packed Friday schedule. As long gaps between shows left other tents empty and the sweltering sun left many looking for shade, the crowd around This Tent began to swell. Within minutes fans old and new began dancing and cheering along as the band's summer-y song "Something Good Can Work" became an unofficial anthem of the day.
6. Big names at the Sonic Stage
The smaller Sonic Stage has gives bands a second chance to play for fans who might have missed them because of scheduling conflicts. This year it hosted encore performances from Dale Earnhardt Jr. Jr., Dirty Guv'nahs, Punch Brothers, Trampled By Turtles and others. The most notable performance was by California rock 'n' rollers Dawes whose Other Tent performance clashed with Feist, Ludacris and St. Vincent.
5. Laura Marling's heartbreaking ballads
As many festival patrons danced along with Two Door Cinema Club at This Tent, English folk-rocker Laura Marling commanded a shamefully small crowd at That Tent. But those in attendance were entranced as Marling wove in and out of songs about heartbreak and the difficulties of growing up. There's nothing shy or humble about Marling's sheer talent as a singer/songwriter, but I couldn't help smile at her English-ness as she apologized for playing such depressing songs and made sure the audience felt okay as midday sun began to heat the tent up.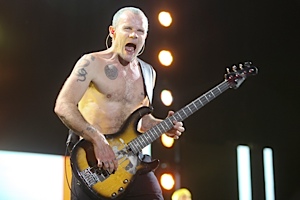 4. Flea's Bonnaroo excitement
While hearing some of the Red Hot Chili Peppers' greatest hits was enough to sate most fans, the real Bonnaroo magic came from bassist Flea's sheer joy and enthusiasm for being at Bonnaroo. After recognizing performances by artists like Radiohead and The Roots and thanking festivalgoers for supporting the growth of all kinds of music, you could tell the iconic rocker was awed by his experience as he and his band mates exited the stage to a firework show led by a group of fans.
3. Thom Yorke as Big Brother
As expected, Radiohead put on one of the most interesting performances of the weekend. Instead of using the regular video screens to give the tens-of-thousands in the field a better look, the band split the screens up into six parts showing small glimpses of hands strumming guitars and drumsticks hitting cymbals. The most interesting moment of the band's visual show came as all the screens followed Thom Yorke's eyes as he played "You and Whose Army," making it feel like Big Brother was looking down on the field.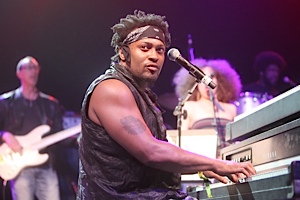 2. The reappearance of D'Angelo
When Roots drummer ?uestlove stepped out on stage for this year's Superjam and announced that D'Angelo would be making his first appearance in over a decade, the crowd went wild. Filled with funkadelic hits and classic-rock covers, it ended up being on of the most talked-about moments of the festival.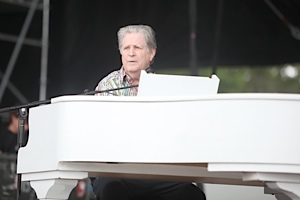 1. The Beach Boys
The threat of a thunderstorm couldn't interrupt the good vibrations during this set. Light rain began to sprinkle down on the What Stage field half way through the set as the band began "Wouldn't It Be Nice" and winds picked up as the band transitioned into "God Only Knows," but the crowd didn't seem to mind as the band wove through their extensive song bank from hit to hit. The whimsical nature of the set had me covered in goosebumps, making it not only my favorite of the year, but one of my top 'Roo moments of all time!
Honorable mentions go to Bonnaroo landscapers for introducing Bermuda grass to the usually barren festival field, to the existence of Crif Dogs (hot dogs wrapped in bacon then deep fried), and to stumbling upon the awesomely hilarious band The Flavor Savers as they danced around in football pads covered in glitter while singing about moustache rides.