Immigrant Rights Benefit Compilation So Many Singing, Vol. 2 Features Lala Lala, Barrie, Katie Von Schleicher and More
Images via Bao Ngo, Rachel Cabbitt, Kristine Leschper, Record Ruination Co.
Music
News
Lala Lala
Good news for music lovers who want to support a good cause: Record Ruination Co. announced Monday that they are following up 2017's So Many Singing with a second volume of songs to benefit immigrant rights organizations. All of the proceeds from sales of So Many Singing, Vol. 2 (out Dec. 8) will go to the International Refugee Assistance Project (IRAP), a New York-based aid organization that provides pro bono legal assistance to immigrants and refugees, and trains law students in immigration law and advocacy.
Today (Nov. 4), Record Ruination have released three tracks off the album from a few Paste faves. Chicago's Lala Lala are featured with a new version of "Spy," a track off 2018's The Lamb, and Brooklyn group Barrie, who came out with Daily Dose pick earlier this year, contribute the dreamy "Ghost World," which will appeal to fans of Clairo. Katie Von Schleicher, a 2017 Paste Best of What's Next artist with a 2018 Paste session, also contributed a new song, "Sacred Bond," which she calls "placid and melancholy" and a "moment of stolen time."
The compilation also includes tracks from Hovvdy, Blue Ranger, Renata Zeiguer, V.V. Lightbody and many more (see the full tracklist below). Several artists involved with the previous benefit compilation released in 2017 make another appearance here, including LVL UP's Nick Corbo (as Spirit Was), Ben Seretan, Adeline Hotel, Minor Moon and Johanna Samuels. Volume 1 also featured tracks from Half Waif, Hand Habits, LVL UP, Ratboys and Fern Mayo, and is available for stream and purchase via Bandcamp here.
Two benefit shows in Brooklyn (Dec. 8) and Chicago (Dec. 13) will accompany the release of So Many Singing, Vol. 2, raising funds for the local immigrant rights organizations Make the Road New York and the Illinois Coalition for Immigrant and Refugee Rights, respectively. Line-up and venue details will be revealed later this month.
Listen to "Sacred Bond," "Spy" and "Ghost World" and preorder the album over at Bandcamp. A heaping handful of the 50 contributors to So Many Singing, Vol. 2 have previously performed at Daytrotter and the Paste Studio—check out sessions from contributors Adeline Hotel, Samuels, Von Schleicher, Annie Hart, Lightbody, Zeiguer, Sam Moss, Half Gringa, Sun June and Odetta Hartman below. You'll find the details of So Many Singing, Vol. 2 further down.
So Many Singing, Vol. 2 Album Art: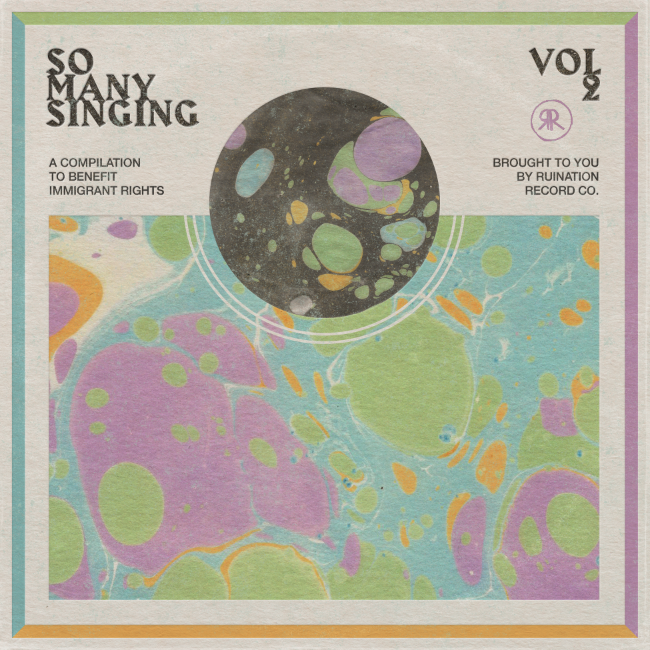 So Many Singing, Vol. 2 Tracklist:
01. Ben Seretan – "New Lease On / Butt Rock"
02. Onlyness – "Big TV"
03. Christelle Bofale – "Carousel (Demo)"
04. Spirit Was – "Heaven's Just A Cloud (4-Track Demo)"
05. WishWish – "Motion Standing"
06. Matt Kivel – "Things To Come"
07. Annie Hart – "Phoenicia No Coffee"
08. Michael Cormier – "dinners (bleary eyed version)"
09. Brigid Mae Power – "Sometimes"
10. V.V. Lightbody – "Car Alarm (Demo)"
11. Eamon Fogarty – "A Banquet & A Welcome"
12. Alena Spanger – "Madrugada (Demo)"
13. Zooey Celeste – "Sunshine"
14. Friendship – "You Home Yet?"
15. Katie Von Schleicher – "Sacred Bond"
16. Andy Molholt – "Sitting Kills (Demo)"
17. Renata Zeiguer – "Wayside"
18. Scree – "Weather Theater"
19. Adeline Hotel – "Relief"
20. Bill MacKay – "Film Music #2 (Demo)"
21. Gabriel Birnbaum – "Quit Your Job (Demo)"
22. Mary Lattimore – "Dawson's Sadness"
23. Field Guides – "Condensate / The Petrichor Near Landwehr Canal (Demo)"
24. Office Culture – "Little Reminders"
25. Toebow – "Toebow Theme"
26. Caitlin Pasko – "The Still (Demo)"
27. Pat Kelly – "Moon Blooze"
28. Dylan Golden Aycock – "MD_6 > 2012"
29. Blue Ranger – "Surf Beauregard"
30. Garcia Peoples – "Rolling Tides (Live)"
31. witchduck – "mothertongue"
32. Lala Lala – "Spy"
33. Moon Mullins – "Crusin' In"
34. Ben Brock Wilkes – "Molly"
35. Scott Hirsch – "Spirits (Demo)"
36. Minor Moon – "Mars, Baby (Demo)"
37. C.F. Watkins – "17 (Demo)"
38. Sam Moss – "Slow (Demo)"
39. Liam Kazar – "Nothin To You (Acoustic)"
40. Half Gringa – "Beauty Of The County"
41. Hovvdy – "Tub (Demo)"
42. Barrie – "Ghost World"
43. Ian Wayne – "Ash On Me (Demo)"
44. Ben Special – "b+"
45. June Gloom – "Windy Hill"
46. Sun June – "Backseat (Demo)"
47. Johanna Samuels – "Breaking Up With You"
48. Nico Hedley – "Hydrangeas"
49. Quarterly – "Sueno Americano"
50. Odetta Hartman – "Old Man Trump / Will The Circle Be Unbroken (Live)"