M. Ward Announces New Album Migration Stories, Shares "Migration of Souls"
Images via Wrenne Evans, Anti Records
Music
News
M. Ward
Last year, M. Ward surprise-released What a Wonderful Industry, an ode to the best and the worst of his long career in music. Ward is now back with a very different kind of project, called Migration Stories, out April 3, 2020. He calls Migration Stories a collection of "11 largely instrumental ballads—a sci-fi fast forward to a more silent night many generations from here to a maybe-era where movement is free again," and has released the first of these 11, "Migration of Souls," today (Dec. 3).
Lyrically, the new track takes us across "time and space," but otherwise, it's not breaking new ground: With softly strummed guitar and intermittent flourishes of horns, it's the type of country-folk meditation one expects from Ward. Of the record as a whole, which takes inspiration from "stories of human migration" heard in the news, shared by friends, and from Ward's own life, he shares his hopes that it will help usher in a better future:
Some time went by, the stories wove together and I remember them now closer to characters in a dream of how people could treat each other than any kind of front-page news realism. I think music subconsciously—whether writing or listening—is a filter for me. Helping to process all the bad news into something new to build from. Some records to me are like self-fulfilling prophecies—visualizing change to wish something into being. Those records inspired this one.
Listen to "Migration of Souls" below, plus audio from Ward's 2012 Daytrotter session. Further down, you'll find the Migration Stories album art and tracklist.
Migration Stories Album Art: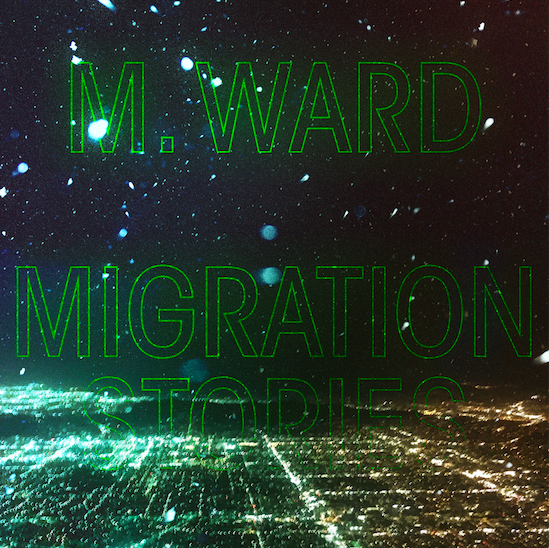 Migration Stories Tracklist:
01. Migration Of Souls
02. Heaven's Nail and Hammer
03. Coyote Mary's Traveling Show
04. Independent Man
05. Stevens' Snow Man
06. Unreal City
07. Real Silence
08. Along the Santa Fe Trail (written by Al Dubin and Hugh Williams)
09. Chamber Music
10. Torch
11. Rio Drone