Mac DeMarco Is Starting His Own Record Label and Plotting His First-Ever Solo Tour
Photo by Kiera McNally
Music
News
Mac DeMarco
It's a big day for indie oddball Mac DeMarco, who announced Wednesday that he's starting his own label—it's called Mac's Record Label, because this is a professional creative person we're talking about—and embarking on his first-ever solo tour, the far more imaginatively titled Purple Bobcat Next to River Tour.
DeMarco has worked with Captured Tracks for the past six years, releasing his debut 12" Rock and Roll Night Club via the label in the spring of 2012 and following soon after with his rookie LP, 2. Needless to say, the inception of Mac's Record Label, to be distributed globally by Caroline, represents a significant step forward for the artist.
DeMarco captured the excitement of it all in a statement:
Hi, it's Mac. We're starting a record label; it's called "Mac's Record Label." My friend Jen who plays drums in The Courtneys gave me the name. Also there are more shows.
There are indeed! DeMarco's Purple Bobcat Next to River Tour comes on the heels of a European/U.K. run, as well as some of the biggest U.S. shows he and his band have played to date, including venues like the Hollywood Palladium, Colorado's Red Rocks Ampitheatre, Central Park SummerStage, The Anthem in D.C. and Philadelphia's Mann Center. His solo run kicks off in Long Beach, Calif., on Nov. 3-4 and runs through a Dec. 3 date in Tucson, Ariz.
DeMarco is teaming with PLUS1 for both his EU and solo tours, with $1 from each ticket sold going to support local Girls Rock Camps and their work empowering girls, trans and gender-diverse young people through music education and mentorship, per a press release.
DeMarco's most recent LP This Old Dog, released in 2017, was his third and final on Captured Tracks. Since then, he's teamed up with The Flaming Lips, sold signed vinyl to benefit Puerto Rico, announced a This Old Dog demos LP, released new music as Met Gala and covered "Honey Moon" by Japanese musician Haruomi Hosono. With all the creative momentum he's maintained, we'll be eagerly awaiting news of DeMarco's Mac's Record Label debut.
Find DeMarco's full band and solo tour dates below, beneath a 2013 performance of 2's "Ode to Viceroy" (and others) from the Paste archives. You can find out more about Mac's Record Label right here.
Mac DeMarco Band Tour Dates:
August
10 – San Francisco, Calif. @ Outside Lands
11 – San Francisco, Calif. @ Independent – SOLD OUT
22 – Los Angeles, Calif. @ The Teragram Ballroom ! – SOLD OUT
23 – Los Angeles, Calif. @ The Teragram Ballroom @ – SOLD OUT
24 – Los Angeles, Calif. @ The Teragram Ballroom ~ – SOLD OUT
25 – Los Angeles, Calif. @ Hollywood Palladium % – SOLD OUT
September
02 – Hamilton, Ontario @ Raspberry Farms – Royal Botanical Gardens
02 – Hamilton, Ontario @ Collective Arts Brewery – Raspberry Farms (DJ Set)
04 – Philadelphia, Pa. @ The Mann Center for the Performing Arts #
05 – Washington, D.C. @ The Anthem at The Wharf #
08 – New York, N.Y. @ Central Park Summerstage
10 – Morrison, Colo. @ Red Rocks Amphitheater $
October
07 – Memphis, Tenn. @ Mempho Music Festival
12 – Moscow, Russia @ Arbat Hall *
14 – Saint Petersburg, Russia @ Kosmonavt Club *
15 – Helsinki, Finland @ The Circus *
17 – Riga, Latvia @ Palladium Riga *
18 – Vilnius, Lithuania @ The Hall Compensa *
19 – Warsaw, Poland @ Progresja * – SOLD OUT
20 – Warsaw, Poland @ Progresja * – SOLD OUT
21 – Bratislava, Slovakia @ Atelier Babylon * – SOLD OUT
22 – Leipzig, Germany @ Werk 2 *
23 – Frankfurt am Main, Germany @ Gibson ^
24 – Munich, Germany @ Neue Theaterfabrik ^
25 – Dusseldorf, Germany @ Robert-Schuman-Saal ^
26 – Antwerp, Belgium @ De Roma ^ – SOLD OUT
29 – Belfast, U.K. @ Limelight 1 ^ – SOLD OUT
30 – Manchester, U.K. @ Now Wave 10th Birthday @ Victoria Warehouse &^*- SOLD OUT
31 – Southampton, U.K. @ This Old Bat @ O2 Guildhall ^ – SOLD OUT
November
01 – Paris, France @ Pitchfork Music Festival Paris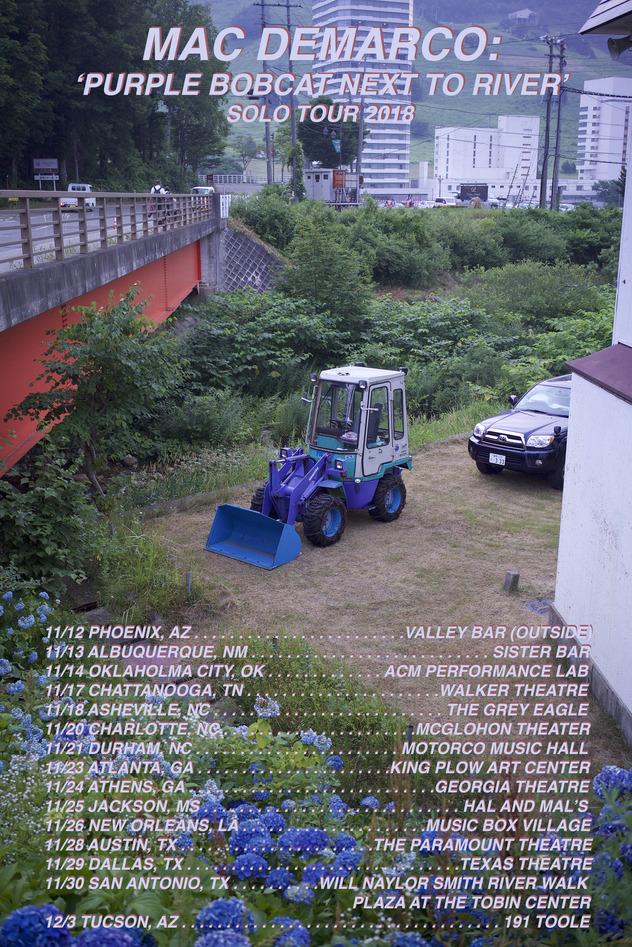 Mac DeMarco Purple Bobcat Next to River Solo Tour Dates:
November
03-04 – Long Beach, Calif. @ Tropicalia
12 – Phoenix, Ariz. @ Valley Bar (Outside)
13 – Albuquerque, N.M. @ Sister Bar
14 – Oklahoma City, Okla. @ ACM Performance Lab
17 – Chattanooga, Tenn. @ Walker Theatre
18 – Asheville, N.C. @ The Grey Eagle
20 – Charlotte, N.C. @ McGlohon Theater
21 – Durham, N.C. @ Motorco Music Hall
23 – Atlanta, Ga. @ King Plow Art Center
24 – Athens, Ga. @ Georgia Theatre
25 – Jackson, Miss. @ Hal and Mals
26 – New Orleans, La. @ Music Box Village
28 – Austin, Texas @ The Paramount Theatre
29 – Dallas, Texas @ Texas Theatre
30 – San Antonio, Texas @ The Will Naylor Smith River Walk Plaza at the Tobin Center
December
03 – Tucson, Ariz. @ 191 Toole
(! = with Geneva Jacuzzi, Cola Boyy)
(@ = with Bane's World, Cmon)
(~ = with Cowgirl Clue)
(% = w/ Weyes Blood, Melanie Faye)
(# = with Juan Wauters)
($ = with Noname, The Free Nationals, DJ Jonathan Toubin)
(* = with Aldous RH)
(^ = with Jackie Cohen)
(& = with The Garden)