NE-HI Announce Sophomore Record, Tour, Share Video for Lead Single "Stay Young"
Images via Bryan Allen Lamb, Grand Jury
Music
Video
NE-HI
Today Chicago rock band and March Paste Best of What's Next picks NE-HI announced their sophomore album, Offers, to be released in February, and a supporting tour that will take them all over the U.S. between January and April.
They've also shared a video for the record's lead single, "Stay Young," a track about the changes people go through in the aftermath of a breakup: "Time gets away from you and it's not coming back." The video is full of slow-motion shots of heavy wind and people who are calmly rooted while their hair billows around them. Time, the metaphor seems to suggest, moves around us; we age even when we feel like we're standing still.
NE-HI mentioned that they were working on this forthcoming album when we interviewed them in March. The band said that they were trying to balance a more thoughtful recording approach with maintaining the visceral quality of their first record. A press release describes that the new album does in fact "get somewhere new, without forgetting the spirit of the journey in the first place."
Look out for Offers, slated for release on Feb. 24 via Grand Jury—you can pre-order the album here. Find the tracklist and artwork below, the band's tour dates beneath that, and their video for "Stay Young" above.
Offers Tracklist:
01. Palm Of Hand
02. Sisters
03. Don't Wanna Know You
04. Offers
05. Prove
06. Out of Reach
07. Everybody Warned You
08. Drag
09. Every Dent
10. Buried On The Moon
11. Stay Young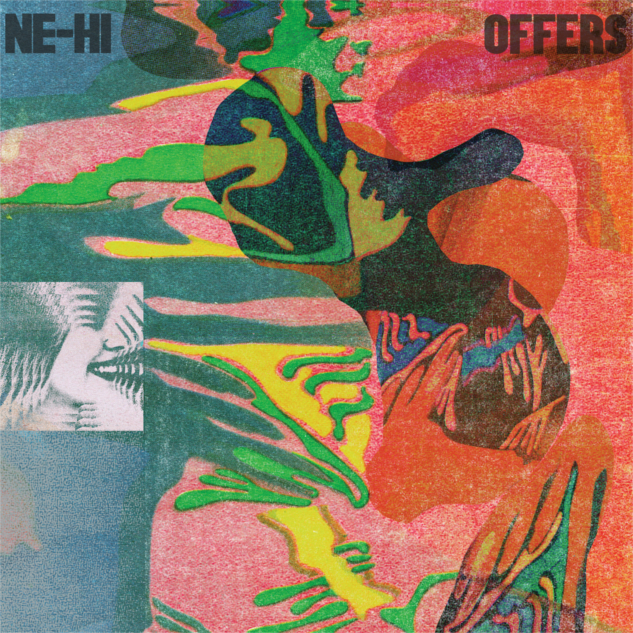 NE-HI Tour Dates:
January
10 – Nashville, Tenn. @ High Watt w/ American Wrestlers
11 – Atlanta, Ga. @ Drunken Unicorn w/ American Wrestlers
12 – New Orleans, La. @ Hi Ho Lounge w/ American Wrestlers
13 – Houston, Texas @ Raven Tower w/ American Wrestlers
14 – Austin, Texas @ Sidewinder w/ American Wrestlers
15 – Dallas, Texas @ Three Links w/ American Wrestlers
February
22 – Ft. Wayne, Ind. @ Brass Rail
23 – Kalamazoo, Minn. @ Shakespeare's Pub
24 – Chicago, Ill. @ Empty Bottle
25 – Cincinnati, Ohio @ MOTR Pub
March
01 – Kansas City, Miss. @ Riot Room
02 – Omaha, Neb. @ Reverb Lounge
04 – St. Louis, Mo. @ Off Broadway
05 – Milwaukee, Wis. @ Riverwest Public House
10 – Lexington, Ky. @ Cosmic Charlie's
21 – Memphis, Tenn. @ Hi-Tone backroom
22 – Birmingham, Ala. @ The Syndicate
23 – Asheville, N.C. @ The Mothlight
24 – Durham, N.C. @ Duke Coffeehouse
25 – Richmond, Va. @ Hardywood
27 – Washington, D.C. @ DC9
28 – Philadelphia, Pa. @ PhilaMOCA
30 – Brooklyn, N.Y. @ Baby's All Right
31 – Cambridge, Mass. @ Middle East Upstairs
April
03 – Kingston, N.Y. @ BSP Kingston
04 – Albany, N.Y. @ The Hollow
05 – Rochester, N.Y. @ Bug Jar
06 – Lakewood, Ohio @ Mahall's
07 – Columbus, Ohio @ Spacebar
08 – Detroit, Mich. @ Marble Bar
19 – Denver, Colo. @ Hi Dive
19 – Salt Lake City, Utah @ Kilby Court
20 – Boise, Idaho @ Neurolux
21 – Spokane, Wash. @ The Bartlett
22 – Seattle, Wash. @ Barboza
25 – San Francisco, Calif. @ Rickshaw Stop
26 – Los Angeles, Calif. @ Bootleg Bar
29 – Tucson, Ariz. @ Club Congress