Warning: getimagesize(https://www-wp.pastemagazine.com/wp-content/uploads/2022/06/11/NewportJazzfest2017_Main.jpg): failed to open stream: Connection timed out in /home/prodwp/public_html/wp-content/themes/pastemagazine/single-article.php on line 154

Jazz started out as a dance music. Its syncopated rhythms made dancing wilder than even ragtime, and when the musicians detoured into improvisation, it shifted the dancing frenzy into a higher gear. But by the 1940s, as it became "America's Classical Music," jazz gradually left the dancing behind. Something was gained (the most brilliant art music the United States has ever produced), but something was also lost: the physicality and humor that linked jazz to a broad, populist audience.
This year's Newport Jazz Festival tried to reconnect that linkage. On Friday night, at Rhode Island's International Tennis Hall of Fame, Troy "Trombone Shorty" Andrews demonstrated how the flexibility and improvisation of jazz can coexist with dancing. Switching between trombone and trumpet, between singing and chanting, Andrews fashioned a music that grabbed hold of the crowd's pelvises with his band's steady funk grooves, but grabbed hold of their heads with surprising shifts in harmony and melody.
By working simultaneously at both ends of the spinal column, Andrews was able to lift the crowd out of their chairs and into the aisles to move to the music even as he kept them thinking. This was especially obvious on Allen Toussaint's "On Your Way Down," which boasted a pointed, class-conscious warning: "The people you misuse on your way up you might meet on your way down."
The slippery second-line rhythm of the original was bolstered by a booming funk bass line, and the nursery-rhyme tune was twisted around by a roaring rock-guitar solo from Pete Murano, followed by a jazz-trumpet solo by Andrews. As the bald, wiry bandleader blew his solo, his cheeks puffed out like Dizzy Gillespie's, and his notes shot above the modern funk as Gillespie's once did over Afro-Cuban bop. Beneath the night sky of the outdoor stage, the audience was wriggling to the pulse with one ear cocked for each musical surprise.
Trombone Shorty & Orleans Avenue come from New Orleans, where the connection between jazz and dancing was never severed. Whether it's funk bands such as Galactic or the Soul Rebels or trad-jazz bands such as Evan Christopher's Clarinet Road (also at Newport this year), Louisiana musicians know how to get folks moving to unpredictable improvisation.
But where did things go wrong in other cities? If we go back to Harlem in the 1930s, we find the great Fats Waller combining catchy, bouncy songs with digressive piano solos in the years just before bebop changed everything. Jason Moran, perhaps the most creative jazz musician of today, has gone back to explore that decade's music.
He brought the fruits of that research, Jason Moran's Fats Waller Dance Party, to Newport on Sunday afternoon. With his usual piano trio expanded to include three horns and a female singer, Moran managed to update Waller's music by expanding the harmonies with the lessons of Thelonious Monk and Don Pullen—all without losing the tunes' invitation to the dance floor.
After a spry version of Waller's "Honeysuckle Rose," Moran pulled a giant, papier-mache puppet head over his own and "became" Waller, complete with black hat, ironical, arched eyebrows and a cigarette dangling from the corner of his huge grin. Wearing the head for most of the set, Moran injected Monkisms into "Ain't Misbehavin'" and lent a Santana-like Latin groove to "Yacht Club Swing."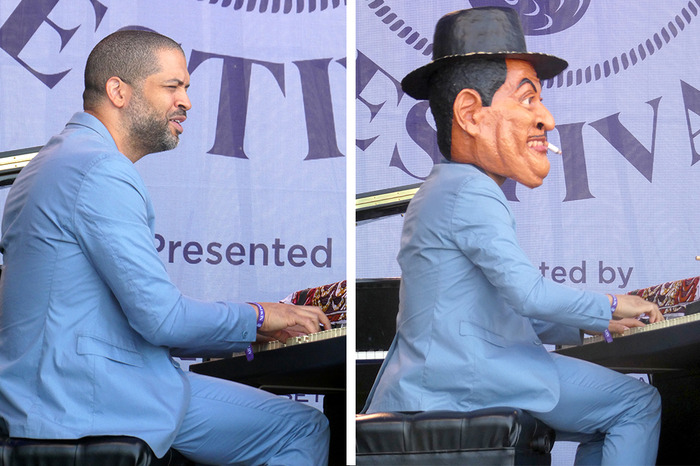 Jason Moran Embraces the Spirit of Fats Waller
Moran dedicated the show to Waller, "to all his humor and all his depression too." The septet reflected that full spectrum of emotion by slowing down "Ain't Nobody's Business" to a mournful lament and even conjecturing what a Waller arrangement of Ornette Coleman's "Lonely Woman" might sound like. But the snappy rhythms had couples dancing in the dust in front of Fort Adams on the Narragansett Bay.
Later the same afternoon, at another stage inside the fort, the festival's artistic director, Christian McBride, laid down his upright bass and plugged in his electric. He talked about his adolescent love for James Brown and then demonstrated his adult commitment to the same by digging a deep funk groove with drummer Ahmir "Questlove" Thompson, keyboardist Uri Caine and guest turntablist DJ Logic. But they couldn't stick to the basics; they kept messing with the beat and the chords like the jazzmen they were.
The group was called the Philadelphia Experiment. Before long, McBride and Thompson started telling funny, revealing stories about going to school together at Philadelphia's High School for the Creative and Performing Arts along with Joey DeFrancesco, Kurt Rosenwinkel and Tariq "Black Thought" Trotter. They resurrected some of their favorite songs from those days—and every one had a magnetic dance pulse, but also an impish element of harmonic subversion.
Later in the day, Questlove and Black Thought led their longtime band, the Roots, through the last set of the festival on the big stage. You couldn't claim that this hip-hop institution had become a jazz band, but you had to recognize that the remarkable instrumental solos that peppered the set wouldn't have been possible without the players' exposure to jazz.
The electric bass was the instrument of the weekend. The Roots' Mark Kelley knew when to anchor the beat and when to push the group out of its comfort zone. Matt Brewer used it to power Antonio Sanchez & Migration through a reinvention of jazz-rock fusion that added complexity without losing focus. Victor Wooten made his electric-bass lines sound elastic and bubbly as Bela Fleck and the Flecktones reassembled their original—and best ever—line-up by bringing pianist/harmonica player Howard Levy back into the fold.
The bands mentioned above were trying to close the gap between jazz and the non-jazz audience by offering danceable beats on the bottom and electrified textures on the top (there were lots of synthesizers, laptops and samplers at this jazz festival). They each opened a door for the uninitiated rock or funk fan to walk through into the dizzying world of jazz. Once you've gone through that door, however, you should keep going, for there's a wealth of intoxicating jazz music that doesn't necessarily rely on a backbeat or an amplifier.
This year's Newport Jazz Festival, for example, presented the transporting, old-school vocals of Cecile McLorin Salvant, the avant-garde compositions of Henry Threadgill and the virtuoso piano of Christian Sands. But the two best sets I heard all weekend were the big-band performances of Amir ElSaffar's Rivers of Sound Orchestra and the Maria Schneider Orchestra.
ElSaffar, an Iraqi-American born in Chicago, weaves Middle Eastern themes and instruments into their North American counterparts with astonishing success. To hear ouds played with a vibraphone or a frame-drum with a drum kit or a bouzouki with a clarinet would be beguiling enough, but ElSaffar's melodic themes and harmonic development would be seductive with any instrumentation.
Even better was the Maria Schneider Orchestra, a 19-person ensemble led by the one-time protégé of jazz arranger Gil Evans, and now his successor as the genre's top orchestral artist in the new century. In fact, she accepted an award from the Jazz Journalists Association for Arranger of the Year on stage before her set began.
Schneider presented two world premieres at the festival. "Do No Evil" was a noir-ish soundtrack of fear and anger directed at the large tech companies that, in Schneider's view, are destroying the livelihoods of musicians and writers. The exact opposite in intent and effect was "Sanzenin," a tribute to the peace and restorative harmony of the temple gardens in Kyoto, Japan. No other American composer is writing such rich, gratifying music today.