Omni Are "Sincerely Yours" on First Single from Their Sub Pop Debut Networker
Photo by Emily Frobos
Music
News
Omni
After signing to Sub Pop in April, Atlanta post-punk outfit Omni have announced their debut album on the renowned, Seattle-based label: Networker, cleverly titled by a band moving up in the world, arrives Nov. 1, but you can get acquainted with its first single (and opening number) "Sincerely Yours" now.
Omni's new single is a fitting introduction to Philip Frobos (bass/vocals) and Frankie Broyles' (guitars/drums/keys) signature sound, with casually detached vocals draped over instrumentation you'd come away bloody if you touched. Frobos calls bullshit on everyone faking okay in the face of day-to-day alienation and anxiety, murmuring over a squeaky-clean mix of jagged shards of guitar and drums that land like an office drone death march. "Striving for self-worth / every morning," Frobos muses, as if from a great distance. "At happy hours we talk and talk / Are you nervous for your career? / Are you insincere?"
"The last couple of years marked a lot of friends making the 9 to 5 career change," Frobos says of the song in a statement. "While I'm aware that there are many advantages to that lifestyle, the song is written from an outsider's perspective while remaining close to their struggles."
Omni wrote Networker's 11 songs between tours and four studio sessions, with their live show and approach to songwriting each informing the other. The band recorded the LP—their third, following 2016's Deluxe and 2017's Multi-task—in a cabin in Vienna, Ga., backed by their longtime collaborator Nathaniel Higgins. They finished the album in April, announcing their signing to Sub Pop and releasing two new songs for the Sub Pop Singles Club series, "Delicacy" and "I Don't Dance," neither of which appear on their forthcoming record.
Frobos and Broyles have set a 26-date world tour for the fall in support of Networker, beginning in Nashville on Oct. 23 and ending their North American leg with a hometown Atlanta show on Nov. 4 before hopping across the pond for an 18-date run through Europe and the U.K.
Listen to "Sincerely Yours" and sneak a peek at the Networker tracklist and album art below. You'll find Omni's full tour itinerary further down.
Networker Tracklist:
01. Sincerely Yours
02. Courtesy Call
03. Moat
04. Underage
05. Skeleton Key
06. Genuine Person
07. Present Tense
08. Blunt Force
09. Flat Earth
10. Networker
11. Sleep Mask
Networker Album Art: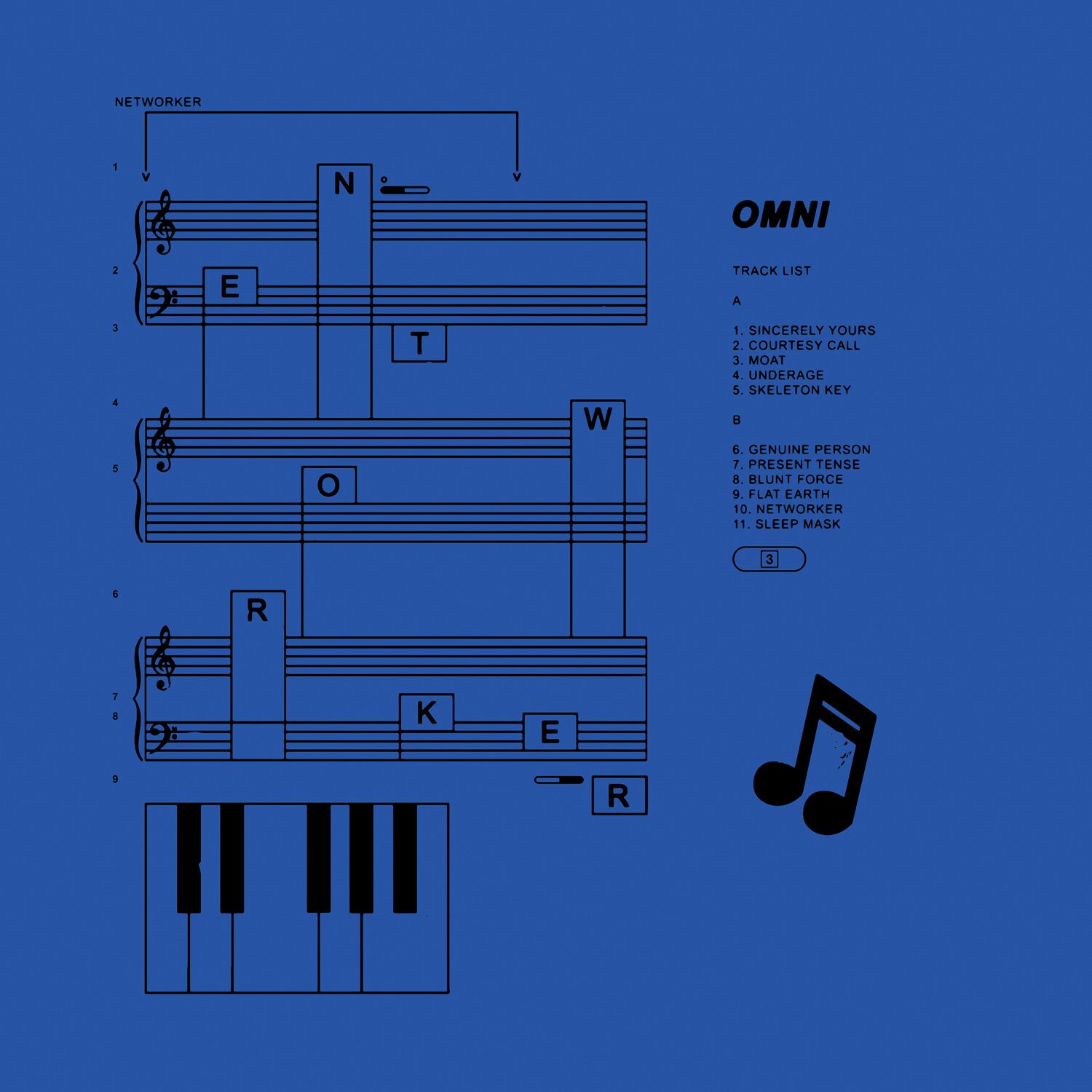 Omni Tour Dates:
October
23 – Nashville, Tenn. @ The Basement
25 – Chicago, Ill. @ Empty Bottle
27 – Toronto, Ont. @ The Garrison
28 – Brooklyn, N.Y. @ Baby's All Right
30 – Brooklyn, N.Y. @ Sultan Room
November
02 – Washington, D.C. @ Pie Shop Bar
03 – Raleigh, N.C. @ Kings Raleigh
04 – Atlanta, Ga. @ The Earl
10 – Kortrijk, Belgium @ Sonic City Festival
11 – Hamburg, Germany @ Molotov
12 – Copenhagen, Denmark @ Loppen
13 – Berlin, Germany @ BERGHAIN KANTINE
14 – Utrecht, Netherlands @ Ekko
15 – Le Havre, France @ Mc Daids
18 – Paris, France @ La Boule Noire
19 – Lille, France @ La Bulle
20 – Brussels, Belgium – Le Botanique
21 – Colmar, France @ Le Grillen
22 – St. Gallen, Switzerland @ Palace St. Gallen
23 – Lyon, France @ Sonic
25 – Brighton, U.K. @ Hope
26 – Bristol, U.K. @ Rough Trade (Bristol)
27 – Manchester, U.K. @ YES
28 – Glasgow, U.K. @ Mono (Glasgow)
29 – Leeds, U.K. @ Brudenell Social
30 – London, U.K. @ Oslo