Record Time is Paste's monthly column that takes a glimpse into the wide array of new vinyl releases that are currently flooding record stores around the world. Rather than run down every fresh bit of wax in the marketplace, we'll home in on special editions, reissues and unusual titles that come across our desk with an interest in discussing both the music and how it is pressed and presented. This month that includes reissues of some hip-hop classics, a rare soul/R&B gem and deluxe editions of two brilliant movie soundtracks.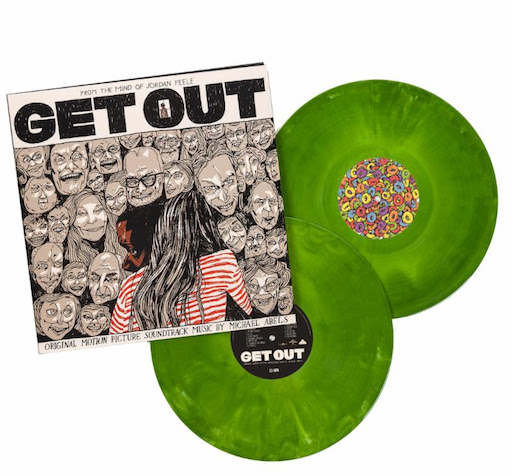 Get Out OST + Logan's Run OST (Waxwork)
The trend of movie soundtracks pressed to vinyl is something I covered at some length here at Paste, and it's one that shows no signs of letting up. The Venn diagram valley where the interests of record collectors, audiophiles and movie geeks meet up is too rich (and lucrative) to ignore.
Waxwork Records has been doing a better job than most in this arena, working closely with the composers, filmmakers and performers to ensure that the music is presented with the right amount of detail. For further proof, take a look and listen to their recent releases of the soundtracks for Jordan Peele's horror allegory Get Out and cult sci-fi flick Logan's Run.
The former is a modern classical wonder. Written by composer Michael Abels, it knots up the threads of influences like Bernard Herrmann, John Williams and Elmer Bernstein with touches of spirituals and flat affect choral singing that is stirring and terrifying. The music sounds as vivid as ever here, even pressed onto the rather unsettle green and yellow vinyl they chose. Even if you've never seen Get Out, the movement of its brilliant story is still accessible through the movement of this fantastic soundtrack.
Jerry Goldsmith's score for Logan's Run, on the other hand, feels orphaned without the slightly chintzy backdrop of the original 1976 film. The string melodies, alternately intense and languid, often don't have the same effect as when they are setting the scene for Logan 5's awakening and search for meaning in his young life. The real treat here is getting the full blast of the electronic effects and modular synthesizer that Goldsmith used so perfectly here. The idea was clearly to match the 23rd century visuals with sound, yet it never comes off as gaudy or overbearing. They dazzle and provide the right modern counterpoint to the standard orchestral fare.
---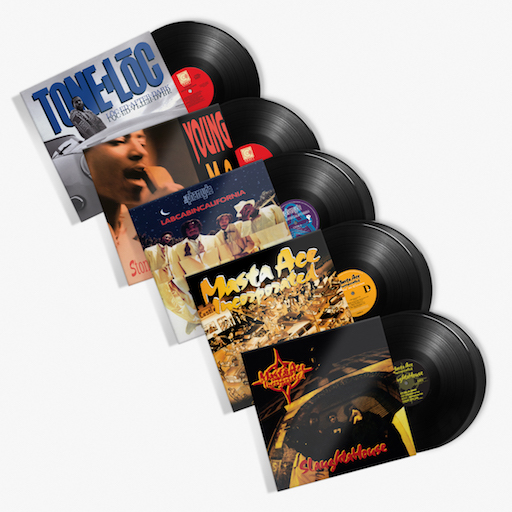 Tone Loc: Loc-ed After Dark/Masta Ace Incorporated – Sittin' On Chrome + Slaughtahouse/The Pharcyde – Labcabincalifornia/Young MC – Stone Cold Rhymin' (Craft Recordings)
Hip-hop being a relatively young genre means that so many of its pioneers and giants are still walking the earth, but with the passing earlier this year of Matt Dike, the L.A. DJ who helped found the essential rap label Delicious Vinyl, the dull truth of our finiteness came crashing down on so many fans who grew up dancing and analyzing the sounds and artists he helped turn into stars. The weight of Dike's permanent absence is brought back to the culture's shoulders this month with the re-pressing of five of the best albums from Delicious Vinyl's varied and inspirational catalog.
They also represent the two sides of the label's early history (it's still a going concern with recent releases by Frank Nitt and Odd Future member Casey Veggies). The earliest records—Tone Loc's Loc-ed After Dark and Young MC's Stone Cold Rhymin'—were, by and large, produced by Dike and his friend and DV co-founder Mike Ross. By the time the other three albums in this batch, two from Masta Ace Incorporated and one from The Pharcyde, were initially released, Dike had left the company and become a recluse.
Dike's influence and then disappearance had a noticeable effect on the sound of these records. Loc-ed and Rhymin' are constructed from sun-soaked soul and funk singles, with small solar flares culled from classic rock records. It's all topped off with rhyming from two men that are clearly enjoying the unhurried boom-bap of the tracks they've been graced with. You hopefully know the big singles ("Bust A Move," "Wild Thing") but stick around for the equally deft and witty tracks like Young MC's "Non Stop" and Loc's "Next Episode."
Some of that spirit carries over to the post-Dike period on the second album by The Pharcyde, a quartet of giddily drug-gobblin' knuckleheads who laid a dose of psychedelic surrealism on hip-hop's tongue. Aiding the cause on Labcabincalifornia, and key to its breezy spirit, is another fallen hero of the movement: producer J. Dilla. His tracks on the album are quintessential Dilla tracks, reduced to the barest minimum of beats and melodies, yet immediately engaging and joyous.
The two releases from Masta Ace Incorporated, the crew led by rapper Masta Ace, have a much different spirit. There's still a touch of warmth in the production, especially on 1995's Sittin' On Chrome, but there was a darkness flowing into music and the more insistent rhymes laid down by the various members of the I.N.C. The mood fits in well with the boom-bap era of East Coast hip-hop, yet with the addition of a few sinuous Moog synth lines and these tracks could be the mirror images of the G-Funk sound that was right around the corner.
I had my concerns about the pressings of these reissues as there was no indication on the hype sticker that Dave Cooley, the gent who oversaw the cutting of the lacquers, had access to the original master tapes. Even if they come from digital sources or needle drops, he and Elysian Masters did a nice job with these. The volume varies slightly from record to record (Loc-ed is noticeably louder than the rest) and Slaughtahouse suffers from a little sibilance that fuzzes "s" sounds out a touch, but overall they pop and boom in just the right way.
---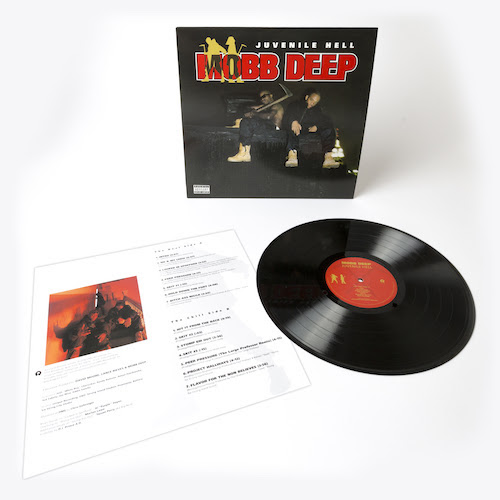 Mobb Deep – Juvenile Hell (Island/Urban Legends)
Urban Legends is a relatively new addition to the hip-hop discourse. Financially backed by Universal Music Group, the website has been home to a wealth of thoughtful and challenging essays about some of the genre's classic artists and albums. The venture is also bringing back into circulation records that are essentials for anyone looking to better understand rap's history and impact on popular culture. Amid reissues of modern classics like Yeezus (on cassette!) and the collected works of Eric B. and Rakim comes this often ignored gem: the debut LP by Queens-born duo Mobb Deep.
Still in their teens at the time, rappers Havoc and Prodigy were touted in the pages of The Source as the next big thing and had support from A Tribe Called Quest member Q-Tip. A promising start that they made good on with a record that was ingeniously funky and adroit rhyming that pulls focus through the pair's heated delivery and snappy sense of phrasing. It misses the mark only in comparison to the dark soundscapes and storytelling that Mobb Deep would bring into the mix on the instant classic follow ups The Infamous and Hell On Earth. Glimpses are there throughout Juvenile Hell as on the brilliant "Peer Pressure," a song that deftly expresses the mix of emotions of being a smart ambitious kid in a world that doesn't want much from black youths. But they still weren't ready to go to the depths they reached later on. The music could also have been served by a better pressing. This new edition of the LP isn't nearly as present as it should be, with the beats and bass too muted to have a real impact.
---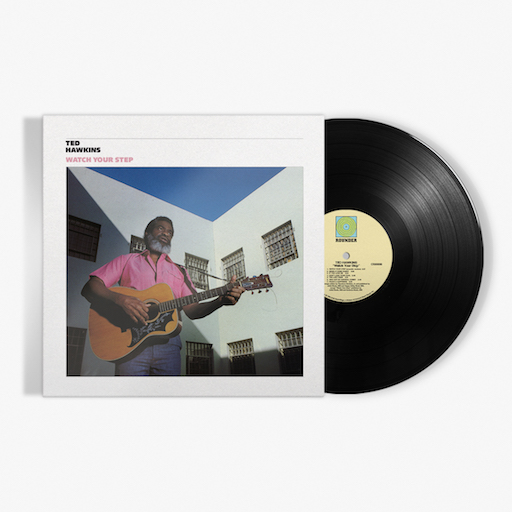 Ted Hawkins – Watch Your Step (Craft Recordings)
Ted Hawkins could easily have sung the blues on his debut album Watch Your Step. The Mississippi born singer and guitarist went through plenty of hardship and made enough bad decisions in his life (impoverished childhood, multiple stints in prison, heroin addiction) to warrant the moans and cries of that genre. Instead, the former Venice Beach busker sings of love throughout this 1982 release. There is heartbreak and agony, for sure, but otherwise, he has a lot to say about how his life was saved by the care of a good woman. And he says it all using jumping soul and R&B, and some tender balladry.
Released on Rounder Records, this gem of an LP got little commercial attention but was slathered with critical praise, becoming a cult favorite along the way. His star rose here and there, particularly in Europe where he was beloved by that continent's music obsessives. Otherwise, he popped in and out of the clouds for the next decade or so before his passing on New Year's Day, 1995. Since then, Hawkins' legacy has been kept alive by a handful of reissue labels and musicologists, digging for more of his unheralded work.
There's no telling whether this loving reissue of Watch Your Step will help drive a newfound interest in Hawkins' work. All I know is that it sounds just like it should. The music and performances call back to the late '60s heyday of R&B, stepping from sleek production choices into more raw performances featuring nothing more than voice and guitar. His is the kind of talent that Daptone Records would fall all over themselves to help resurrect; that natural ability to possess a song so fully that you almost can't believe you're allowed to hear it.
---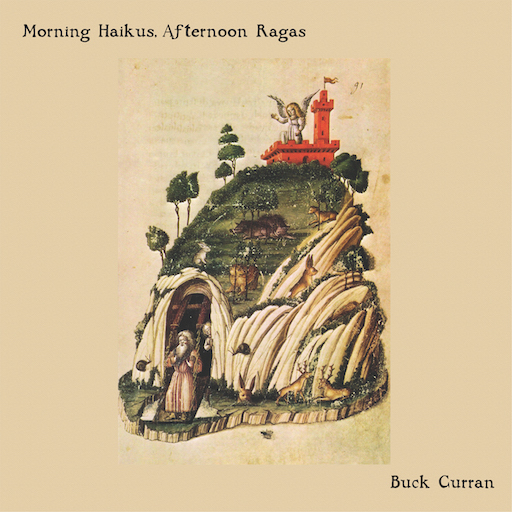 Buck Curran – Morning Haikus, Afternoon Ragas (ESP Disk/Obsolete)
The duo Arborea already stand out amid a crowded field of similar psychedelically-leaning folk artists due to the sparkling chemistry between guitarist Buck Curran and his wife/musicial partner Shanti Curran. Their unhurried blend of guitar wanderings and vocal mist has been kept listeners like me in utter thrall for over a decade now. Separating those parts seems almost rude, but Buck Curran has proven how steady he can stand on his own with the release of a pair of equally entrancing solo recordings, the most recent of which Morning Haikus, Afternoon Ragas. The new LP splits his musical interests across two vinyl sides. Side A is primarily acoustic guitar instrumentals in the vein of American Primitive icons like Peter Lang and Chuck Johnson but it's the flip side that puts me in a state of hushed awe. On it, he welcomes in vocalist Adele H. for a version of Chris Whitley's "Dirt Floor" that is as gentle as a snowfall and a glowing electric tribute to the late Fleetwood Mac guitarist Peter Green. That he wrote many of the songs here in honor of his children should come as no surprise considering the warmth and care that permeates every note. Don't let the title fool you; this is music for every hour of the day.