Record Time is Paste's monthly column that takes a glimpse into the wide array of new vinyl releases that are currently flooding record stores around the world. Rather than run down every fresh bit of wax in the marketplace, we'll home in on special editions, reissues and unusual titles that come across our desk with an interest in discussing both the music and how it is pressed and presented. This month that includes a two CCR classics, two boxed sets celebrating the birthdays of two important beat-driven record labels, and some dark metal masterpieces.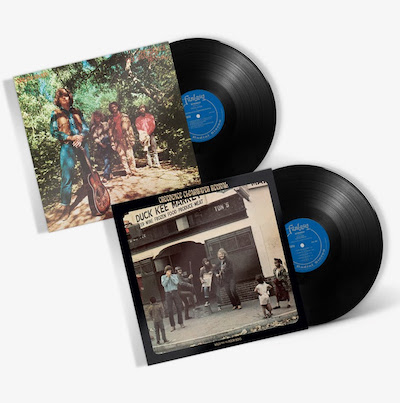 Creedence Clearwater Revival: Green River/Willie and the Poor Boys (Craft Recordings)
No artist had a better 1969 than Creedence Clearwater Revival. Not only did these El Cerrito choogle-heads plant their flag firmly in the ground of Yasgur's Farm when they hit the stage at Woodstock that year, but the quartet also released three studio albums. These were records larded with covers and tossed-off tunes either. All three yielded unequivocal classics: "Proud Mary," "Fortunate Son," "Down on the Corner," "Effigy." And they still sound as potent as they did 50 years ago. Getting in under the gold anniversary wire, Craft Recordings has cut new vinyl editions of the final two CCR albums of '69, using hi-res transfers of the original analog tapes and mastered/cut at half-speed. The resulting LPs are loud and precise, with a lot of open space filled up comfortably with the liquid grooves of rhythm section of Doug Clifford and Stu Cook. These new versions are also a new chance for young listeners to fully appreciate how CCR slipped between stations, with elements of country, R&B, pure blues and firebrand rock playing through each one. Bandleader John Fogerty used this palette to write playful party starters and some surprisingly acute political anthems. Scrape the surfaces of "Effigy" and the gnarled up guitar racket and sharp metaphor for the protest movement swirling around the country. Blare it at your next climate rally and let the world know you mean business.
---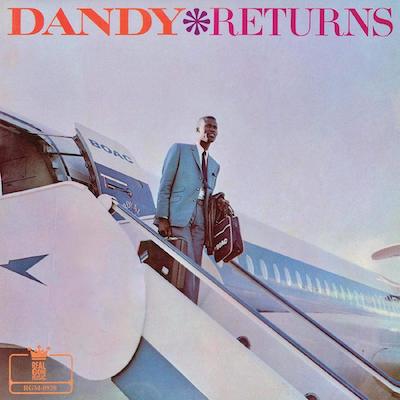 Dandy: Dandy Returns (Real Gone)
Dandy Livingstone is best known for the music he provided to much more famous artists; his '60s singles "Rudy, A Message To You" and "Version Girl" were covered by The Specials and UB40, respectively. But among reggae enthusiasts, he's a rocksteady legend, and one whose legacy has been hampered somewhat as his music has been difficult to come by. Real Gone is doing their part to fix this small oversight with the first-ever reissue of Livingstone's second full-length Dandy Returns on a limited-edition colored vinyl. The album plays like the Jamaican version of easy listening, maintaining a singular rhythm that feels tuned into the human pulse while the various melodic elements swirl around it. Horns and organ on "Musical Land." A bit of Mellotron on "It's a Sad World." Galloping bass notes throughout every song. Connecting it all is the tone of Livingstone's vocals, which can make a lover's lament and a seductive come on sound somehow reassuring and pleasant. Heartache has never sounded so easy to stomach as it does when Livingstone is singing about it.
---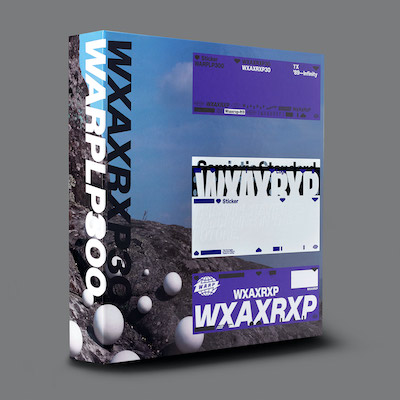 Various Artists: WXAXRXP Sessions (Warp)
Warp Records has spent much of 2019 celebrating its 30th birthday, reveling in a history that has brought classic recordings from the likes of Autechre, Kelly Moran, LFO and Broadcast to the ears of music fans around the world. The culmination of this year-long observance is the release of WXAXRXP Sessions, a series of vinyl releases highlighting important radio performances by some of the label's blue chip artists, offered up individually or in a handsome boxed set that also comes with art prints and stickers. The set spans the length of Warp's existence and puts some of the rarest tunes from these artists on wax for the first time. That includes a 1990 Peel Session featuring LFO, recorded after the electro unit had released its first Warp single, a live band session from Seefeel with two tracks that were never officially released, and a fantastic Oneohtrix Point Never set from KCRW, recorded last year, that finds Daniel Lopatin performing with live musicians including Moran. All the music sounds as good as ever, even if I do have a question as to whether "Happy Cycling" the Boards of Canada track featured here as part of their 1998 Peel Session (and previously released on vinyl by Warp) is the broadcast version and not simply the track plucked from Music Has the Right To Children. I'll let you know what I find out.
---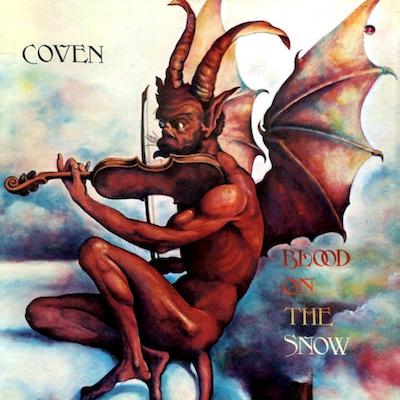 Coven: Blood on the Snow (Sony/Real Gone)
Indiana proto-metal outfit Coven were, sadly, subject to the law of diminishing returns. Their 1969 debut Witchcraft Destroys Minds & Reaps Souls was a wonder of occult-themed psych rock cut from the same acid-dipped cloth as early Black Sabbath. But the two albums Coven released in its wake—a 1971 self-titled effort and 1974's Blood on the Snow, which was given a colored vinyl reissue this month—found the group losing creative steam. The latter was especially leaden, as the quartet attempted to capitalize on the surprise success of their version of "One Tin Soldier" and to find traction with a plodding, soft rock-tinged sound. Neither really played to the band's strengths, especially the earthy wail of frontwoman Jinx, and the resulting album became a slog to sit through. That hasn't changed in the 30+ years since its release, even in the case of this otherwise lovely looking reissue, which presses the music onto red and white wax and sets it in a nice glossy sleeve.
---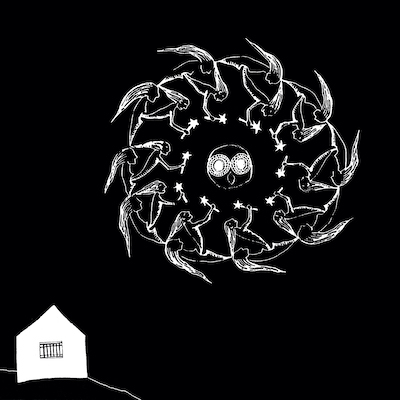 Deerhoof: The Man, The King, The Girl (Polyvinyl)/Halfbird (Joyful Noise)/Holdypaws (Kill Rock Stars)
It's a nice thing to see indie labels getting along like this. Three of the finer imprints in the US have joined forces to reissue three early albums by Bay Area art rockers Deerhoof to celebrate the band's 25th year together. These records represent the band at their scruffiest; only a trio, recording everything onto cassette four-track. That made for some pretty rough sounding CDs that sound somehow even rougher when pressed to vinyl. Matters aren't helped much with the decision to lay these tracks on colored wax. The pressing for The Man… was especially challenging as the record was covered in a thin layer of grit when I pulled it out of the inner sleeve. I'm more than happy to roll with it, though, as this is my favorite era of the band. No matter how muffled and noisy these are, the music—serrated post-punk shot through with softness by way of bassist/vocalist Satomi Matsuzaki's adorable vocal turns and candy floss melodies—manages to bob giddily to the surface.
---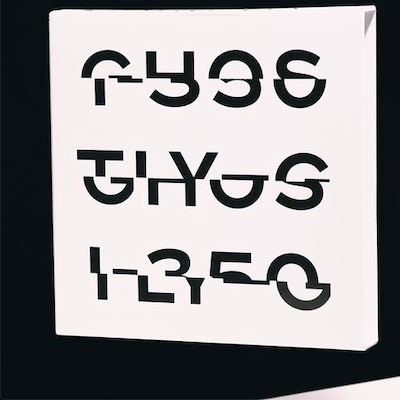 Various Artists: VMP Anthology: The Story of Ghostly International (Vinyl Me, Please/Ghostly International)
Just as they did with Blue Note Records and Motown, vinyl subscriptions service, Vinyl Me, Please is celebrating the history of 20-year-old Michigan label Ghostly International with a handsome boxed set that collects six of the imprint's most interesting releases (with copious liner notes) and a podcast series that talks about each one. The limited edition set is a great starter kit for anyone interested in what Ghostly has been able to accomplish over the course of two decades. It includes both volumes of Ghostly Swim, the compilations they put together for Adult Swim, as well as a mesmerizing collaboration between Christopher Willits and Ryuichi Sakamoto. And every record is pressed on clear or opaque vinyl, which is far better conduit for the music than the often muddy sound that comes with colored wax. While I personally could have done without the inclusion of This Is For the Whites In Your Eyes, the 2009 debut by sleepy indie band Choir of Young Believers, I will admit that it was the perfect way to exemplify Ghostly's interest in more traditional rock and pop sounds to accompany their abstract and beat-heavy releases.
---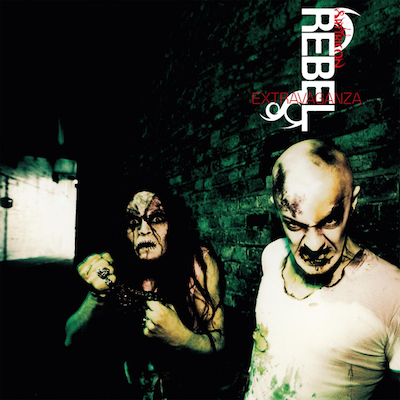 Satyricon: Rebel Extravaganza (Napalm)
The fourth studio album from Norwegian black metal duo Satyricon was, in retrospect, the turning point for the group. Released 20 years ago, Rebel Extravaganza was, according to songwriter/vocalist/multi-instrumentalist Satyr, a reaction to the "gothic" that their chosen genre was taking. "I felt… there were more interesting and sustainable types of expression that could be incorporated in the Black Metal to make it grow and spark new life into it," he writes in the press notes to this reissue. It's a little difficult to track that growth some two decades later, considering the wealth of material that was being released in 1999. But what is clear when listening to Rebel, especially through this wonderfully remastered double LP reissue, is that Satyricon were working from an entirely new rulebook for them, adding in more atmospheric details and almost ambient interludes that they would have avoided in the past. Satyr pushes himself more to the fore in this recording as well, allowing his growling, misanthropic lyrics to more completely darken the landscape. A monumental achievement for this duo given a much needed spit and polish through this new vinyl version.
---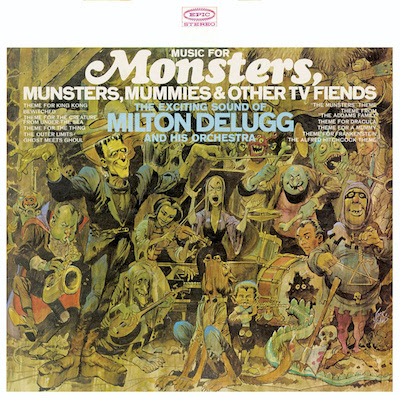 Milton DeLugg & his Orchestra: Music for Monsters, Munsters, Mummies & Other TV Fiends (Real Gone)
Re-released last month—in time for your Halloween DJ sets—this 1964 rarity is the musical child of Milton DeLugg, a composer and bandleader best known for his work on The Gong Show and the tunes he wrote for cult classic film Santa Claus Conquers The Martians. Around the same time that movie came out, DeLugg recorded this novelty for Epic Records, as a way to cash in on the success of such spooky TV fare like The Munsters, Alfred Hitchcock Presents and The Addams Family. The composer took to the job with aplomb and the resulting collection, reissued by Real Gone Music on a sickly green slab of wax and cut to be played at 45 RPM, is a swinging delight. DeLugg sticks to the core melodies and mood of the songs he's covering, but adds a touch of joie de vivre and a playful quality that acts as a reminder: as kooky and ooky as the characters were in these shows, the programs were really meant for kids. If dropping the needle on this during your next Halloween fete isn't enough of an incentive, this record should be appreciated by fans of comics and illustration as the cover art was drawn by MAD Magazine legend Jack Davis.
---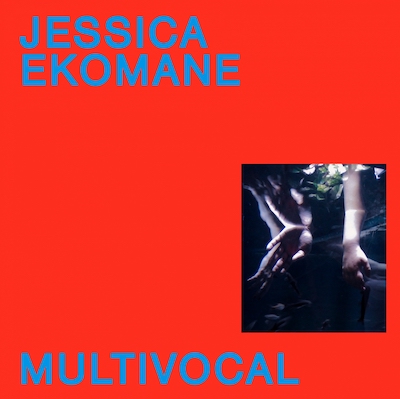 Jessica Ekomane: Multivocal (Important)
Jessica Ekomane isn't breaking any new ground on her debut album Multivocal. On the two long pieces that make up this record, she loops repeating modular synth phrases—each one resting in its own channel in the stereo field—twisting and adjusting them into different waveforms as the overtones undulate together to create discord or some kind of rhythm. Even while using this familiar template, Ekomane's work feels alive. That may be because these pieces were recorded in concert at the 2018 edition of Ars Electronica where the theme was "Error – The Art of Imperfection" and where this piece was pitched as a sonic treatment "for information shock-workers." Both sides of that coin are fitting. These two pieces feel like Ekomane is in play mode, wondering what effect a light turn of a dial or placement of a patch cord will have on these pulses. And, at least when listened to on headphones, there's an unmistakably soothing quality to Multivocal. The patterns become incantations, resting the mind and settling the heart rate; a buzzing, whirling, clashing meditation.
---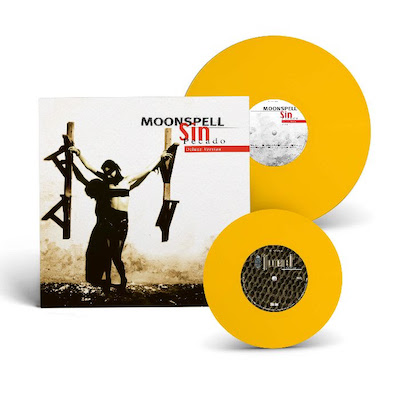 Moonspell: Sin/Pecado (Deluxe Edition) (Napalm)
It's strange to reconcile the version of Moonspell that made their third album back in 1997 with the muscular, beefy sound that the Portuguese goth metal band cranks out with ease these days. By comparison, Sin/Pecado sounds thinly produced, especially as the quintet was working to sew some of their heavier influences in with the skinny swing that they borrowed from artists like Bauhaus and the Sisters of Mercy. According to the press notes that came with this deluxe vinyl version, this was a potentially alienating album at the time of its release in '98 as the band was looking to explore new sonic territory by easing off the throttle of their tempos and letting their collective darkwave influences fly out more boldly. It looked, and still looks, very good on the band, and sounds even better than ever through the remastering work done to this blackhearted collection. Joining this album reissue is a 7" single that offers alternate mixes of the album tracks "Magdalene" and "2nd Skin." Lovely to hear pressed into a bright bit of yellow vinyl, but feels meant to stoke the collecting fires of the Moonspell superfans.