L.A. teenage punk band The Linda Lindas have had a whirlwind year, beginning with the major wave of attention they gained through their performance of original song "Racist, Sexist Boy" at the Los Angeles Public Library in May. Now the four-piece, made up of sisters Mila de la Garza (11) and Lucia de la Garza (14), cousin Eloise Wong (13) and family friend Bela Salazar (17), have announced their debut album Growing Up, due out digitally on April 15 and on physical formats on June 3 via Epitaph Records. The band have shared the title track, as well as a video for the song directed by Humberto Leon.
The group's first full-length album was entirely written during lockdown, with each member writing material on their own before finally teaming up with producer Carlos de la Garza (Paramore, Bad Religion, Best Coast, Bleached) to bring the record to life. Following in the storied tradition of L.A.'s underground music scene, the title track pulls from the group's clear new wave and power pop influences, crafting a rock-solid lead single that falls perfectly in line with their previous releases. It also marks a shift in their heart-on-sleeve lyrics: "We'll sing the things we don't know / We'll sing to people and show / what it means to be young / and growing up," sings guitarist Lucia de la Garza on the track, which she also wrote.
In a statement accompanying the "Growing Up" video's release, director Humberto Leon talked about working with the band on the video (which features four cat co-stars, one for each member):
Directing my first video for The Linda Lindas was a dream come true because I love the message and voice the girls have, and I am a true fan. I was really inspired by the girl's love of cats and wanted to take that to the next level and so the video is a conversation about turning points in their lives all being viewed through the gaze of their cats. It creates a narrative of whether the cats want to trade places with the girls or vice-a-versa.This video was extra special because I worked with the girls on designing the outfits with Batsheva, styling the looks with Rodarte and Warby Parker. The entire video was a collaboration between me and the girls. By shooting the video on iPhone 13 Pro Max, it created an intimacy with the video that felt like we were listening in on a day in the life of The Linda Lindas.
Check out the music video for "Growing Up" below, and keep scrolling to see the details of Growing Up and The Linda Lindas' tour dates, including support slots for The Beths and Jawbreaker. You can preorder the album here.
Growing Up Art: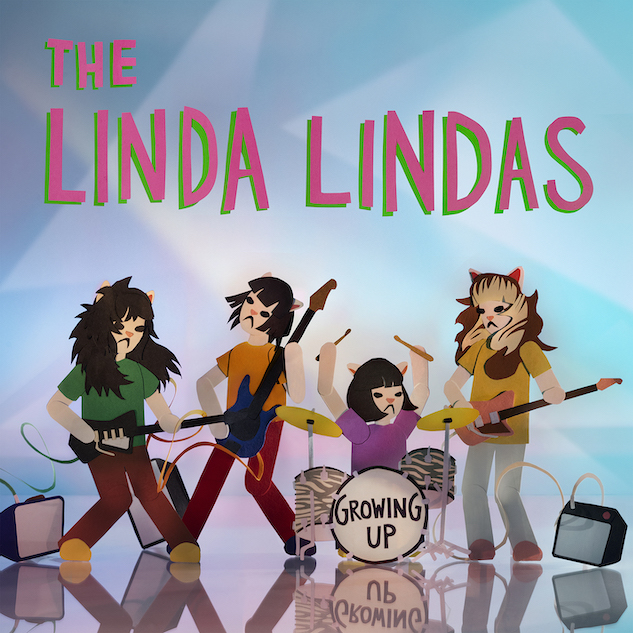 Growing Up Tracklist:
01. Oh!
02. Growing Up
03. Talking To Myself
04. Fine
05. Nino
06. Why
07. Cuántas Veces
08. Remember
09. Magic
10. Racist, Sexist Boy
The Linda Lindas Tour Dates:
February
11 – Pioneertown, CA @ Pappy & Harriet's*
April
01 – Los Angeles, CA @ The Wiltern^
02 – Los Angeles, CA @ The Wiltern^
03 – Los Angeles, CA @ The Wiltern^
27 – New York, NY @ Irving Plaza^
28 – New York, NY @ Irving Plaza^
29 – New York, NY @ Irving Plaza^
30 – New York, NY @ Irving Plaza^
October
22 – Las Vegas, NV @ When We Were Young Festival
23 – Las Vegas, NV @ When We Were Young Festival
(* = w/ The Beths)
(^ = w/ Jawbreaker)