Thom Yorke, Paul McCartney, Pearl Jam & More Sign Open Letter to Congress for Gun Control
Images via Pete Marovich, Spencer Platt/Getty, Billboard
Music
News
Thom Yorke
In the wake of a number of recent gun-related tragedies, namely the assassination of popular singer Christina Grimmie at an Orlando concert on June 11 and the mass shooting at a nightclub in the same city the following night that took 49 innocent lives, attempts have been renewed in Congress to pass a bipartisan bill in favor of stricter gun control. Congressional Democrats have staged a sit-in on the House floor to force voting to begin, and many influential celebrities, musicians and entertainers, via Billboard, have shown their support with an open letter addressed to Congress urging for more stringent gun control policies that could prevent potentially harmful individuals from obtaining the weapons that enable these catastrophes.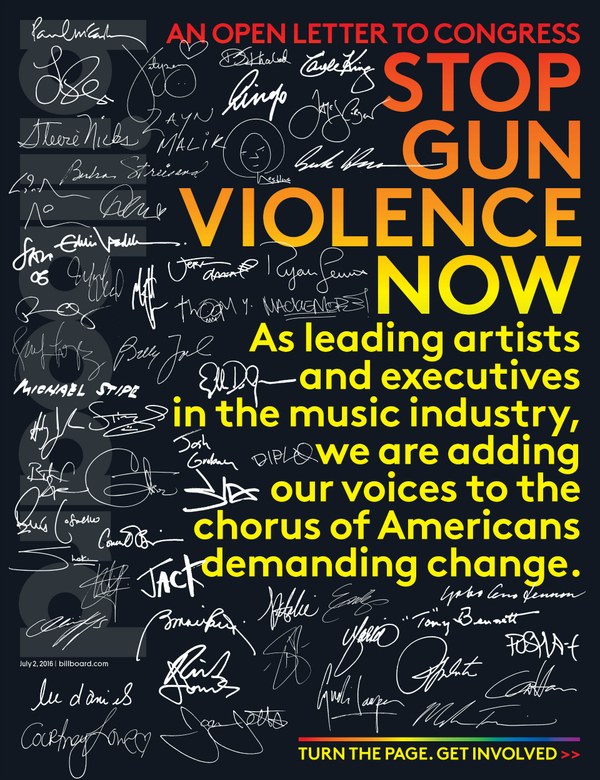 "The one thing that connects the recent tragedies in Orlando is that it is far too easy for dangerous people to get their hands on guns," reads the letter, which as been signed by almost 200 artists. "We call on Congress to do more to prevent the gun violence that kills more than 90 Americans every day and injures hundreds more, including: Require a background check for every gun sale. Block suspected terrorists from buying guns." Both of these demands had been voted down in the Senate this past Tuesday.
The open letter was mobilized by Billboard and Everytown for Gun Safety, an organization to push for reforms that reduce gun violence, and signed by musicians of every genre and background, including Thom Yorke, Pearl Jam, Paul McCartney, Lady Gaga, Selena Gomez, Kesha and Lin-Manuel Miranda. Rock n' Roll Hall of Famer Joan Jett, of the iconic '70s and '80s bands The Runaways and The Blackhearts, was the first to sign the petition, closely followed by Gaga, who recently attended a vigil for the Orlando shooting victims and read aloud the list of the deceased's names.
"Music always has been celebrated communally, on dance floors and at concert halls," the letter states. "But this life-affirming ritual, like so many other daily experiences—going to school or church or work—now is threatened, because of gun violence in this country." The letter, as well as the overwhelming support it has received from esteemed artists all over the country, makes a powerful and urgent plea that, if our government does its job correctly, shouldn't fall on deaf ears. Click the image below to enlarge the whole list of artists who've signed.