Torres Announces Silver Tongue, Shares Lead Single "Good Scare"
Photo by Michael Lavine
Music
News
TORRES
This summer, Torres (aka Mackenzie Scott) announced that she was readying an album with her new label, Merge Records, after being dropped by 4AD in 2018 for "not being commercially successful enough." Today (Oct. 29), she's given us the details on her new effort, which follows 2017's ambitious and critically acclaimed Three Futures: The self-produced Silver Tongue is out Jan. 31, 2020. Along with the album announcement, Scott has released the lead single, LP opener "Good Scare."
Like the material on Three Futures, "Good Scare" melds oceanic guitar, percussion and synth, offering a lush and layered complement to Scott's gravelly lows and tender falsetto. The new track takes up the stops and starts of a budding romance, when the prospect of love feels both terrifying and predestined. Her partner is desperately "eyeing all the exits" to the situation, while Scott believes whole-heartedly in their relationship, no matter the uncertain future. She nods to her Southern origins with a clever queering of the country canon: "You make me want to write the country song folks here in New York get a kick out of / I'd sing about knocking you up under Tennessee stars in the bed of my red Chevrolet pickup." Give us the song, Mackenzie!
Scott elaborated on "Good Scare" in a statement:
Regarding "Good Scare," I guess I could say that falling in love is a lot like the Superman crawl. If you're not familiar with Superman's crawl, it's a terrifying maneuver used in spelunking that's only performed when certain passages are too narrow, so a person has to hold one arm against the body and the other above the head, all while trying to crawl forward. When you fall in love with someone, it's scary like the Superman's crawl, but you have no choice but to keep moving forward even though you have no idea what's ahead of you.
Scott's partner, the painter Jenna Gribbon, contributed the album's cover art: a portrait of a black-clad Scott holding a small blue flower in one hand, with the other outstretched as though inviting the viewer onto what appears to be a UFO behind her. Don't miss Gribbon's (NSFW) Instagram, which offers a wealth of gorgeous work, much of it featuring Scott.
Listen to "Good Scare" and revisit a 2015 SXSW Torres performance from the Paste archives below, then find Torres' tour dates and Silver Tongue's album art and tracklist further down.
Silver Tongue Album Art: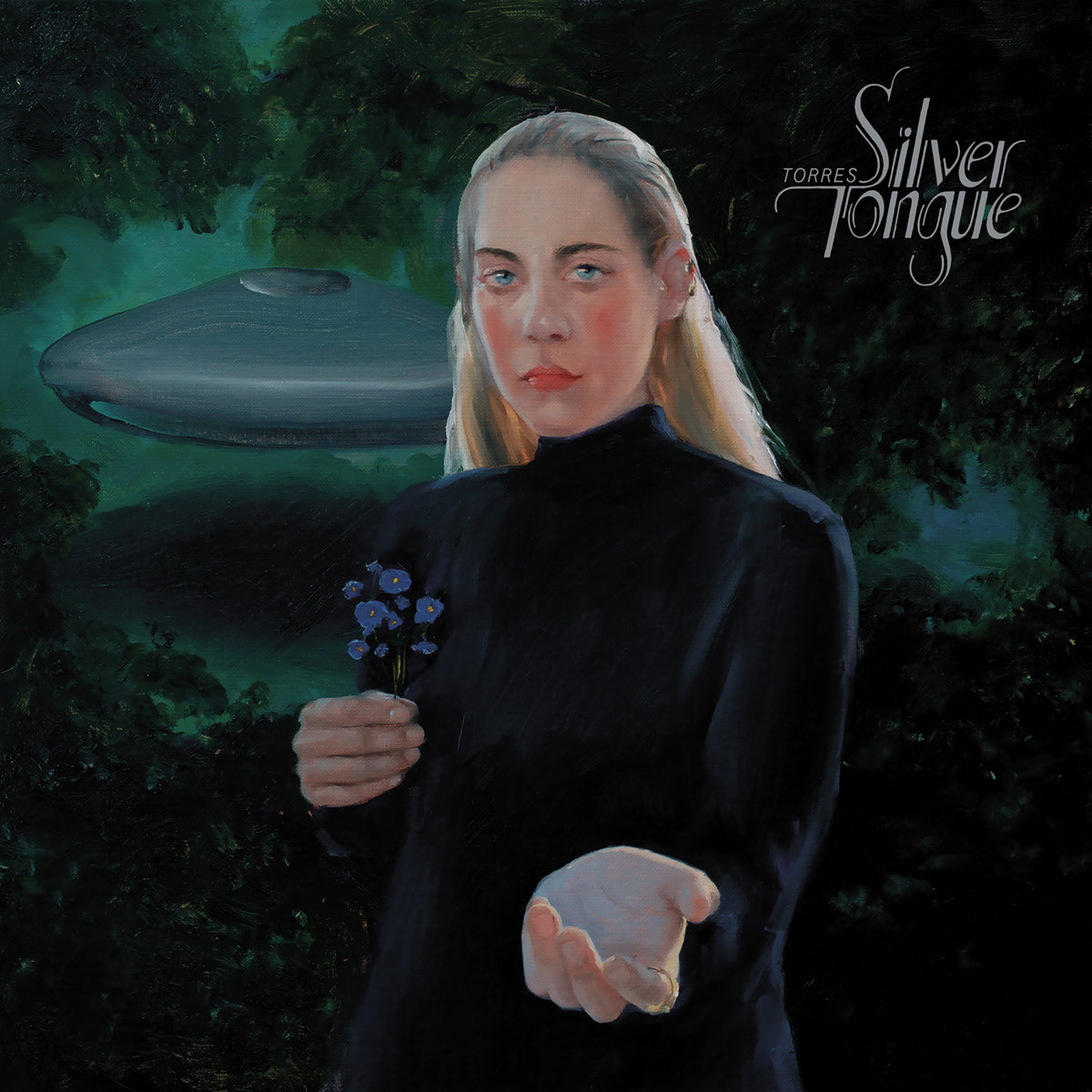 Silver Tongue Tracklist:
01. Good Scare
02. Last Forest
03. Dressing America
04. Records of Your Tenderness
05. Two of Everything
06. Good Grief
07. A Few Blue Flowers
08. Gracious Day
09. Silver Tongue
Torres Tour Dates:
November (supporting Superchunk)
02 – Durham, N.C. @ Motorco (early & late shows)
04 – Alexandria, Va. @ The Birchmere
05 – Philadelphia, Pa. @ World Cafe Live
06 – Somerville, Mass. @ Somerville Theatre
07 – Brooklyn, N.Y. @ Murmrr Theatre
January 2020
31 – Brooklyn, N.Y. @ The Sultan Room (record release show)
March 2020
03 – Bristol, U.K. @ The Louisiana
04 – Manchester, U.K. @ YES Basement
05 – London, U.K. @ Oslo
06 – Brussels, Belgium @ Botanique (Witloof Bar)
07 – Amsterdam, Netherlands @ Paradiso (Upstairs)
09 – Hamburg, Germany @ Turmzimmer
10 – Copenhagen, Denmark @ Loppen
11 – Berlin, Germany @ Kantine am Berghain
12 – Heidelberg, Germany @ Karlstorbahnhof
13 – Zürich, Switzerland @ Rote Fabrik
14 – Torino, Italy @ Circolo della Musica
16 – Paris, France @ Le Pop Up du Label